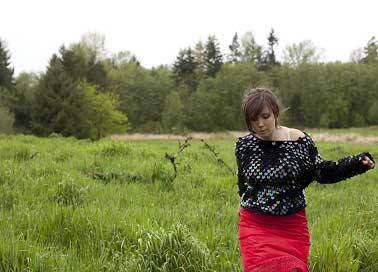 Frazey Ford is on solid ground nowadays with the release
of her debut album Obadiah.
The Soulful Side of Frazey Ford
Frazey Ford reflects inward and reconnects with 2 of her great musical loves - old time folk and soul music with her debut solo album Obadiah.
Frazey Ford, former member of the critically acclaimed folk trio the Be Good Tanyas, is back home in Vancouver, after touring to promote her debut solo album Obadiah. The album, a rich blend of folk and soul, is already garnering attention from industry and fans.
"Two of my great loves in music have been old time folk and soul, but they have always been divided in my musicality," she says. "On this album, trying to bring those sounds together was really fun. To try to bring out what I love about a soul rhythm section with what I love in folk style writing felt really fresh and new."
Being too attached to your identity as a musician or in any way is ultimately problematic

When Ford was asked what it was like for her to tackle her first solo project, she didn't hesitate to respond. "It was a really great experience in that it was something I was really afraid to do. For me to be my own driving force was a big deal."
Frazey surrounded herself with a close group of musicians she loved and trusted to help bring her vision to fruition. The songwriting on the album reflects a maturity borne of her own soul searching after the Be Good Tanyas. That search ultimately resulted in a deeper connection to her writing craft. Of the songs on Obadiah, Frazey says the song that hits her most is "The Gospel Song". "That's probably my favorite song that I've ever written," she says. "My favorites change but that one is closest to me in a certain way." This connection is also evident in a song called "Lost Together" where she is joined by her mother on the vocals. "Lost Together not only speaks to some of my mom's experience but also to the experience of life, of motherhood where you find yourself looking back and trying to make sense of things that happened that you didn't expect to happen." This is all delivered in her throaty trilling voice that demands your discerning attention.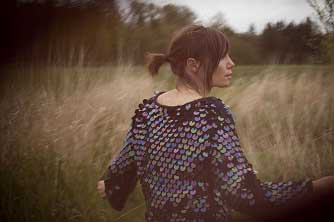 Frazey is the matrilineal name of her family,
being her grandmother's maiden name.

Born on a commune to draft dodging hippie parents, Frazey Ford describes some of her past as 'without definition'. She received no formal musical training, but there was always music in the home. "My mom always sang and she played the accordion. When I was little she would get me to sing the melody, so she could sing the harmony," remembers Frazey. Though she doesn't define herself as a hippie, she says she definitely has those influences. Musing she says, "I think we are all kind of deeply free spirits." Perhaps some of that influence could be found in the fact that Frazey is a new bee keeper, keeps two tangled gardens that have weathered her absence while on tour and has recently learned how to milk a goat.

Ford had reached a time in her young life, where she would involve herself in various music projects for a while, then curiously sought out others. One of those projects became the Be Good Tanyas. The folk trio went on the road and critical and fan acclaim followed. Three years into it, Frazey Ford became a mother. After 3 albums and about ten years the Be Good Tanyas went their separate musical ways. "We were ready for a change. We were such gypsy souls and that length of commitment was…" she trails off. "We were ready to explore the next things in our lives, which for me was motherhood."

All the intensity and attention of a successful musical life can be a bit disorienting, according to Ford. She needed to get back to basics and solid footing. "Having a community was important to me. Having a garden was too," says the single mother. When asked if she went through a grieving stage after the Be Good Tanyas, she took a moment to reflect before she responded. "It wasn't grieving for the Be Good Tanyas, but more like 'did I want to continue as a musician, did I still feel this was what I wanted to be doing'. For awhile I wasn't sure," she says. "Maybe it was time for me to do something else." Frazey continues to explain, "It was really good too, because it allowed me to kind of let go of the shackles of who you think you think you are, you know, at anything. Being too attached to your identity as a musician or in any way is ultimately problematic. After that period, I reconnected with writing and music in a way that was much closer to my own soul again."

Frazey was compelled to write with a new conviction. The songs would eventually be born and become the debut solo album Obadiah. Today she is completely connected to her writing and excited about her music.

"I feel like I'm in a bit of a golden place at the moment where I'm getting to enjoy the fruits of having committed myself to being a writer," she says.

For now Frazey Ford's gypsy soul has currently found respite. She has discovered the freedom to explore her creativity in her own way which not only includes being a mom and a musician, but also includes bees, goats, and a couple of tangled gardens.

For tour information log onto www.myspace.com/frazeyford