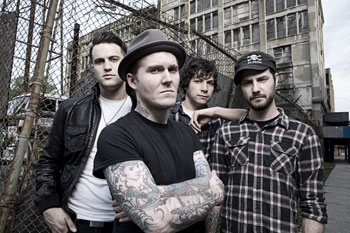 Punk rock success is serious business for The Gaslight Anthem.
(photo: Ashley Maille)
Up from the basement with The Gaslight Anthem
Success and its bigger venues havn't spoiled the punk cred of The Gaslight Anthem yet
For most punk bands, the Billboard charts often never enter the conversation. Many underground bands play basement shows and if they end up getting a headlining tour in small clubs, are often pleased. Occasionally, however, a band will break free from the mold and cross over to mainstream success.
New Brunswick, NJ's The Gaslight Anthem is such a band.
Since forming in 2007, the band has released three critically acclaimed records, with each one more successful then its predecessor. Their recently released record American Slang debuted at the number 16 position on the Billboard Top 200 (and number 1 on their Alternative Charts).
After speaking with Guitarist Alex Rosamilia, however, you get the sense that none of this was expected.
"We were really just trying to put out a record which we thought was really good, and wethought it was really good." He said "That's all you can really hope for."
Switching to a major was just something we never really felt comfortable with.

"I don't think that is a good way to go through life; Expecting things like that."
"I wasn't expecting to chart at all for The 59' Sound" Rosamilia said. Their previous release, 2008's The '59 Sound, hit number 70 on the Billboard charts. With American Slang, the band "had thought we would probably do the same."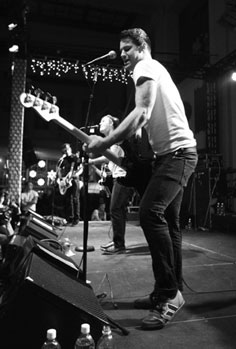 I don't think we have lost any fans. I think it's just
that now their uncles, dads, moms, younger brothers
and sisters are coming.
"It doesn't take as many records to get to number 16 anymore." He joked. "Not that I am trying to put myself down."
While it may be a valid criticism of the current state of the mainstream music industry, the band still managed to hit such high sales numbers regardless of the fact that their record was leaked over a month before its June 15 street date.
"I thought it was flattering." Rosamilia said of the leak. "I do steal music. I am not going to pretend like I am amazing and only buy stuff."
"It is the nature of the beast now." He said. "It's the way the music industry has evolved. It is almost like it helps. It is almost publicity because it leaks, and people get a taste of it, before they can actually get a taste of it."
"I don't think anyone steals music, just to steal it and amass a giant, digital music library." He said. "I think anyone that takes a leaked record ends up buying the leaked record when it comes out anyway. At least most people I have talked to."
With all of this success, the band has also had to deal with speculation that they will eventually leave SideOneDummy records for a major label. The band, along with others like The Arcade Fire and Spoon have released some of this years highest selling records despite the fact that they are on much smaller labels.
"There are reasons for staying on an independent label." He said. "We weren't really swayed by anyone else or anyone else's mistakes. It (switching to a major) was just something we never really felt comfortable with."
Rosamilia says that major labels are "too big of a pot for us little fish."
The band will spend the remainder of 2010 touring and promoting American Slang, including stops across both North America and Europe before the year is out. Since the formation of the band, they have quickly gone from playing small clubs to legendary rooms, like New York's Radio City Music Hall.
"Just the idea that we are playing these theatres now, and filling them up, it is a strange feeling." Rosamilia said. "I never thought I would be out of the basement."
And while their fan-base has naturally grown in size, he says it has not changed too much over the years. "The bearded, flannel kids are still there." He joked.
"I don't think we have lost any fans. I think it's just that now their uncles, dads, moms, younger brothers and sisters are coming."
Joining the band on tour this fall will be bands like Fake Problems, The Menzingers, and The Sharks. This is a band who up until a year and a half ago found themselves in the roll of the openers.
Now that they get to hand-pick who plays with them, they have decided to bring out some friends.
"It is helping out friends, to one extent, but then I think that everyone should know who The Menzingers are." Rosamilia said. "I think people who like us would like Fake Problems. We have the ability to show people bands that they may otherwise not be able to."
Among the many places this band has recently played, they also stopped by The Tonight Show with Jay Leno for a performance of the title track of American Slang.
"It was weird" He said, "but by this point we have already done, not to sound pretentious, but we have done Conan, Letterman and Jimmy Fallon. The idea of having to do the one song wasn't weird, but the idea that it was the Tonight Show With Jay Leno, with Tony Robbins as the guest was."
"Tony Robbins, now a fan of The Gaslight Anthem." He said. "That's pretty, well that's pretty inspiring!"
"Sorry, I couldn't pass that one up."