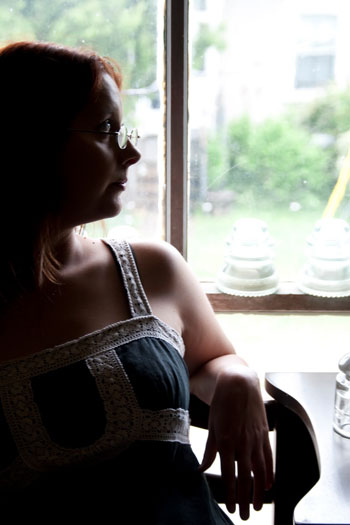 Allison Brown: A Dose of the Healing Music
Allison Brown and friends take their Medicine Show on the road for a heaking dose of old-time folk, gospel and country.
Dr. Pinkham's Medicine Show has been curing people of their illnesses for months. Testimonials from the audience speak for themselves: curing a lightning strike in Kitchener, smallpox in Winnipeg, cholera in Alberta. They've helped listeners from Nova Scotia to Vancouver Island. And they have just miraculously helped the residents of the Okanagan, with June stops at Lorenzo's Cafe in Enderby and The Minstrel Cafe in Kelowna.
Allison Brown plays guitar and sings with the Medicine Show. She and the other two members of the band, Nova Scotia's Manitoba Hal on ukelele and vocals and Ontario's Leah Morise on bass and vocals, have travelled out to British Columbia to ply their wares and spread their gospel of "healin' harmony and tuneful tinctures".
Brown is originally from London, ON and joined her two friends to form the Medicine Show, which she describes as a "pack of musicians" rather than a band, for a west coast tour. The show plays a mix of old-time folk, gospel and country, and share time performing each other's songs. The group is mainly a touring act and there are no plans to record an album at this time.
Brown performs as a solo artist as well and has two albums released to date. Her second, Viper at the Virgin's Feet, was just released and was recorded, in part, on Protection Island in the BC Gulf Coast. She recorded most of the album with BC roots music mainstay David Essig, with four songs recorded back in London with Andy Magoffin.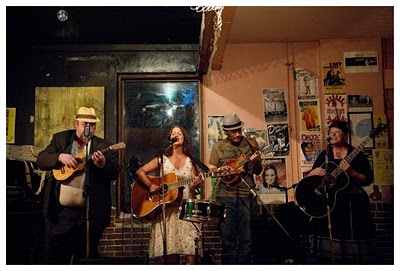 Dr Pinkham's Medison Show at the Boathouse in Kitchener
Brown says, "BC lends itself to great environments to be creative. Ontario is a little bit rough around the edges and isn't a great place to be creative. I love BC. Protection Island was a perfect place to make this record". Brown has worked with Essig for a long time, having working together on Brown's first record, the out-of-print Everything That Shines.
Brown describes herself as a "singer who plays guitar" and she picked up the guitar as an instrument to complement her singing. She also plays the ukelele and mandolin. Her music draws inspiration from bluegrass, country and old-time gospel and from her job as a "record store girl" at Grooves Music in London.
She covers some familiar ground with several modern arrangements of tradition folk songs like the gospel based "In My Time of Dying" and "Calling My Children", and an original piece called "Something Holy", all of which are performed by the Medicine Show. Brown calls the songs "bar-room gospel", a type of song that can be sung anywhere. The name of her album also evokes a gospel feel, and is also a lyric in "Something Holy".
Brown takes on Townes Van Zandt's "Pancho and Lefty" on her new album, a song that she's been performing since the beginning of her career and was encouraged by Essig to include it. She also covers Patty Griffin's "Long Ride Home" and Iris Dement's "Our Town", which ends the album on a sad note.
Brown is in the process of moving to Toronto and plans on settling in to the local scene before setting pen to paper again. The Medicine Show may be on hiatus for a while, but time will tell if the mysterious Dr. Pinkham will draw the three musicians together again to spread their remedies back to BC again.
Visit www.drpinkhamsmedicineshow.com for more information about Allison Brown and her musical friends.