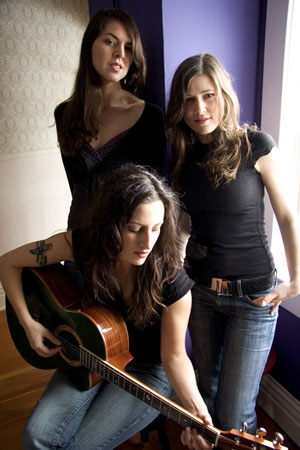 The Wailin' Jennys are the most at peace
when they're in nature
The Wailin' Jennys or (Folk Vixens?)
The Wailin' Jennys have raised their voices and creativity to capture some celestial enchantment with their new album Bright Morning Stars
The Wailin' Jennys, a three part harmonizing, acoustic, folk-roots band have reached for the heavens on their fourth project Bright Morning Stars. Each of their other three projects have been fan favorites and received critical acclaim, one of them winning a Juno Award.
10 years ago Nicky Mehta, Ruth Moody, and former founding member Cara Luft came together for a single show, just for fun, at Sled-dog Music, a small guitar shop in Winnipeg. Ruth Moody, a soprano and multi-instrumentalist, recalls the beginning of the Jenny's. "The first show sold out, so we added another. That show sold out and it became clear that there was some energy there, something exciting behind this idea that people wanted to get on board with. The owner of Sled-dog Music was convinced we would become a band and began to come up with all kinds of terrible names for us, the Folk Vixens being one of them." Ruth laughs, "Yeah, yeah, no, that didn't fly, but he actually came up with the Wailin' Jennys so we can't take credit for the name."
It's acoustic folk and we like to tell stories. The three part harmony is a signature thing and can be very transportive. I think we take people on a journey.

They can take credit, however, for the years of work they each had under their belts prior to forming the Wailin' Jennys. "We all came with some experience, and some profile I think," says Ruth. "So it really did feel like when we came together, we became more than the sum of our parts, but the parts were pretty solid too, having worked on our own."
The current line-up, original members Nicky and Ruth and the addition of Heather Masse from New York, still maintain those parts with successful solo projects. It's been six years since the last studio recording and that's not to say they were idle during that time. "We were touring like madwomen. You really have to schedule in time to make that happen, especially if you're in a group," Ruth says of the time span. "Everyone has other lives and there's a lot to coordinate." After a moment she goes on, "Technically I guess what happened was we had our second member change when Heather came on board. It took a bit to reconfigure and get a decent amount of touring under our belts with her. Then it came time for us to take our sabbatical year which Nicky had always made clear she wanted to happen in 2008/2009. So we stuck to that." Taking a break when things were really happening was ill advised according to some, but it was a risk that proved to be a catalyst for the new album, Bright Morning Stars.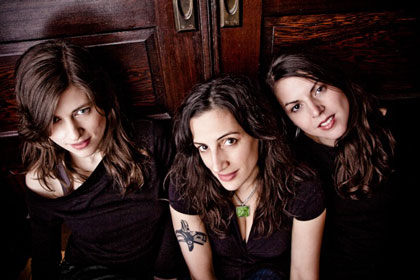 Three part harmony is the signature of the Wailin' Jennys "It was a really healthy thing for the band, and I'm glad that Nicky put such an emphasis on it. We're all workaholics, and she knew this." Ruth continues, "As it happens often, these things kind of have energy of their own and we could've got caught up in the momentum and kept going. A lot of people frowned on this decision. Luckily and wonderfully when we got back on the road it was like we hadn't left it. People were as excited as ever for us to come and play in their cities and venues."
The three individuals moved to their own beat during this time and were able to reconvene with a bigger scope for the next project. Nicky, the mezzo voice, recorded and was nominated for a Canadian Indie Music Award for her album Weathervane and became mother of twin boys who also tour with them. Ruth recorded her first full-length album The Garden, and it's one of the most played songs on international folk radio. Heather Masse, a Jazz Voice graduate of the New England Conservatory of Music, is a regular guest on A Prairie Home Companion, a live radio show heard mostly on public radio stations across the United States. She also tours with her own band in support of her album Bird Song.
Rather than going into a commercial studio with all the bells and whistles, the Jenny's went to a cabin in Ontario to record. "We felt that doing it that way would keep costs down and give a more organic kind of feel to it. In this band I think we feel the most relaxed and at peace when we're in nature. It brought out a lot of good stuff. Strangely we were so busy we barely went outside," she laughs.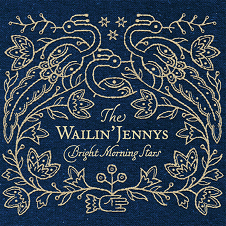 Each artist contributed four songs on Bright Morning Stars, in addition to the traditional acappella that they perform which is the title track. "We were excited about this album because all the songs really felt like a good fit for the band and I think we all stretched ourselves as writers on this record. I wrote a gospel tune that's a little more bluesy. That was fun to step out of my usual kind of genre. When I wrote it I was adamant that Heather should sing it but she said no, you should do it so it made me try something new." The song is called 'Storm Comin'.
"We all tried different things," Ruth continues "Nicky wrote some great pop songs and she also wrote a beautiful lullaby on ukulele, which was her first song on ukulele, 'Away But Never Gone'. Heather wrote some great songs too. She's from more of a jazz background and she wrote 'Cherry Blossom Love'. She also wrote a beautiful love song that has a sort of Celtic feel to it 'Across the Sea' and that was a new thing for her." It's clear that the Wailin' Jennys learn and get inspired from one another and the album has many examples of this kind of energy they share.
The Wailin' Jennys are back on the road and once again working hard. Nicky and Ruth have taken on the business side of the Jenny's in addition to writing and performing as well as managing solo careers.
They are delighting audiences everywhere they play be it in North America or Europe. Ruth Moody says of their shows, "It's acoustic folk and we like to tell stories. The three part harmony is a signature thing and can be very transportive. I think we take people on a journey."
The Wailin' Jennys have taken a journey themselves and brought back a little star dust to sprinkle on everyone with their album Bright Morning Stars.