Bruce Cockburn's Restless Spirit

In the studio recording Small SOurce of Comfort
Bruce Cockburn continues to make tradition as he releases his 31st album Small Source of Comfort
Bruce Cockburn is a restless spirit with a proclivity for the quest.
His tendency towards wanting to see things for himself and a continued sense of adventure has taken him all over the world collecting experiences, and his pointed observations have spilled into his songs. His career, so far, has spanned 40 years, with 11 Juno Awards and 31 albums. Cockburn's performances have ranged from Saturday Night Live, to a Presidential Inaugural Ball, to Pete Seeger's 90th birthday celebration at Madison Square Garden. He is an Officer of the Order of Canada, has been inducted into the Canadian Music Hall of Fame, and was awarded a Governor General's Performing Arts Award. There are numerous Honorary Doctorates and he is an activist that has lent his voice to various humanitarian causes throughout the world and he isn't done yet.
His previous studio album, Life Short Call Now, included an orchestral string section along with his signature guitar picking style. This time he wanted to do something different, electric and noisy. As it turns out, the solitude required for that style of writing was not to be had in the urban setting he was in. The solitude he eventually found was mostly in long distance driving. Bruce followed his muse while behind the wheel and has emerged with an album that is primarily acoustic. Small Source of Comfort, his 31st album, shows warmth, humor and some outstanding instrumentals.
A number of songs on the album were wisps of thought from the road. The "Iris of the World" came out of a lot of driving between Kingston, Ontario and Brooklyn, New York. Upon reading an interview with Jungian psychologist Marion Woodman who referred to the Divine Feminine representing the radiance in the cosmos, Bruce saw the first verse of the song "Radiance" unfolding as he was driving down the road at sunset.
The album also relates a trip to Afghanistan where he and his group spent a few hours at a NATO staging base and unwittingly became part of a Ramp Ceremony honouring the bodies of two young Canadian Forces members who had been killed and were going home. It was one of the saddest and most moving scenes he was privileged to witness he says. "Each One Lost" recounts that experience.
As much as he likes to drive now, when asked if he remembered his first time behind the wheel, Bruce recalled that his first experience as a teen wasn't quite as enjoyable. "I was terrified back then. I didn't rush out and get my driver's license like my friends did at sixteen. It was at least a year before I got around to it. My mom or dad would take me out and I think I scared my Dad a couple of times. I wasn't into driving back then and anytime I was confronted with a vehicle I wasn't

In the studio. familiar with it was pretty uncomfortable." In the 70's when he got in tune with the concept of driving he bought his first pickup truck. "The idea was to travel to the west," he says. "There was a lot out there to explore and we [then wife] thought the way to see it was by driving. Campers were not common at the time but I had seen one in a magazine and we made the truck into something we could sleep in and that's how we traveled. Back then you could park overnight in picnic grounds, so it was very easy to travel that way." It is evident that his adventurous and exploring nature was well in place and has served him well throughout the years.
Bruce Cockburn is a world traveler. As such there would be a certain element of risk going to areas that were somewhat unstable. Does that make him a risk taker? How important is it to have an element of risk in his music? Bruce shares his thoughts on the topic: "I think it's pretty important. In the absence of the element of risk, the art is boring. No matter whose it is or what kind it is." He chuckles and continues, "Well, I should step down a little from such a categorical pronouncement, but it feels like that. I like to hear what I think of is a sense of adventure in the music I like and I hope it is in my music."
After relaying the story of what was found in the Queen Mother's music collection when the castle was cleaned out-Scottish reels, speeches by Winston Churchill, Ska and Calypso music-Bruce was asked what we would find in cleaning out his castle? He laughs and says, "Nothing of much use. I listen to music when I'm driving. I like a lot of different stuff. The thing I listen to most is jazz. If I put on a record it's most likely to be jazz. I don't listen to songwriters very much, never have, with one or two important exceptions. I guess because I've been doing it so long I'm not that attracted to putting on records of songwriters. There'd be some blues records, a fair bit of Bob Marley and just odd bits and pieces that have been given to me."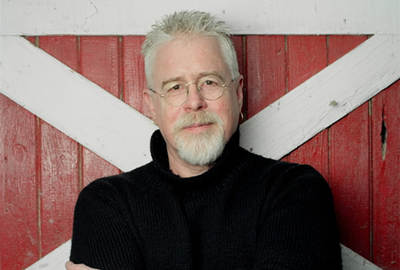 Cockburn's adventurous nature has taken him all over the world
Though Bruce is known and recognized in part for his words, he is also a guitar player with immense talent. A number of the songs on Small Source of Comfort are instrumental pieces. When asked what he loved about instrumental music Bruce laughingly says, "Maybe because it doesn't have words. You know when I started doing music as a career, though I can't call it a career exactly because I didn't think of it that way then, I always loved words and poetry and I dabbled in writing poetry. I went to music school to study composition because I imagined myself making instrumental music, jazz mostly. It turned out not to be the direction. The love of music without words has always been there. The obvious difference is that words can pin your imagination down; ideally that's what they are supposed to do. Or fire it up in specific directions. With instrumental music it's more about the feel, the mood. You can analyze the music intellectually, but being non-verbal it has a different kind of effect on you."
How does he see himself in the context of making "Canadian" music or being a "Canadian" artist? "To me there's no ideology attached to being Canadian particularly. Maybe that's one of the things I like about it," he says. "In English Canada we don't have much of a tradition that binds us, we're still making that tradition a hundred and some years later and I guess that feels like an attractive place to be, to be in an era where traditions are being made for later. I don't think I'd write the kinds of songs that I do if I'd grown up somewhere else. There is some indefinable quality about life in Canada that shows up in people's lyrics in particular, in predominance in successful folk or acoustic elements. It's hard to make meaningful generalizations of this because you could say that about any region. There is something that's distinctively Canadian. I don't know how to name it exactly, but I hear it in Leonard Cohen's music, and in Joni Mitchell's music and Gordon Lightfoot's music. It's intangible and subtle. What does it mean to me to be a Canadian artist? I am what I am."
Bruce Cockburn is an observer, a storyteller in music and song, and has been for over fourty years. He is busy helping build the traditions that will someday identify what people will term as Canadian music, but he will always remain a restless spirit of the world.