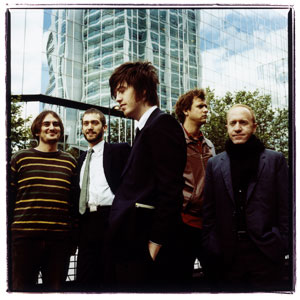 The Words and Music of Okkervil River
Will Sheff on writing composing dreaming and stealing
As a songwriter, Okkervil River's Will Sheff, has often found himself somewhere between a novelist and a musician.
His work tend to be layered with characters and themes, like you would typically expect from a fiction writer, but instead of fleshing them out on the page, he opts to putting them into song.
"I also really love words and language and writing, but I don't feel like that is the only useful thing about music." he says.
"In fact," he went on to add "that a lot of the reason why this record is the way that it is."
Sheff, and his band, have just released their new album, I Am Very Far, on Jagjaguwar records.
"It represents my attempt to make sure that it (the music) is as intricate and thoughtful as the lyrics." he says. "In a lot of ways, it takes a lot of the emphasis off the lyrics, even though the lyrics are probably the most involved and thought over, and fussed over lyrics I have ever written."
Try to think of it like a dream where you are talking to your mother and she slowly turns into a dog. So I think of the record as cubist like that.

The way he explains the process, Sheff sounds a bit like a chef in the way he describes his work. A little bit of one thing, a dash of another, mix and what should result is your finished product.
"I am trying to bring across something that is trying to be something." He says. "I am also trying to bring across something that is enjoyable to listen to. I don't want it to be too much of either thing."
He makes it seem like the songs on I Am Very Far are his ideal blend of both lyrical content and the music itself. One not being more important than the other.
"They (the songs) also kind of have these music that can kind of take peoples attention away (from the lyrics), which I think is a good thing because I really don't like songs like "Lily, Rosemary, and the Jack of Hearts" by Bob Dylan."
"I have no idea why he why he is saying all this stuff. Nothing changes musically. No new parts come in. There is no modulation in his performance." Sheff says.
"That, to me, is what you get when you have people who are overly concerned about music and don't give a shit about the music."
The record, the bands sixth, has Sheff producing as well as in front of the mic.
"When we started out, which was about 13 years ago, we had Brian Beattie, who was our co-producer, but to be honest, he was really doing all of the work and we didn't know what the hell we were doing. We were desperate." He says. "As time went on, and our relationship evolved, it became much more like I was clear on what I wanted and Brian, in a lot of ways, was the sounding board. In many ways, our relationship became considerably different between all of those records."
"I think that this time, I really wanted to not have a sounding board." Sheff says. "I could cut myself loose and float around. It does not necessarily mean that I will produce every Okkervil River record from now on. I just really wanted to have the ability to dive into that 100% and be able to dive into it."
He says that there are a few themes of the record but that he didn't let himself "delve into thinking about what they were."
"I was aware, and had a feeling of what they were in an intuitive level, but I never talked to anybody about it." He says "I wanted it to feel like there was still a sense of mystery."
"By in large, the people on I Am Very Far don't stay consistent for very long." Sheff explained. "Try to think of it like a dream where you are talking to your mother and they slowly turn into a dog. I like that
I feel like I am sort of a blood hound. I have my nose to the dirt and I try to find this sort of scent.

flow and how the mind organizes the creation of characters that way. So I think of the record as cubist like that."
He explained the record as "a perspective that is zooming into a macro focus and then zooming out into a big wide shot."
"I feel like I am sort of a blood hound. I have my nose to the dirt and I try to find this sort of scent." He says. "It sort of like following it until you are there. That's how it really works."
The band, now in its 13th year, has been a critical success for a large part of that time. And while they have found some success on the Billboard charts, with their last release, 2008's The Stand Ins, topping out at #42, they have yet to see the level of fame of some of their peers. When looking at the success of Montreal's Arcade Fire, Sheff remains skeptical that they are anything other than a "blip" on the radar.
"I don't know what their story says about Indie Rock as a whole." He says.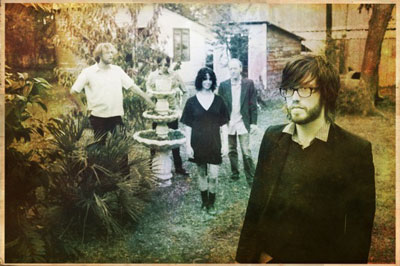 Will Sheff and Okkervil River
Opting to not refer to the band's recent Grammy success as s watershed moment for Indie rock, he jokingly suggested that instead it may just be the "high water mark".
"A band like the Arcade Fire is the exception to the rule. They are a very good band but they were also this lucky band that was in the right place, at the right time."
"There is a part of me that would like to believe it is a beautiful narrative," he says, "but there is also the cynical part of me that thinks that it is a blip."
"I am happy for the Arcade Fire, as I am happy for any good band that is successful, and I would like to believe there is more where that came from, but I just don't know."
He does say that "these days, with the internet, it is a lot easier to have a close relationship with the band". While torrents are destroying profit margins, Sheff argues that access to your favourite band has never been easier. That said, he is still unsure of how he feels about the state of the current industry.
"I call it stealing because it is stealing," he says, referring to torrents and unauthorized downloads, "but it's not like it is malicious. I think that the human mind is not set up in such a way to feel guilty about something like that. Something that is so incredibly abstract."
"I am sure we have fans out there, who completely love us, and who preach the gospel of our band to everybody, and have probably never paid us two cents for anything we have ever recorded. They probably don't think about that." Sheff said.
In defense of those fans, he also was quick to offer up his own illegal copy of the tv show The Wire.
"I remember watching the first season of The Wire, that somebody had given me and put on a hard drive. I was watching this season and talking about this excellent, excellent show and then I think 'I am so glad I love this thing that I am completely stealing!"
"I am absolutely, just like a parasite, attached to the thing. The thing I am sucking the life force out of is so great."
You can find Okkervil River here:
May 16th: London, UK @ Heaven
May 18th: Berlin, DE @ Kesselhaus
May 20th: Stockholm, SE @ Gota Kallare
May 21st: Hamburg, DE @ Uebel & Gefahrlich
May 22nd: Amsterdam, NL @ Indiestad Festival – Paradiso
May 23rd: Paris, FR @ Maroquinerie
May 31st: Atlanta, GA, US @ Variety Playhouse * #
June 1st: Chapel Hill, NC, US @ Cat's Cradle * #
June 2nd: Washington DC, US @ 930 Club * #
June 3rd: Philadelphia, PA, US @ Trocadero * #
June 4th: New Haven, CT, US @ Toad's * #
June 7th: New York, NY, US @ Terminal 5 #
June 8th: Boston, MA, US @ Royale * #
June 9th: Buffalo, NY, US @ Town Ballroom * #
June 10th: Toronto, ON, CA @ Phoenix Theatre * #
June 11th: Columbus, OH, US @ Newport Music Hall * #
June 12th: Minneapolis, MN, US @ First Ave * #
June 14th: Omaha, NE, US @ Slowdown *
June 15th: Denver, CO, US @ Bluebird Theater *
June 16th: Salt Lake City, UT, US @ Urban Lounge *
June 17th: Boise, ID, US @ Egyptian Theatre *
June 18th: Seattle, WA, US @ Neptune Theatre *
June 20th: Vancouver, BC, CA @ The Vogue Theatre * &
June 21st: Portland, OR, US @ Crystal Ballroom * &
June 22nd: San Francisco, CA, US @ Fox Theater * &
June 23rd: Los Angeles, CA, US @ The Wiltern Theatre * $
June 24th: San Diego, CA, US @ Belly Up Tavern * $
June 25th: Tucson, AZ, US @ Rialto Theatre * $
June 27th: Albuquerque, US @ Sunshine Theatre
June 28th: Lubbock, TX, US @ Jake's *
July 3rd: Des Moines, IA, 80/35 Festival, Gateway Park
* w/ Titus Andronicus
# w/ Future Islands
& w/ Julianna Barwick
$ w/ NewVillager