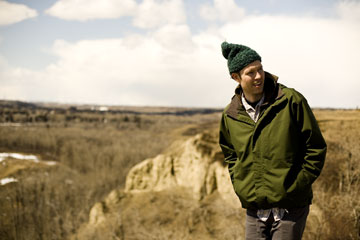 Chad VanGaalen Can't Get Enough
With a new record, film and musical side projects and a new found love of the Rolling Stones, Chad VanGaalen is on the move...
As Chad VanGaalen picks up his phone inside of his studio in Calgary, Alberta, he is putting the finishing touches on an animated music video that will accompany one of the singles off his new studio album, Diaper Island.
"I'm currently working on the last scene of 'Peace on the Rise'," says VanGaalen, who in the previous months has spent an equal amount of time working on a music video for label-mate J. Mascis. "I've been working on it for six months."
As soon as you start drinking and jamming, sticks start getting thrown around and things start getting volatile

Such an amount of time for a piece of work isn't entirely unusual for VanGaalen. Whether it be the format of a cartoon, sonic drones, or as a guitar strumming avant-garde songwriter, VanGaalen is a workaholic in every sense of the word. "I like the challenge of it. Could you make an entire animated film as one person?" he hypothetically asks. "Of course you could. But how can you do it without going completely insane? I don't even know if anyone has managed to do it."
Which is why VanGaalen works on smaller pieces to accompany his music. And in recent years, the amount of music he's been creating has been on the rise, even if you haven't heard it yet.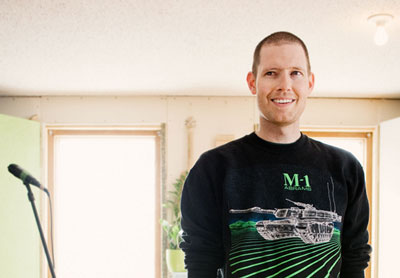 Chad really favours standing on the right side of photgraphs
VanGaalen, who released the Can-Con classic albums Infiniheart, Skelliconection and Soft Airplane throughout the last decade, moved into the space that occupies his current studio two years ago.
The move was prompted due to an accessibility issue in his past rehearsal space. "More space just equals more fun for me as far as having everything set up all the time," he says about his new studio, the hilariously titled Yoko Eno.
"I was set up in a basement suite before and it was a lot of packing stuff up and putting stuff away. Especially with the drums, because you need to have a full drum-set set up all the time. My main tape machine was behind the drums. As soon as you start drinking and jamming, sticks start getting thrown around and things start getting volatile," says VanGaalen. "It's nice to have sections. My mixing desk is off in a separate room; you can isolate sounds."
In his time since occupying the new studio, VanGaalen has made three records, two of which are what he describes as modular drone records in the same vein as his spin-off act Black Mold, a group he initially created due to audience confusion about his combination of drone and rock in live performances.
"I've tried to mix it up on past records, but it seems like all of the instrumental stuff got left out with the live show and touring. I like to kind of have it separate now. At least with the Black Mold stuff I can play shows and people are at least expecting a full drone set. It's not like they're showing up at a Chad VanGaalen show. I used to do that in the past and it kind of alienated some people. That way I can kind of do whatever I want with the Black Mold thing."
To tell you the truth, I've never been a hardcore Rolling Stones fan. I sort of just vicariously got into it through listening to other people's records.

His two modular drone records have yet to see the light of day, but he is currently working on a way to release them for his diehard fans. One of those ideas is to load it up onto and online databank where it can be accessed for free, similar to the process Deerhunter's Bradford Cox did with his Atlas Sound solo-project.
"Right now there is just a lot of stuff piling up and I'm lazy about doing anything with it. So I think Ian from Flemish Eye is going to help me load it online properly, just so I'm always updating my work in a blog, as silly as that sounds. At least there would be a place for it than just sitting on a hard drive or tape machine," says VanGaalen. "It seems it's easy enough now to not worry about that stuff. I don't know how practical it would be to release 90% of this stuff, so at least people could listen to it if they wanted to."
But until that day comes, fans of VanGaalen can bask in his upcoming studio release, Diaper Island, which sees its release on May 17th. The album, named after the current state he found himself in while taking care of his three year old, is a sonic departure to his previous album Soft Airplane. Where Airplane offered fans more ambient and experimental

VanGaalen's daughter was born three years ago. tones, Diaper Island is more of a rock effort for the guitarist. "I'm into a lot of different kinds of music. I like mixing stuff up, but I was interested in making a rock record," VanGaalen says of Diaper Island.
The album was in part influenced from recording Public Strain with Women in Yoko Eno last year, but also from a recent appreciation of the classic rock hits from the past which VanGaalen collects.
"I was listening to a lot of records that I love, like old Rolling Stones records," says VanGaalen of the unlikely inspiration. "To tell you the truth, I've never been a hardcore Rolling Stones fan. I sort of just vicariously got into it through listening to other people's records. I picked up a Hot Rocks record and sort of just started getting the albums. I got into it more just for the guitar production on those records. It's pretty amazing."
The five string blues rock of Keith Richards certainly helped VanGaalen flush out the sonic textures of Diaper Island, which is predominantly a guitar rock record. But for the more psychedelic and reverb heavy tones of the album, VanGaalen also drew inspiration from a few more modern day rockers.
"I really love Thee Oh Sees. That Help record and Warm Slime are great. It was kind of the same record but muddier, but Help was a total masterpiece," VanGaalen says of the San Francisco garage rockers that inspired parts of Diaper Island.
"You kind of don't really realize what a good guitar player John Dwyer (lead guitarist and songwriter of Thee Oh Sees) is, but he's actually technically amazing," says VanGaalen. "Technically, he did not miss a note. I was wondering how they were going to translate those songs live, because it's pretty dependant on the production. I think they were running all three vocals through this Space Echo, which is kind of the key to keeping it weird and muddy."
As VanGaalen mentally dissects the technical aspects of his most recent favourite albums, it becomes clear that an important part of what makes up Chad VanGaalen's work is this exploration of how things are made by those that influence him. Because whether he's working on morphological animations inspired by Mr. Bickford, creating new instruments and fixing old ones, or writing pop songs, VanGaalen is obsessed with learning and being self-sufficient in all parts of his life as a recording artist.
"I think I'm just a crazy control freak, as well just being excited pulling things apart," he says. "That's why it's an interesting process for me. Because you learn so many new things."