Level 3 Storm Warning

My Son the Hurricane releases their biggest storm yet with You Can't Do This
The Saffir-Simpson Hurricane Scale divides hurricanes into 5 different categories according to their sustained wind velocity. Level 3 indicates there is enough power to flatten mobile homes, blow down large trees and damage small buildings.
My Son The Hurricane could be categorized a level 3. The thirteen piece behemoth, with a brass section that can blow down trees and uproot people from their seats, is tracking through eastern Canada.
When it comes to doing something like this, I don't want to half-ass it.

Structural damage sustained when in Montreal was minimal but nonetheless frightening. Danno O'Shea, band leader and drummer explains. "Most of us almost went down in a tragic elevator accident when the entire band tried to fit into an elevator." He adds, "Which will never happen again. We were stuck in there for a little bit. You never realize exactly how much people drive you insane until you're stuck within 2 inches from them. It felt like hours but in reality was probably about 45 seconds."
There are certain logistical considerations with this group, Danno has discovered, but it doesn't seem to deter him. In fact the opposite is true. "When we started putting the band together and I was calling my fantasy draft of musicians, a lot of people said, 'You know Danno, this sounds great but it will never work'; a lot of promoters told me the same thing. Lots of people did, from festival organizers to friends of mine. 'You can't tour a giant band; you can't make videos with a giant band, there is a reason nobody does this'. The truth is I've run into some of those problems," admits Danno. Even though O'Shea threatens to make everyone hang onto a rope like kindergartners and takes a physical head count at each show, he says the pros highly outweigh the cons.
The first EP, Check the Barometer experienced some surprising success for My Son The Hurricane and Danno is quick to put it into perspective. "You know, Check the Barometer was created out of necessity. You need something to shop around so people can tell if you're garbage or not. We thought that what we had cookin' in the basement was something special, but anyone who's in a band always thinks that," he laughs. "It started to get some play and "That Ain't My Style" the video basically got us a record and licensing deal. That kind of came out of the woodwork, but having said that, Andrew Harwood, who helps manage the band and I, are obsessive-compulsive about working on the group." The EP accomplished what it was intended to do, getting into the hands of the right people and putting them in front of some sizeable audiences.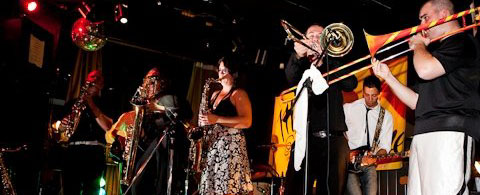 My Son The Hurricane

is known for their live shows
It was back to famed Grant Avenue Studio to record. When batting around ideas for the album title O'Shea kept coming back to the naysayers. Emcee Jacob Bergsma, who was experiencing the same thing, immediately said, "That's it, you've hit it." You Can't Do This is the bands first full length CD.
Joining the group in the studio as guest vocalists, were Shane Philips, who lent his soulful voice to the EP as well, and Nigel Williams of Pocket Dwellers fame. The Hurricane sound is still a big, fun wall of brass, a propellant rhythm section and the hip hop styling's of emcee Jacob Bersgma, who can playfully pluck every nerve in your body with his voice.
The album starts out with a funeral dirge called "Doom Bringer". According to Danno O'Shea, "It's a good way to get attention as we march into a venue playing it, and it pays homage to the style of music we love." O'Shea says of the tracks, "It was really tricky to make a track listing for an album like this. It's really all over the map. You have some straight up barn burners ["Honor Among Thieves"] and there are some slower gems. Most people will find the ones they like and make their iPod list, but somewhere inside I like to think that there's somebody who plays this front to back in their car." Some songs still have echoes of the good-time party vibe that they are known for, but there are those that also display lyrical depth. On the single "Pushin' Up Daisies" the line 'life is written in chalk and rain, not covered in stone' gives an idea of the growth in writing. "One of the big differences in this album, and there aren't that many", says Danno "is Jacob is coming into his own as a lyricist. It's a little less party material and a bit more thought provoking. "Pushin' Up Daises" is a tune that needed very little tweaking. It's one of those ones when we all started jamming it out, we got big smiles on our faces."
The album is sure to evoke response from all camps. When Danno was asked if he was fearless, the response was classic O'Shea. "When it comes time to doing something like this, I don't want to half-ass it. That's just not in my being. In the same way, I'm anxious as to the response to this [album]. It's kind of like waiting for a child to arrive, and wondering if people are secretly going to say it's ugly. You know it's like after your first child, and everyone thought your baby was so cute, 'Wow I can't believe that beautiful child came from you'. You just really want your genes to produce again."
A proponent of the experiential side of life, Danno encourages people to take a few minutes to try something different. "Think about the quest," he says. "There's so much. It's easy to get locked into the boxes of the things we like. I'm not closing myself off from anything anymore, just from riding in a van with twelve other people, there's everything from throat singing to heavy metal to Lady Gaga, to ZZ Top. It's just great to go out of your comfort zone."
Hang on to something solid, there's a level 3 hurricane coming your way.
My Son The Hurricane is touring with Juno nominated, Polaris nominated Canadian hip hop artist D-sisive. For album and concert information go to http://www.mysonthehurricane.com