Ohbijou and the City
Ohbijou's Casey Mecija is worried about her city but, hopefull about the future.
Casey Mecija seems conflicted.
Her band, Ohbijou have just released their third record, Metal Meets¸ and are about to get set for some time on the road, yet at the same time, she can't help but be concerned with what may be happening to her adopted hometown of Toronto.
The city, under Mayor Rob Ford, is looking into ways to cut the "gravy" out of the budget, and the fear is that it means an end to arts funding.
"I was just recently in Berlin (Germany) for a month, on vacation, and I spent one of the evenings watching deputations from (Toronto) City Hall, streaming on the internet. It was four in the morning and I was watching my comrades fight for our city." She says. "I found myself getting so moved, and angry."
He could make our reverb more reverby, and make our sparkle more out of this world.

"I was crying watching this because it feels like it is going to be such a huge fight. It doesn't make sense that to a section of our city that these services are not necessary."
Originally from Brantford, ON, Mecija moved to Toronto to attend school and eventually formed her band. She found herself in the middle of a blossoming arts community and, like most artists, government grants are an important part of her lifeblood.
"A lot of what Ohbijou does, and what I do personally as a musician, depends heavily on grants and arts funding." Mecija says. "The proposed six million dollars in cuts to the arts, we can foresee the very limbs of our professions being cut off."
"As gory as that sounds, that's how it will feel."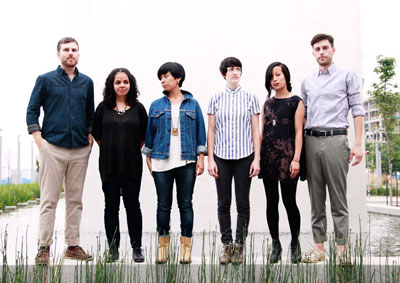 The cuts are still under review, and may be eventually spared from the ax, but for now, they are still on the table.
"With the passing of Jack Layton, it has been a pretty hard time for our city. With what is happening with Rob Ford, there is definitely an air of frustration, but I think that there is also this rise of wanting to not jump ship." She says.
Mecija says she, and other local artists, should "stay true to our hometown and fight for things that are really important for our kids, our families and communities that we really care about."
The bands third effort, Metal Meets, was released on September 27 on Last Gang Records.
"As a band, on our previous two records, they were very much located in a specific area of Toronto. A lot of our songs revolved around the "Friends of Bellwood" music scene, where a lot our friends were playing shows." she says. "With this record, with our travels, and with some of us getting involved in school, and becoming involved in other projects, we were able to approach the record with more depth and complexity. I think having that broader spectrum of the world, outside of that small community, helped push the sound forward."
The record, which was recorded in Montreal, marks the first time they band has worked outside their comfort zone, both literally, and sonically. Bringing in producer, and Besnard Lakes front man, Jace Lasek, to work the board, Mecija says recording this record was an "amazing" experience.
Speaking of Lasek, she says he is "one of the nicest people to work with, ever."
"We called him a 'Sound Wizard'. He definitely engineered some of our most grandiose and most ominous sounds on our record."
Though, all the praise aside, she did mention that the band had a good idea of what they wanted, before going into the studio, to lay down the record.
"Ohbijou did some significant demoing in the months leading up to the recording session." She says. "We had figured out a lot of the sounds already, and that is what led us to Jace. We just wanted to find someone that could extenuate some of those nuanced details. He was a guy we thought that could make our reverb more reverby, and make our sparkle more out of this world."
The band, as a lead-up to the release of Metal Meets, released three short videos, each featuring songs clips from the record, put to a loosely intertwined story about a swimmer, played by Mecija's sister, and band mate Jennifer.
The band is also set to release a music video for the first single "Niagara".
Mecija, who once worked as a Production Assistant for Much Music, joked that she left the station because it "was taking up too much of her time."
"I think that I was very level-headed about the television industry." She says about the station, which is not known to be the most kind to independent Canadian artists. "I know what drives it. I know why a video is being played and why an artist is popular."
"I think there are some really questionable and weird things about music television." She says. "I understand why it works the way it does, and just how, in relation to it, Ohbijou doesn't work."
You can see
Ohbijou
here:
9/28 Hamilton, ON - This Ain't Hollywood
9/30 Toronto, ON - Trinity St. Paul's United Church>
10/1 Guelph, ON - Dublin Street United Church
10/5 Kingston, ON - The Mansion
10/6 Ottawa, ON - Ritual
10/13 London, ON - The Aeolian Hall
10/14 Peterborough, ON - Market Hall
10/18 Halifax, NS - Reflections Cabaret (Halifax Pop Explosion)
10/20 Sackville, NB - George's Roadhouse
10/21 Charlottetown, PE - Baba's
10/22 Fredericton, NB - The Capital
11/9 Sudbury, ON - The Townehouse
11/11 Thunder Bay, ON - The Apollo
11/12 Winnipeg, MB - West End Cultural Centre
11/13 Saskatoon, SK - Amigo's
11/14 Edmonton, AB - The Haven Social Club>
11/16 Calgary, AB - Palomino Smokehouse
11/18 Nelson, BC - The Royal
11/19 Vancouver, BC - The Biltmore Cabaret
11/20 Victoria, BC - Lucky Bar
comments powered by

Disqus