Kurt Elling (right) and his band tearing up the stage
at the SaskTel Saskatchewan Jazz Festival
What a Strange Trip: Saskatchewan Jazz Festival
A great line-up, a casual atmosphere and strong performances make for a great time.
Since 1989 I've annually attended the Vancouver International Jazz Festival, with the exception of two years. This year I decided to check out the jazz in another city and ended up going to the 25th Anniversary edition of the Sasktel Saskatchewan Jazz Festival in Saskatoon, Sask. Friends, George and Dorothy, now live in Saskatoon and kindly offered me a place to stay for the duration of the festival. So I headed off on what turned out to be a road trip of around 2,600 km. I checked out the line-up of musicians at www.saskjazz.com and soon realized that many of the artists were also appearing in Vancouver, too. Once I arrived in Saskatoon my friend George
Kurt Elling just blew me away!

brought me around to many of the venues. Happily they were all within about a twenty minute walk from his home. I spent most of my time at the StarPhoenix Free Stage, which had a mix of local, national and international artists.
There were a few blues acts but the festival organizers (to their credit) provided a wide variety of jazz styles in a beautiful setting on the South Saskatchewan River. Represented were hot (gypsy) jazz, big band, numerous Latin styles, klezmer, various New Orleans styles, and plenty of vocal and acoustic music covering decades of American standard jazz and some contemporary, too.
The TD Mainstage at Bessborough Gardens hosted a variety of bigger name acts such as Macy Gray, Aaron Neville, and more pop/rock oriented acts such as Tegan and Sara and breakout local band, The Sheepdogs. At the time were vying for a chance to be on the cover of Rolling Stone.

Mark DeJong and the Outer Bridge Ensemble
They sold out the Bessborough Gardens instantly and eventually won that honour. Many of the opening acts were also playing in clubs and theatres around town, so if you missed them in one venue you could catch them in another.
I attended shows in the newly refurbished and absolutely, beautiful Broadway Theatre. There was a nice variety of jazz acts booked into this venue. On the first Saturday, I saw an incredible performance from Hilario Duran's Latin Jazz Band featuring the wonderful reed player Jane Bunnett. I ran into Jane earlier in the day outside the Bessborough and got to chat with her briefly after the show. The atmosphere is definitely quite casual in Saskatoon. Other nights I saw the pairing of Mark DeJong and the Outer Bridge Ensemble, with Christian McBride and Inside Straight and later in the week the Robert Glasper Trio, opening for Kurt Elling. I have to say a few words about Kurt Elling. I have enjoyed his CDs over the years, but I was not prepared for the show that he performed. He's a slick, handsome man, wearing (I'm guessing) an Armani suit. He has the patter with the audience down to a science. I think he only performed a couple of songs that I would consider jazz, but his arranger and he did a great job on
There was a real buzz in Saskatoon about their jazz festival

numbers like Joe Jackson's "Stepping Out"; Stevie Wonder's "Golden Lady" and the Beatles' "Norwegian Wood." At different times he did a call and response session skatting with each member of the band. Elling just blew me away!
Just a couple of blocks away Amigos hosted more of the funky acts. Amigos is a restaurant up until around 9 PM and then becomes a great live music venue. As I had previously seen most of the bands that were headlining at the Bessborough Gardens, I was hoping to get a chance to see some of their opening acts and The Dirty Dozen Brass Band was at the top of my list. They played a great show to a packed house at Amigos and did not disappoint.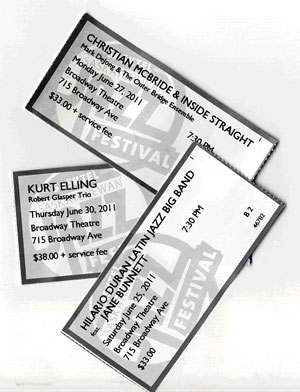 Later in the week I caught Mr. Something Something. I had a good chat with their energetic, lead singer Johan Hultqvist. We discussed the Broadway area of Saskatoon and how it gave off such a wonderful vibe--and as always Mr. Something Something added its own vibe to the mix with wonderful results.
It was interesting to be in a smaller centre to attend a jazz festival. Sometimes festivals can get "lost" with many other things happening in larger centres. I found that there was a real buzz in Saskatoon about their jazz festival. Local musician and leader of the Outer Bridge Ensemble, Mark DeJong appeared in press features and on local radio and television and there were plenty of other stories about the festival. Outer Bridge made numerous appearances at the festival and got rave reviews from many onlookers.
Canada Day brought out the red and white in many and the Kiwanis Park was filled throughout the day with people crowding the stage and beer gardens for what was a day of mostly world music tinged jazz. Local band Sabor a Salsa delighted the flag waving (and flag wearing) audience with an incredibly, energetic set of Latin music including a mambo style version of the Pink Panther. The band included three percussionists, a horn section, keyboards, bass and numerous vocalists led by Michelle Cousin. The dance area filled up immediately and stayed that way most of the day.
Later in the day Gypsophilia from Halifax kept the party going with their blend of klezmer, jazz and fun. Vocalist Ross Burns noted that they had been on the road constantly in the last few days with little sleep, but it didn't affect the bands performance at all. He even joined the crowd and showed off his dancing prowess during one of their numbers.
While Canada Day was probably the day I had the most fun, I made a point of catching some other performances. I usually make a point of checking out the bands from Scandinavia and fortunately, the Jonas Kullhammar Quartet was booked at a number of venues, including the free stage, where Mark DeJong ran the house band and the jams on some of the nights.
They played a fairly straight ahead bop-influenced set and fortunately they had CDs for sale, so that memory of Kullhammer's sax won't fade away. They also appeared at a club called The Bassment.
Saturday, July 02 was the final day that I attended and I'm really glad that I stuck around for Kevin Kasha's Tribute to Miles Davis. Kasha did an admirable accounting of the life of Miles Davis and chose music from different times of his life. Miles Davis played or invented different styles of jazz at different times and Kasha and his band pulled it off with ease.
This was my first visit to Saskatoon. The city is really quite pretty, with the river winding through it and a number of scenic bridges that can transport you to other areas. The Saskatchewan Jazz Festival was well run. Bands were generally on time and there were few problems with wait times between acts. The volunteers were numerous, friendly and helpful—and the beer garden was accessible and everyone I spoke with was friendly and hospitable. There was an ample mix of free, inexpensive and moderately expensive costing shows and many bands played in a number of venues. Festival organizers also included a mix of blues, zydeco, pop and rock acts so that those who are not into jazz could still find something to their liking; but more importantly, it is a jazz festival and there was lots of jazz! I liked the free noon-hour performances, so you could start your day off great and keep your festival mood going and the wonderful variety of burgers in the festival tent. The Saskatchewan Jazz Festival is the second largest jazz festival in Western Canada. I certainly enjoyed myself there and I recommend that you check it out some year.
Jim Dupuis is the host of Jazz Notes, now in it's 13th year on Wed. 5-7 PM PT at www.thex.ca
comments powered by

Disqus