Austra: Feel Her Break
10 Questions with Katie Stelmanis, the woman behind 2011 Polaris Prize nominee Austra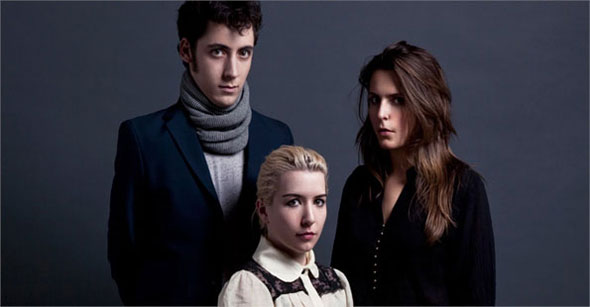 For the past year, Katie Stelmanis and her band Austra have been whispered on the lips of music tastemakers everywhere. Touring like a motherfucker has only earned her indie dance music more fans.
I first interviewed Austra for the interview show after they played a basement warehouse in Vancouver (the club secretly known as Goody). I caught her on the phone while she was stuck in traffic in Oregon during a tour down the west coast.
Since then Austra have circled the globe and become the darlings of Canadian music critics. The band recently made the Polaris Music Prize shortlist, along with other celebrated bands like Arcade Fire, Braids, Destroyer, Galaxie, Hey Rosetta!, Ron Sexsmith, Colin Stetson, Timbre Timbre and The Weeknd. Making the shortlist can be a big deal. The yearly award tends to make careers for indie artists.
I believe in the supernatural every day, it's a constant inspiration for what I do!

The prize will be handed out this September 19th, so I thought it would be a great opportunity to catch up with Katie. She answered all of these questions while sitting on her hotel bed in Amsterdam.
Scott Wood: What question do you hate being asked?
Katie Stelmanis: "Describe your music."
Scott Wood: Can you talk a little bit about how being a Polaris Music Prize nominee can change the life of an indie Canadian artist? Winning the prize made Owen Pallett a star. (Assuming it has changed your life.)
Katie Stelmanis: I don't really have any perspective of how things like the Polarize Prize can change my life. I don't pay attention to what is happening to our band, I think it's too dangerous to get caught up in it. Polaris is a huge honour because the award represents a high level of musical integrity, which in my opinion is the greatest way to be recognized as an artist.
Scott Wood: Everyone compares Austra to Swedish electronic band The Knife. This comparison is a little easy. Can you think of some quirky male artists people might not see in your work that you do?
Katie Stelmanis: Queen, Depeche Mode, Kraftwerk, Portishead are all influences and bands I think we have similarities to.
Scott Wood: Austra is often called a "new wave" band. I would simply say "indie electronic." What would you say?
Katie Stelmanis: I don't really understand what "new wave" means. I usually say "Dramatic, electronic, pop music" but I guess that doesn't really flow too well.
Scott Wood: Before Austra, you were a children's choir veteran and had a post-riot grrrl band. Can you talk about how you found your current genre and your feelings on moving around the musical map?
Katie Stelmanis: I think it's incredibly important as an artist to move around the musical map. My whole life, I have always said that I don't listen to music because of the way it sounds, but for what it is. I have found a "genre" by default. I wanted to make complex arrangements, so I used midi in my bedroom, and therefore I sound like an 80's synth band. The next record may be quite different.
Scott Wood: What did being in the children's choir give you that some other artists might not have?
Katie Stelmanis: The ability to sing in tune, and to create complex harmonies really easily.
Scott Wood: Austra is a group effort. Can you introduce the rest of the band and what they are bringing to the mix?
Katie Stelmanis: Maya Postepski plays live drums, and helps with production and beat programming as well. Dorian plays live bass on the record and in live shows. Ryan Wonsiak plays keyboard on the live stage, and Romy and Sari Lightman sing back up.
Scott Wood: The lead singer from the band Say Hi! once told me that when he interviewed potentials for his touring band, he would go out for a drink with them to see how they handled themselves. What do you do?
Katie Stelmanis: I set up a band practice with them and see how quickly they can learn my songs, and also of course decide if I like them as people!
Scott Wood: You guys have toured all over North America this year. Thor Harris once gave 21 tips on touring. One was "Touring makes everyone bi-polar. Ride the waves as best you can and remember, moods pass. So don't make any snap decisions or declarations when you are drunk or insane." Can you talk about about a time, the road has made you a bit crazy and what happened?
Katie Stelmanis: This has happened more times than I can count. I've broken up on the road, lost band members, gotten into fights, and gotten really sick. Most of the problems revolve around alcohol, so we try to limit our intake whenever we can.
Scott Wood: When you recorded your solo record as Katie Stelmanis, the video for the song "Believe Me" featured witches. When was the last time in your life you were tempted to believe in the supernatural?
Katie Stelmanis: I believe in the supernatural every day, it's a constant inspiration for what I do!
The Interview Show is everywhere.
Follow me on twitter @interview_show
Listen to The Interview Show on SoundCloud soundcloud.com/interviewshow
SoundCloud RSS Feed
www.cjsf.ca (Vancouver, BC, Mondays 4:30-5pm PST and Wednesdays 12:30am PST)
www.ckdu.ca (Halifax, NS, Saturdays 1:30-2:00am AST)
www.radiocfxu.ca (Campus Community Radio, Antigonish, NS, Fridays 11pm-12am AST)
www.cfru.ca (University of Guelph Radio, ON, Tuesdays 3pm EST)
www.umfm.com (Winnipeg's Hit Free Radio, Fridays 6-6:30pm CST)
www.caperradio.com (Cape Breton University Radio, NS, Wednesdays 3-3:30pm AST)
www.localfm.ca (Campus Radio Saint John Inc., NB, Tuesdays 11:30am and Fridays 3:30pm AST)