2011 Polaris Prize : Who should win?
We've got some ideas about who should win the Prize this year and who shouldn't. Join the Conversation.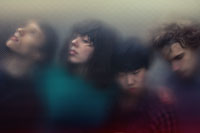 Braids
I'm writing an article about who I think should win the 2011 Polaris Music Prize and just can't help feeling the need to write about why I don't think Arcade Fire should win.
Nothing against them, in fact their latest album, The Suburbs for which they are nominated, is an outstanding work of art. The band has proven many times over their artistic merit and their aptness at pushing musical boundaries while remaining accessible to most ears.

Hey Rosetta!Getting a nod from the Father of Musical Artistry himself, David Bowie, early in their career certainly helped and the drummer is from my hometown (Ottawa). Nonetheless, I've always liked rooting for the underdog. (Not that being short-listed for the Polaris Prize makes anyone an underdog!)
This year's Polaris Shortlist is Arcade Fire, Braids, Destroyer, Galaxie, Hey Rosetta!, Ron Sexsmith, Colin Stetson, Timbre Timbre and The Weeknd.
In my previous article, I stated that, in keeping with the spirit of the Polaris award, neither Neil Young nor Arcade Fire should win due to their well-established careers in the biz. My understanding of this prize is that it is destined for emerging, independent bands in need of recognition and a little/or a bundle of/ cash.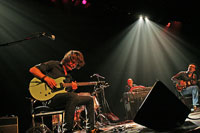 Galaxie (The prize comes with a very generous $30K). So I looked at the PP Mission Statement and it clearly states it wishes to recognize "artistic integrity" unrelated to sales. Therefore, any one of the short -listed bands deserve to win this prize.
Here's who I like:
Braids / Native Speaker: Very impressive debut. Love the way they manipulate texture and atmosphere to create unusual soundscapes. High marks for creativity but perhaps they need a little more time to mature. I look forward to their next disc.

Hey Rosetta! / Seeds: Likely a popular favorite. I like them a lot. Solid band and I'm sure they have a bright future ahead.

Colin Stetson
Galaxie / Tigre et Diesel: Another great French Canadian band but do they have a chance considering fellow French Canadians, Karkwa's win last year?

Colin Stetson / New History Warfare Vol. 2: Judges: Thanks to Polaris, I now know who they are. Mission accomplished! I've been hearing a lot about them lately. They are hot and might stand a very good chance at picking this up.

And now ...drum roll... my pick for the 2011 Polaris Music Prize:

Timbre Timber Timber Timbre / Creep On Creepin' On: I've liked them from the first time I heard them. Very beautiful melodies and haunting harmonies. An earful of orchestrated instruments all creating a wondrous, otherworldly experience. If you are rewarding artistic merit, then this is your band.
In the end, we are all winners and can be proud that our country has spawned so much creative talent and that our artists are unafraid to leap well beyond the boundaries of mediocrity so pervasive on commercial airwaves these days.

Anne-Marie Brugger is a radio host and music writer. She hosts Hop the Fence at CHUO 89.1FM Radio in Ottawa Ontario. You can tune in on Fridays at 5pm Eastern Time.
www.myspace.com/hopthefence
@HopTheFenceCHUO
Tell us who you think should win the Polaris Prize this year (and why)...
comments powered by

Disqus