The Jon Treichel Interview
BC Jazz Guitarist Jon Treichel wears his influences proudly on his new release.
It is said that stardust is a billion scattered atoms. This is somewhat apropos to guitarist Jon Treichel. He is a veteran of many bands in the Kamloops area and his main vehicle, The Scattered Atoms has gone through many personnel and genre changes over the years, to get to the place he now finds himself. In a recent incarnation, the Scattered Atoms found a home as an electric jazz trio, which could expands to a quartet or quintet as required. They often play at the Commodore Grand Café and Lounge on Friday nights. That is where Jon did live recordings of his arrangements of the likes of Miles Davis and Herbie Hancock songs. The Atoms sometimes also appear, at local nightclubs in Kamloops and Sun Peaks. Jon sometimes appears in other bands, too. When not performing he is a Yorkville Product Specialist at the music store L&M (Long & McQuade) in Kamloops. Jon appeared live on Jazz Notes shortly before Christmas and kept me laughing with his vocal intonation and occasional impersonation. While he sometimes jokes about his talents with self deprecating humour, he is an excellent guitarist and arranger and is very popular with his band mates.
JD: How long have you lived in Kamloops?
JT: I moved here, I think it was about the fall of '93. I'd been living out in the Shushwap for about a year before that. I'd been working on a musical about Janice Joplin and before that I was living in Vancouver. I thought that at some point I would move back to the post and I just haven't yet. It's looking further and further out (laughs).
JD: It's happened to a few of us.
JT: Well, every time I go down to the coast I get stuck in traffic and I remember why I left.
JD: That's definitely a good point. Now, I remember seeing you in the Janis Joplin show. Was that Jan Kudelka?
JT: That's right.
JD: I saw you in the theatre down on Lorne Street.
JT: Was it just the two of us, or did we have the band with us?
JD: Just the two of you.
JT: That was our very first run.
JD: You know I still have the clippings from the newspaper at home.
JT: Do you? That was my first professional theatre work. It was interesting that way, but I remember doing that show and at the end of the night there was always a little crowd of people who wanted to meet Jan and most nights there would be a couple of big, shaggy, biker dudes. They used to freak her out because she thought they might be there to give her grief over her doing Janis Joplin. But almost all these guys would burst into tears and give her a big hug (laughs), and I thought, "Wow, they are really relating!"
JD: That show was very emotional and good. A few years before that Bette Midler had done the movie, "The Rose", which was kind of the same idea and people had got back into Janis Joplin on account of that. Hey, anyway it happens it's good, because Janis was such a wonderful musician and left us way too soon.
JT: Ya, ya. I had kind of a connection. When I was in high school in Lillooet, our art teacher had for a brief time played guitar with her and they all lived together in a house outside of San Francisco. I remember him telling me a few road stories. I would have been in grade ten. He told me about meeting Jeff Beck, when The Yardbirds were playing in San Francisco and they ended up staying at the house with Janis. I think it was kind of post Big Brother and the second band was being formed at that time. I asked him why he didn't stick playing with Janis. He said it was too nerve wracking. They had a gig at The Winterland and Jimi Hendrix opened up for them, or vice-versa, it doesn't really matter, but he was so gassed at the way Jimi Hendrix played guitar (laughs) that he pretty much gave up playing guitar at that point and became an artist.
JD: I can see it having that effect. What, I've gotta follow that (both laugh).
JT: At the time he (Hendrix) was quite groundbreaking. Everybody else, especially on the west coast had a certain sound and Hendrix just came along and wiped the slate clean, took the rules away (laughs), so they were all kind of obsolete, over night. Anyway, that's how a lot of guys felt.
JD: It's too bad they felt that way (laughs).
JT: Well, people rise to the occasion or they don't and Hendrix presented a challenge to the average surf guitarist.
JD: So, while we are being nostalgic what was the first concert you ever saw?
JT: When I was less than ten years old, I saw the band Beatlemania (laughs), it was in the mid 70's in a Queen Elizabeth like place in Winnipeg. My Grandpa took me to it. They were neat and did costume changes and had a string quartet playing with them for some of the songs. When I was a teenager I started to go see rock 'n' roll shows. Saw whoever was touring through. I saw Pink Floyd and other interesting bands, and then I got busy performing and didn't go to shows often, as most of the time I was playing or I didn't want to go to a rock show on my night off (laughs), although sometimes I did. Saw B.B. King, front row! That was worth seeing and when Bob Dylan came to Kamloops I saw that. Sometimes you just have to go.
JD: Yes, that was just a nice night.
JT: I thought he was great. You know quite often he doesn't even address the audience and he looked out into the crowd and said (uses his best Bob Dylan voice) "Thank you, friends." I was felt touched. He came to Kamloops. I couldn't believe it.
JD: Definitely. That was a neat show. Now, did you take music lessons or are you self-taught?
JT: As a guitar player, I'm self-taught. I played trumpet in school bands starting in grade four and I guess that's where I learned to read such as I can, but on the guitar, I just kind of picked it up and read magazines. There would always be these little lessons and tips in the back of Guitar Player magazine (laughs) and each month I'd learn another chord (laughs).
JD: Small step, small steps.
JT: Small step. Not like Giants Steps, Coltrane did that.
JD: Exactly. So who are your musical influences? You mentioned Hendrix blowing everybody away.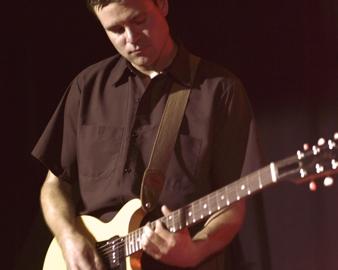 JT: I got into Hendrix at some point. I don't know if everybody really loves Hendrix, but even people who may not dig Hendrix and may not want to listen to an album of his—I think everybody who plays the guitar after him is in some way or another is influenced by him, because he really did change what's allowed. I like Hendrix, as well. I'm happy to just listen to a Hendrix album. The first CD I ever bought, no the second one—the first CD was a Billy Cobham album (laughs) and the second one was "Axis Bold as Love." I don't know—in the 70's guitar rock was very big and I have an older brother and he was into all the famous guitar bands like Led Zeppelin and the various southern rock bands and whatever was cool that way. So I got to hear all that music. I was always a little more interested in some other bands. I thought that Steely Dan was a really interesting band. I remember their very first record coming out and my brother buying it on 8- track cassette and listening to it, a lot. I was a big fan of the Beatles, too and the Beach Boys, because of the vocal harmonies related to jazz a bit, because they did fairly complex harmonies. All I know is that my Mom was a piano player and she played standards around the house. I had a girlfriend in my early twenties and she gave me a disc of Satchmo and Ella Fitzgerald. I realized that I knew all the songs on there, because my Mom sang them when I was a kid. That was my first real connection realizing that "I like jazz" (laughs). Before that I had just been playing rock 'n' roll. As a guitar player it took me a long time before I started to dip into jazz because it is a much more complex than playing Louie Louie and I was just working on Louie Louie long enough that I had my hands full with that.
JD: Did you ever figure out what the words were to Louie Louie?
JT: No idea.
JD: Actually I got kind of drunk with those guys one night. They wouldn't tell me what they were singing. I guess it's a Washington State secret. They were fun guys, anyway, even though one of them scooped the woman that I wanted (laughs). The guy in the band got the girl—when did that start (both laugh)? You mentioned evolving into jazz and you have a new CD out called The Scattered Atoms "Live" and you pretty much have the Who's Who of Kamloops jazz musicians and otherwise on the CD. You play guitar, my buddy Julian Veres, who I always run into at shows, is on sax, Ian McQuaig is on drums, Neil Brun is on bass. He's a Facebook buddy.
JT: There you go (laughs).
JD: Kris Ruston is on keyboards and Graham How is on flugelhorn. I always bother those guys when I see them. I probably talk their ears off.
JT: It's rare that all of us are together the same time, under one roof, but all those guys played in the Scattered Atoms right from the start, in one form or another. The Scattered Atoms started off being more an R&B dance band and then morphed into it because of the situation on Friday nights at the Commodore (Kamloops), we were playing standards and Latin and just realized that it was a good direction. Somewhere along the line it morphed into more of a jazz thing—I think maybe as I started to learn the chords (laughs).
JD: That could happen you know.
JT: That could happen.
JD: I noticed you have the track Because We Ended as Lovers on the CD with composer credits to Stevie Wonder. I'm not familiar with it.
JT: That song was written by Stevie Wonder for Jeff Beck to record back in the early 70s. I know they were buddies. Apparently the original version of Superstition came out on a Jeff Beck album and Stevie Wonder wrote that for Jeff Beck as well. That's my trivia for the evening and I've always liked (Because We Ended as Lovers) as a guitar piece. It made for a nice trio recording.
JD: So tell us where you recorded it and how, without getting too technical.
JT: All the recordings on this CD were done at the Commodore in downtown Kamloops, which is a great room. It has a bright ambiance. It has a polished wood floor and a brick wall on one side and a mirrored wall on the other side of the bar. You get that ambient live sound in the room. You know the clink of cutlery and people talking. It sounds like a 60s club recording. So I got in the habit of recording most of the nights we played, or some percentage of them, so I could go through and pick out my favourite bits. I got a nice, little portable recording machine, a Zoom R16 that makes this all possible. It has eight inputs so I can mic the drums, a line for the bass, a mic for the guitar amp, a mic for the sax and so on and a mic for my vocal on the rare occasions that I sing. Anyway, so I have a nice recording and I can mix it as I want after the fact. I've got nights worth or recordings that haven't ever heard before. When I was making this CD I just tried to pick—because the core of the band is myself, Julian, Ian and Neil, but there are nights when Julian's away I might have Graham playing the trumpet and the flugelhorn, or Kevin, his brother playing trombone, or Kris Ruston playing keys and of course Kris is an excellent guitar player as well. That's kind of the core of the group, but there's usually only money to pay four guys (laughs), so most of the nights there is some combination of four. There are a couple of recordings that feature both Kris and Graham and that would be the rare five piece.
JD: So how can someone get The Scattered Atoms "Live"?
JT: I usually have some at gigs and the Commodore always has a few available. I keep some printed up to sell at gigs. Find me at a gig. I usually have some in my suitcase.
JD: Thanks for coming on the show and giving me a music history lesson.
JT: Anytime Jim.
Jim Dupuis is the host of Jazz Notes, now in it's 13th year on Wed. 5-7 PM PT at www.thex.ca
comments powered by

Disqus