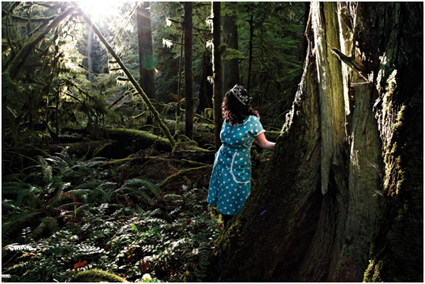 Carolyn Mark Should be Queen of Something
Victoria's country crooning darling is riding the crest of her 8th album.
Upon releasing her 8th album The Queen of Vancouver Island, alt-country artist Carolyn Mark is suiting up and touring the realm, corner to corner, imparting her derisive yet often poignant way of observing life and love.
Carolyn may have in fact hit the mark with her latest album, that she should be the queen of something. It's a rare breed that can go from queen to whore in the space of 9 songs with some Elvis lip curling on the way. But then Mark is an artist who doesn't limit herself by adhering to other's measure of what music she should play or words she should say. She's much like a female outlaw version of Johnny Cash.
I don't like saying other people's words or being told to do so.

The stage has been a familiar place for Mark most of her life. When asked if she remembered what it was like in the beginning of her career, she recalls, "I had just gotten out of theatre school, and thought I wanted to be an actress. I didn't. I don't like saying other people's words or being told to do so. So I formed a band and we played our first show at a little coffee house at the University of Victoria. The girls were nervous and just wanted to play well. I just wanted to be on stage really badly." Laughingly Carolyn says she and her best friend have off-stage fright. "We know how to act on stage, it's when we get off stage that we have social misadventures."
Her social misadventures can make for great song writing fodder. Though The Queen of Vancouver Island may appear to be introspective, don't get too comfortable. Mark still has an observant eye for social commentary wrapped up in some fine musicianship. There's a conglomerate of instruments on the title song "The Queen of Vancouver Island", from cello and viola to harmonica and guitar all supporting a 'sha la la' chorus that gets stuck in your head. Then there is the gargle solo in "You're Not A Whore If No Ones Paying". A song that conjures a cuter image, "Baby Goats", is Carolyn's observations while at a petting zoo in the spring. She says that there are plans in the works to film a "Baby Goats" video in the spring. Carolyn says the scene could very well be set with friends from the bar playing the role of the kids at the petting zoo. "It's way more fun with your friends," she laughs.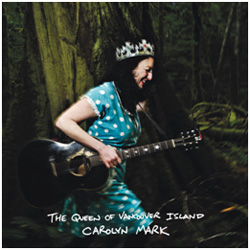 The Queen of Vancouver Island
It's possible that Mark gets some of her edge from being a hostess at an open mike night at a pub in Victoria. "It's mostly full of shouting drunk people. It's not for everyone", she says. "They're sort of like the worst crowd of all time. If you can play there you can play anywhere." Has she uncovered any great talent? "Oh yeah, there are some great people, then some people do it so they don't kill anybody during the week. That's important also. It's a service," she quips. When she's not hosting, her best friend is deputy host. With hosting duties aside, Carolyn is likely touring. Things haven't really changed that much since she started, she figures, still a different town every night.
If Carolyn Mark could go back in time, what would she tell her younger artist self? Her reply was drawn from the well of experience. "I was pretty impatient and I thought we should meet the 'right' people and be in the 'right' places. If you want to be there, then that is the right place. We would stop at our guitar player's uncle's in northern Ontario and play Ping-Pong at his cottage. I'd be going 'We should be in Toronto making it'. Now I'd love to be playing Ping-Pong in a cottage in northern Ontario. I didn't notice what a great time I was having."
Today Carolyn Mark is in the right place. She's just moved into a new home in Victoria's colourful Chinatown with the cello player and is preparing to tour with The Queen of Vancouver Island.
What can you expect when you go to a Carolyn Mark concert? She says expect nothing. "It's not my place to tell people what to expect". Though she is reticent to say what could happen, you can be certain you will get some great ribald homespun music, with thought provoking lyrics in a style that cannot be duplicated. Carolyn Mark is an original and may very well be among alt-country royalty.
comments powered by

Disqus