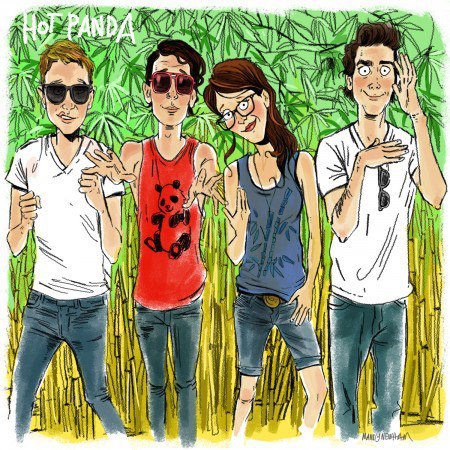 Hot Panda Let It All Hang Out
Singer Chris Connelly talks about his testicles, partying with Nardwuar, and sounding like Dan Bejar from Destroyer!
Now I know all you Canadian music nerds out there might be getting ready to call me out. "Hot Panda aren't from Vancouver! They're from Edmonton!" But you'd be wrong. Yes, Hot Panda come from Edmonton, but they have recently all moved to Vancouver to do their thing. And don't worry! I get all the details in our interview below.
Scott Wood: The cover of your latest record Go Outside has gotten a lot of attention. It's an image of a naked guy leaping into a pool. You don't censor anything. When you were deciding on a cover, what were your thoughts?
Chris Connelly: We don't know who this guy is. He's a friend of the photographer. We trying to start the myth that we somehow tracked down the baby from the Nevermind cover (Nirvana's 90s breakthrough record), through twitter or something, then got him to be in the picture. What is amazing is how I like that it's a photo that makes you do a doubletake. You quickly look at then you say, "Wait a minute. Can I see his junk?" Then you look even closer and think, "My God, his cock and balls are the same size!" Then again that might happen to most of us if we were about to jump into a freezing cold pool.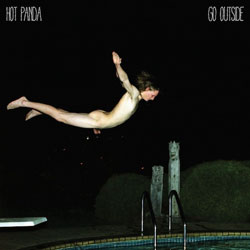 Go Outside
Scott Wood: For your first three albums, you guys were an Edmonton band. Now you have moved to Vancouver, BC. Can you let us in on why you guys relocated?
Chris Connelly: Edmonton is great, but it's definitely even better when you don't live there! I don't think any of us wanted to live there forever. I don't think I'd want to live in Vancouver either, but we'll see how things go.
Scott Wood: How did you all move and keep all the members of the band? How does a group decide to move all at once?
Chris Connelly: We moved in stages. I was the last to move here, I was actually living in Toronto for a year before I came to Vancouver.
Scott Wood: Vancouver is also the home of your record label and many of your infamous Mint Records labelmates (Pack AD, the Evaporators, among others)… You can tell us an anecdote from the last Mint Records family house party you attended? What is Nardwuar like when he gets tipsy?
Chris Connelly: Nardwuar is a chatty guy. He's definitely not faking it, he really is his character. He's a real life rock 'n' roll super hero! Mint parties are always a blast. They usually involve Shena (Mint's PR maven) making food for everyone and Randy (Mint's head honcho) making sure you always have a drink in your hand.
Scott Wood: As I've said, your third album is called Go Outside. The title alone makes it seem like the record has been inspired by living in beautiful British Columbia. Can you talk about some of the BC beauty you have taken in since moving here? How much can a new location influence a band's output?
I like that [Hot Panda's third album cover] makes you do a doubletake. Then you say, 'Wait a minute. Can I see his junk?'

Chris Connelly: It's a very Vancouver album. But not in the way you'd think. My first winter here is when I wrote it. I spent lots of time not knowing many people and just staying inside. There's something about non-stop rain and clouds that can just keep you trapped. "Go Outside" was what I would tell myself. Just Go Outside and see what happens, because sitting inside by yourself playing guitar is starting to get a little depressing.
Scott Wood: The band's website states, "Hot Panda have literally driven four tour vans into the ground." Touring Canada can be hard. Can you tell me what happened the last time?
Chris Connelly: When our van died the last time, the power just went out while we were on highway south of Eugene, Oregon. Terrifying. Everything just stopped working. We got towed into Eugene, where they put a new battery in. (That's what they said the problem was.) Then we broke down again a few hours up the road in Olympia, Washington. It was the alternator. They couldn't fix it that day, so we had to leave the van in Olympia, rent a car and drive it to the airport in Vancouver, so we could make we had to catch to Toronto. Really wild day!
Scott Wood: I think Exclaim.ca has described your sound the best, "Hot Panda's third album isn't a huge departure from their last two, with cutesy punk spazz-outs going toe to toe with more sombre, menacing material." Can you talk about balancing the two?
Chris Connelly: We tend to drift more towards the energetic material, because it's more fun to play live, but on this one we were trying to just write better songs. Some of those songs were originally played a lot faster and energetic, we pushed ourselves to go past our first choices and original impulses and see where else we could go with things.
Scott Wood: A lot of people think you sound like Dan Bejar from legendary Vancouver indie band Destroyer. Now that you are in the same city, do you think you guys should do a duet (that doesn't sound like a duet)? Or maybe each of you could make a song that apes the other band's style?
Chris Connelly: I very much like Destroyer's music. We recorded Go Outside with a couple of guys from his band. I love it when duets aren't what you'd expect! Tom Jones and Portishead—that was a pretty good duet. I think me and Dan would probably make better drinking buddies.
Scott Wood: Allmusic says "On their earliest recordings, Hot Panda built a signature sound out of their technical ineptitude, but now that they know what they're doing with their instruments, they've let humor and a sense of adventure take the place of their former lack of ability." How do you feel about your growth as a band?
Chris Connelly: I think I've become a better singer and songwriter over time. I also feel like I can take something I hear in my head and make it come out now. (If that makes sense!) I use to be more limited by what I could do, but now I have the skill and confidence to do what I want to do. It's only going to get more interesting!
Listen to upcoming episodes of the interview show for a full audio chat with Chris from Hot Panda!
Find more about Hot Panda online.
http://www.hotpanda.ca/ @HotPanda
The Interview Show is everywhere.
Follow me on twitter @interview_show
Listen to The Interview Show on SoundCloud soundcloud.com/interviewshow
SoundCloud RSS Feed
www.cjsf.ca (Vancouver, BC, Mondays 4:30-5pm PST and Wednesdays 12:30am PST)
www.ckdu.ca (Halifax, NS, Saturdays 1:30-2:00am AST)
www.radiocfxu.ca (Campus Community Radio, Antigonish, NS, Fridays 11pm-12am AST)
www.cfru.ca (University of Guelph Radio, ON, Tuesdays 3pm EST)
www.umfm.com (Winnipeg's Hit Free Radio, Fridays 6-6:30pm CST)
www.caperradio.com (Cape Breton University Radio, NS, Wednesdays 3-3:30pm AST)
www.localfm.ca (Campus Radio Saint John Inc., NB, Tuesdays 11:30am and Fridays 3:30pm AST)
comments powered by

Disqus