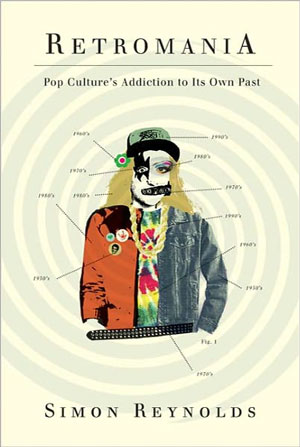 Retromania
By Simon Reynolds
Faber & Faber, 368 pages
Pop Will Eat Itself
Is Pop Culture just going around in circles? Writer Simon Reynolds looks at the increasingly feeds off it's past
Even when talking about music, British guys sound smarter than the rest of us. Simon Reynolds is British and likes to talk (and write) about music. He does so with great fortitude in his new book Retromania: Pop Culture's Addiction With Its Own Past. I had the chance to interview him about it and get his thoughts on the current state of music, why there is such a rise in past music and musicians he feels are doing interesting things.
Reynolds has noticed that "over the course of the last decade, more and more retro-activity, every kind", he further states that the internet is playing a huge role in the retro-activity of music. Sites such as youtube have created a much easier and more accessible archive of past songs and even the most "obscure groups are not only re-issued" but can be downloaded for free. Because the past has more promise, , more artists are inclined to revisit it. Even artists who used to be innovative, or would have been considered innovative 15 years ago, artists such as Adele; even they are freakishly obsessed with the past.
Reynolds believes that part of the problem is that bands are now "playing the album all the way through, tracks 1-13" as well as music being more revisionist, with "more and more rock museums and exhibitions" is what started the Retro movement over the past decade, as well as "reunion tours… and lavish re-issue programs". Retromania isn't just limited to music. Reynolds explains how hipster culture is obsessed with all parts of the past: music, fashion and even decorative objects (such as a 1950s vintage typewriter). There is "of lot of interest in vintage clothing, vintage video games" and what he calls "dead media" – cassettes, vinyl, etc.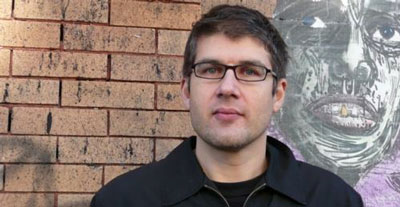 Despite his baby-faced good looks, SImon Reynolds has been
a force in music journalism in the UK since the 90's.
While some may question the premise, Reynolds has never been one to shy away from controversial statements: "There is a feverish addiction, much like the West's addiction to oil" and goes on to state that there is "a strong dependency on this resource". Also, as is consistent with many of Reynolds writings, he believes today's politics are having a strong influence. Because, "the golden eras of rock had more romance and mystique" many listen to that music as it reminds them of "happier times"
Even in his home country of Britain, where music is often considered more innovative and unique, many artists are overtly retro. Even in his home country of Britain, which has been a haven for innovative music, artists are becoming overtly retro – such as Amy Winehouse and her beehive, Adele, and even artists such as Radiohead.
That Reynolds makes those kinds of statements shouldn't surprise anybody; for years Reynolds has been known to incorporate critical theory into his reviews. He also detailed the influence that gender, class, race, and sexuality has had on music. There is a certain scientific aspect to his writing, which puts both the book, and Reynolds himself in a different category of journalist.
In terms of bands that are out there doing original creative things with music, Reynolds points his finger at the dubstep movement as music that is new and unique. He gives credence to artists such as Footwork as being an innovative voice that music culture is missing these days.
Reynolds' credibility comes from her extensive research and his knowledge of music and bands. (Retromania is filled with name-dropping of eighties underground bands). His writing style is almost scientific and the book is laden with side notes and related material. He also gained recognition for bringing the term post-rock (originally used in a 1967 article to describe Sgt. Pepper) into mainstream use.
Simon Reynolds is a smart man and has written a smart book. While not everybody both inside and outside the industry will agree with his thesis, it will have plenty of supporters and has a credible basis. Retromania is a great read for any hardcore music fiend or for any fan wanting to learn more.
Dan McPeake's radio show, Endeavours, airs Mondays on CJSF 90.1fm Burnaby and the web at cjsf.ca. It also airs on CHSR 97.9 in a one week delay.
You can also listen on facebook at http://www.facebook.com/#!/groups/293550751031/
You can follow him on twitter @EndeavoursRadio
comments powered by

Disqus