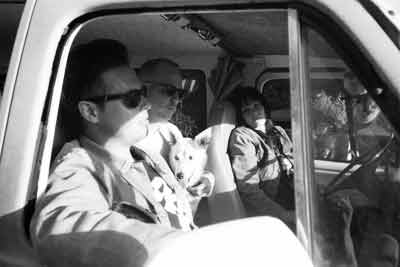 Needles//Pins: Giving You All Sorts of Tingly Feelings
Vancouver's Needles//Pins hit the ground running with their garage-punk debut '12:34'
Needles//Pins are a Vancouver trio that make powery poppy garagey punkish stuff. June 1st they released their debut LP 12:34 on budding Lethbridge, AB punk label Mammoth Cave Recording Co. So I thought it was about time to talk to these guys.
I originally wanted this interview to be with all three members of the band, but they were busy preparing for this month's tour (see dates below). Instead, Adam bravely stepped up to answer my questions, but rest assured we will do a radio interview with the entire group when they get back from the road.
Scott Wood: Hello Adam! Can you introduce everyone to Needles//Pins?
Adam Ess: We are Macey Bee, Adam Ess, and Tony X. We tend to avoid full names at all cost, although for no particular reason.
Scott Wood: Your band is called Needles//Pins... What is the story behind the name—and specifically the slashes? Is there a space in between the words and the slashes? Or no?
Adam Ess: I guess it's technically Needles AND Pins because it totally references the Sonny Bono song (via the Ramones etc.). I don't really remember where the slashes came into it. It didn't start like that. I guess it's more of a graphic design thing than anything. Looks pretty cool and messes with peoples' heads.
Scott Wood: Some bands with complicated (but cool) names get snappy abbreviations. School of Seven Bells becomes SVIIB. Can you think of one for Needles//Pins?
Adam Ess: Hmmm not really. Sometimes we get lazy and go for N//P instead of spelling out the whole name. Does it count if you give it to yourself? Nardwuar referred to us as Snorkels//Fins recently. That was awesome. Also, I have heard Noodles//Pans.
Scott Wood: I read you guys have toured with only some singles. Is this true? If so, how was that?
Adam Ess: It was absolutely awesome! We just wanted to go on tour with our pals and party more or less. Originally we were supposed to do a west coast US thing, but that fell through. We went across Canada instead and had a blast. I mean, no one really knew who we were or anything, but that doesn't matter. We saw a bunch of old friends along the way and met a ton of rad new people. Can't wait to do it again.
Scott Wood: Tony X in the band used to be a club promoter. Having that kind of past must lend itself well to band business. Can you give an example how? What do the other two N//P members bring to the band in terms of previous lives (jobs)? And can they give an example how those previous experiences benefit?
Adam Ess: Tony is really great at being wasted and handling whatever money we are paid at the end of the night. This is a serious point of pride for that dude. And commendable for sure. He takes care of the "art" side of things too. Does all our design stuff and whatever. Macey is a smart business lady who owns/operates her own restaurant (Budgies Burritos). She takes care of merch, etc. through her contacts. I don't really bring much to the table. Write a couple songs I guess.
Scott Wood: One of your press pics looks like the three of you on a BC Ferry. Can you tell me one story about Needles//Pins wasting the hour plus long ferry ride while on the way to the island?
Adam Ess: Tony and I always end being Macey's cheerleaders for her epic games of Ms. Pacman. She is stunningly good at that game.
Scott Wood: Your new record is called 12:34. What does the title mean to you guys? Is that "12:34" written on one of Needles//Pins member's bottom lip on the cover? Who came up with that idea?
Adam Ess: It's actually Macey's lip. Macey is obsessed with time 12:34 and is convinced it is when she will die. One time she was flying out to Alberta to visit her boyfriend and her plane was scheduled to land at 12:34. She almost didn't go. Also, all of the non-working clocks in her house are set to 12:34. I don't remember when or why we decided to call the LP that, but I am stoked we did.
Scott Wood: "The easiest part of being in the band is probably having fun. Hardest part is remembering to always have fun." That quote is from you. Most people start a band because it is fun and they like to play music, but making a serious "career" go of it requires a lot of work. How do you guys keep the fun alive in the band when you are doing stuff like lugging big boxes up stairs?
Adam Ess: Mostly by lovingly berating one another. It's true there are some things that are nearly impossible to get stoked about. Like when our records didn't show up for our release show. But when life hands you lemons you gotta just say fuck the lemons and bail, or throw a full can of beer at Tony.
Scott Wood: Here is a quote from a review of your first record First World Problems "With its absolute lack of pretension or interest in anything other than having some bare-bones fun with almost-distorted guitar, simplistic bass and a no-frills drummer, the album is a solid 18 minutes of great intentions backed by unavoidable modesty. Fun and basic, loose yet buoyant, First World Problems proves that sometimes inexperience yields the best results." ...How has the experience of a second album changed you?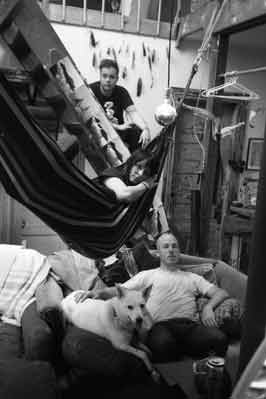 Adam Ess: I really think the only major things that have changed since those recordings are that we have come into our own sound-wise and that we don't record things in our jam room anymore. On that FWP tape, we basically recorded all the songs we had written up to that point and our buddy put it out. There wasn't really a sense of cohesion to the songwriting or style. We definitely have that now I think. And the production quality on the new record is an effort to capture, as best as possible, our live sound. Still basic, still fun, still generally inexperienced.
Scott Wood: Can you extol the virtues of tumblr and talk about why you use it for your band website?
Adam Ess: It's funny that you ask that because I have recently noticed a downturn in tumblr usage. Not just by us, but by a lot of people. It works pretty well as a website but in the end it just adds to an already inundated online presence for a band. I mean every band has a 1) tumbr 2) facebook page 3) twitter 4) bandcamp or soundcloud or mysapce. It's kind of too much. I have seriously been thinking of doing a simple website. Paying for a dot com and just streamlining everything through that. The internet is far too cumbersome.
Scott Wood: Thanks for taking the time to answer these questions, Adam. Have a good tour!
Needles//Pins are on tour across Canada for the month of June. Come check them out when they are in your city.
Upcoming Shows:

June 7 - Edmonton AB @ Wunderbar
June 8 - Saskatoon SK @ Amigos
June 9 - Winnipeg MN @ King's Hotel
June 12 - London ON @ Call The Office
June 13 - Waterloo ON @ Mongolian Grill
June 14 - Toronto ON @ Parts and Labour
June 15 - Montreal QC @ Deathchurch
June 16 - Ottawa ON @ Maverick's
June 17 - Sudbury ON @ Millard's Garage
June 21-23 - Calgary AB @ Sled Island Festival
Listen to upcoming episodes of the interview show for a full audio interview with the band!
The Interview Show is everywhere.
Follow me on twitter @interview_show
Listen to The Interview Show on SoundCloud soundcloud.com/interviewshow
SoundCloud RSS Feed
www.cjsf.ca (Vancouver, BC, Mondays 4:30-5pm PST and Wednesdays 12:30am PST)
www.ckdu.ca (Halifax, NS, Saturdays 1:30-2:00am AST)
www.radiocfxu.ca (Campus Community Radio, Antigonish, NS, Fridays 11pm-12am AST)
www.cfru.ca (University of Guelph Radio, ON, Tuesdays 3pm EST)
www.umfm.com (Winnipeg's Hit Free Radio, Fridays 6-6:30pm CST)
www.caperradio.com (Cape Breton University Radio, NS, Wednesdays 3-3:30pm AST)
www.localfm.ca (Campus Radio Saint John Inc., NB, Tuesdays 11:30am and Fridays 3:30pm AST)
comments powered by

Disqus