Pouzza Festival 2012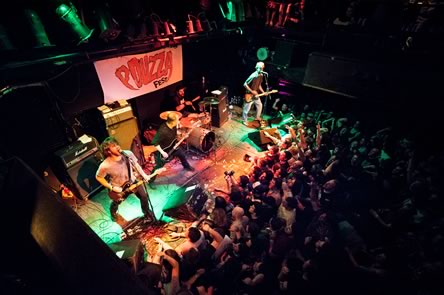 Despite some ticketing and logistical headaches, Montreal's Pouzza Festival of punk rock kicked ass!
For those who don't know, Montreal's Pouzza Festival just wrapped up it's second year. The punk/ska festival took place over three days in May, and was set in a city full of public marches and riot police. A fine setting for punk rock.
We had a reporter there to cover every moment. Here is his tale
Friday, May 18, 2012
7:08 – What was supposed to be a seven hour drive took closer to ten. Between a pregnant wife, with a fairly tiny bladder, and long-weekend traffic on the 401, it took forever. That said, I am checked in, have my press pass, and look forward to the weekend. First band of the weekend, Nashville TN's The Blacklist Royals, who are the opening act of a stacked line-up at Foufounes Electriques.
7:25 – This is a band I have somehow always neglected, though I knew I would likely enjoy them. I was right. To the merch table! These guys are great.
8:05 – Philly, by way of Scranton, PA's The Menzingers are just finishing up their set. These guys never disappoint. The crowd was going nuts. By the end of the set, the dance floor was quite hot, so I needed some air. Some guy just walked up to me and said something in French. He was quite drunk, so my high-school-level French did me little good. I asked him, in French, if he spoke English, so he tried his best.
"WHERE DO I GO GOAT?" he yelled in my ear. Puzzled, I asked him to repeat himself. "WHERE DO I GO GOAT?" he said again.
I have no idea what this guy is talking about.
8:25 – This place is huge. I followed Tim Barry up a flight of stairs figuring he would know where to get beer, because the bar I was standing at didn't seem to have a bartender. Turns out, this place has a balcony. The Flatliners are on stage, and the crowd seems subdued, by contrast with how they were for The Menzingers.
8:53 – People with crooked baseball caps really like The Flatliners. Montreal has always loved ska, so the bands old material goes over really well here.
9:20 – The Bouncing Souls are on stage. They have to be one of my least favourite bands in punk rock. I've seen them tons, and have been fairly bored every time. Their records also do nothing for me.
9:30 – Based on the crowd, something must be wrong with me. Literally, everyone I can see is losing their mind. Hell, there is a guy, in a wheelchair, crowd-surfing.
9:35 – The "where's the goat?" guy is trying to run around on stage. He is quickly tossed back into the crowd. WHY DOES EVERY ONE OF YOUR SONGS SOUND THE SAME??????
10:19 – Waiting for Hot Water Music to start. The crooked hats of The Flatliners set have now been replaced by fat guys with beards. Most people look like exactly like the orgcore punker from www.yourscenesucks.com. I just got a text message that there is a protest going on outside the venue. Cops are there with riot gear on.
11:05 – HWM just released a new record, Exister, and this set is really heavy with songs from it. That said, this band could not get better at performing if they tried. They sound so damn good. I can't believe co-frontman Chuck Ragan has another set to perform in an hour.
11:32 – The show's over, and we are headed to go see The Dwarves. We come across a massive protest. Years from now, when I look back on this weekend, I wonder if I am going to remember any of the bands, or will Pouzza be remembered as the time Montreal burned down while I was inside of a bar watching some punk show? There has to be a few thousand people marching in the streets, and I just hope the cops and the black-block can keep it civil. For those of you who are reading this, and have no idea what is going on, the Quebec government and attempting to raise post-secondary tuition by 70%. The student unions are not accepting it, so they have been marching in the streets daily, in defiance. The government just passed a law, essentially making marches like this illegal, without having to jump through some major hoops first, so tensions are very high.
12:04 – We just found the bad part of Pouzza. Every venue is either full, or very close to it. People are wandering the streets, trying to find something to do. No chance of seeing the Dwarves tonight. Wristbands seem meaningless. A friend, who purchased his wristband ($60) had to then also buy a ticket to get into the Hot Water Music show which makes absolutely no sense. I have heard the word "cash grab" uttered by a lot of people.
12:39 – After wandering the city for a bit, we finally found a venue and it turns out French Canadians love Toronto's Junior Battles. Seriously, this place is going as crazy as any crowd I have seen tonight. Last time I saw these guys, they were the opening band for Bridge and Tunnel, and while they were good, they have come a long way.
12:43 – If I were to grade this performance, I would give it an A ++. They just played a Harvey Danger covered, and it didn't suck, which is a feat in its own right.
1:07 – Yep, they are now playing Toto's "Africa"…
1:?? – @ Theatre Ste Catherine. This venue is dark. I can't see the time. Kitchener's Mockingbird Wish Me Luck is on stage and have to be the least fun band to watch on earth. I have seen them a few times, and not once have they cracked a smile. Why so serious, guys?
Sometime after 2:00 – We are at Nickel's diner. The last thing I wanted to do was give Celine Dion any of my money, but they were the only thing open anywhere near my hotel. There is another protest going on. This one seems more fun, and way less serious. My wife and I have a debate about the gender of the naked person why walked by playing a violin.
Saturday, May 19, 2012
5:30 – It's barely dinner time, and we are in line for a show that starts in a few hours time. Tonight, at Club Soda, Lagwagon and The Lawrence Arms are playing. Doors are at 7:00, but people have been in line since noon. The general tone of those waiting is pure frustration about the situation. No one wants to miss the show, but then again, no one wants to wait in line for seven hours either. We have been told that some wristbands will get in, but no one knows how many. Even the bouncers don't seem to know. The fact that you could be waiting in line for five hours and not get in is a bit crazy, but that's how the festival is set up. I really want to see Chicago legends Naked Raygun tonight, but if I leave this line, or the venue, should I get in, there is no chance I will be allowed back in for any band here. This lineup is much stronger than the Naked Raygun show, so my choice was pretty easy.
6:30 – The line is now huge. It wraps around a city block, and is likely 2000 deep. People are drinking in line, which makes for a fun line at least. Most people have no chance to get in, so I don't envy the security team in about an hours time.
7:00 – We got it! The venue is narrow, but there are two balconies, so we grabbed some seats, and a few overpriced beers. They are charging $2 more, per drink, that Foufs did last night, for the exact same PBR tallboy. Seeing as that is the only thing they are serving, no one has much of a choice.
8:09 – Upstate New York's After The Fall just finished up their set. They sounded like a mix between the Satanic Surfers and A Wihelm Scream. There was a half dozen kids up front going nuts, and three or four crowd surfers jumping on those guys. I'm watching from the balcony, so it was a funny scene.
8:45 – Brixton Robbers just finished. The hardcore kids from the first set were still dancing, but were smaller in numbers, but just as passionate. Mind you, the lone crowd surfer keeps getting dropped on his head, which may explain why he keeps crowd surfing.
9:02 – Getting ready for Cheap Girls, and in Montreal, there are plenty of places to find them. I love this band and their version of 90's nostalgia. The guitarist looks like he is from 1976, just like the kids did in 1996.
10:46 – Cheap Girls were great, and Tim Barry literally brought a tear to my eye. The passion he brings to his songs is nothing less that spectacular. He played a few songs from the middle of the crowd, and he was just so genuine about everything. If even half of the bands played with the conviction that he did, the musical landscape would be vastly improved. The Lawrence Arms are up next, and people are going nuts with anticipation. The band just announced another set tonight to make up to all of the kids who waited in line for hours, but could not get in. The next show is wristband only.
12:02 – At The Underworld. Dave Hause is warming up. When they announced the secret show here earlier tonight, rumours starting flying. The current one (which turned out to be untrue) were that after The Larry's played, that Naked Raygun would hop onstage for another set. We did not stick around for Lagwagon, because the temptation was too much.
12:54 – Dave Hause just finished up what may be by favourite set of the festival. It was a perfect mix of solo material, Loved Ones songs and cover tracks. Singing "Coma Girl", with a group full of people, always makes a day perfect.
1:25 – Joe Mahone is on stage and while a few people are going nuts, the crowd is much less enthused than they were for Dave Hause. Joe's putting together a great set, but people are way to amped after the Larry's set, and set to come, to be paying much attention, which is a shame.
1:46 ­– Here is a conversation I just had. I was trying to see if every Canadian knew who Fred Penner was.
Me (to some random guy beside me): Do you know who Fred Penner is? My American friends have never heard of him, and I was trying to explain that he is an icon here.
Random Stranger: Yeah, I have heard of him. He's the guy who masturbates, by himself, onto toilet seats, right?"
Me (puzzled): Uh
His girlfriend: Honey, I don't think you know who Fred Penner is. (at which point she awkwardly walks away in embarrassment.
Me: So you don't know who he is?
Him: No, guess not.
3:31 – Back at the hotel, the air conditioning doesn't seem to be working. It's really hot in this room. The Larry's were incredible. They played a set which was full of deep tracks, and then played a few of the classics. It was nice to see how happy people were. I saw one guy crying. After so much complaining in the line this afternoon, it was nice to see people having a blast. That was what this festival is all about.
Sunday, May 20, 2012
4:30 – Montreal is sweltering today. It's 31 degrees but feels twice that if you are in the sun. The story of the weekend continues to be line-ups and protests. Last night, Montreal police clashed with protesters and started pepper spraying. The bar where Junior Battles played on Friday was hit pretty bad by police. From what I have been told, they had no reason to either.
Here is a thought I never figured I would have: If we get caught in the middle of something, is pepper spray going to do any extra damage to my pregnant wife?
What a strange weekend.
In terms of line-ups, there are hundreds of kids lined up at Club Soda for tonight's Less Than Jake / Suicide Machines show. Thankfully, I want nothing to do with that venue today, so get to sit that line out. Yesterday, everyone was drinking beer and having fun. Today, due to the heat, the punks are drinking water and sitting under umbrellas, in hopes to catch some needed shade.
I am across the street at Foufs, taking in the chilled vibe. There are a lot of bands here selling merch, and a small bbq going on as well. Most people are quietly sipping their PBR tallboys.
6:20 – We finally left Foufs, which was more of a park than it was a bar. People were just hanging out all afternoon. We are at Underworld watching Brutal Youth, a Kid Dynamite-esque band. Their lead singer has my favourite tattoo ever. It's an armband of The Clash's Give'em Enough Rope album cover. It's fucking incredible. The band is killing it.
8:05 – My tiredness found me. We went for dinner at a Chinese restaurant and the place was a godsend. The staff was so nice, and kept bringing us food. We barley spent $40, with tip, and we had five courses. It was incredible. The Suicide Machines are playing a secret set at Fouf's later tonight, after Classics of Love. The show starts in six hours. If I make it, I will be shocked.
9:53 – Hey look, it's the Foufs patio… A large group of us are hanging out enjoying the night. Police choppers are overhead, and small explosions are head not far from the venue. Here is one life lesson I just learned. Never, ever, mention that you think Goldfinger suck, in Montreal. A friend of mine just did, and barely made it out alive.
10:20 – Still on the patio. There are some bands on stage, but there is no one up there. Everyone is outside drinking and celebrating the end of a great weekend. I just learned that stuffinmybutt.com was already taken. One sleaze-loving entrepreneur among us is not stoked.
10:43 – There are well under 30 people watching the bands. We got a nice spot on the balcony to watch the show, and access to a bar that nobody but us seem to be using.
11:39 – This place is still dead. Classics of Love are coming up shortly, so they are somewhere in the bar, but no one seems to know what lead singer Jesse Michaels looks like. An old looking guy walks on the stage to check the levels of a guitar, and three people shout Operation Ivy requests at him. That's not ever CoL's roadie.
11:45 – Porcelain Forehead are on stage, and honestly, I really like their music, but this place is so dead that instead of watching the crowd, I am watching their mid-50's front man lose his mind on stage. It is often said that Keith Morris of Off! hasn't lost anything in age. The same can't be said here. He honestly looks confused. He has nearly fallen over a couple of times and keeps looking down towards the stage. It's strange but oddly entertaining.
1:21 – CoL were spec-fucking-tacular. They played 14 songs in just over 30 minutes. I have not skanked since Bill Clinton got that blowjob, but I don't remember it being that tiring. This place is still pretty dead, which makes absolutely no sense. More Operation Ivy song requests were yelled at the stage, but the band simply brushed them off.
1:42 – There is absolutely nothing going on in this venue. The Suicide Machines are on in 20 minutes and there is literally nothing happening on stage. Hell, the venue isn't even pumping in any canned music, so outside of the odd conversation, it's oddly quiet. The crowd is getting bored and restless.
After 3:00 – The Suicide Machines were awesome. They were drunk. I was drunk. The crowd was drunk. Someone puked after he was handed a bottle of whiskey. The band seemed to be making the set list up as they went, and looked like they were having a ball. They tried to get Jesse Michaels to sing with them, but the crowd was chanting for Op Ivy songs, and it got awkward pretty quickly. If the crowd had just cheered, I bet you something would have happened.
So that was Pouzza 2012. There were some great moments mixed with some confusion and irritation. The festival is new, and I think it deserves some credit for putting together one hell of a lineup. That said, I really hope they learn from the tons of complaints that their Twitter and Facebook pages have been getting. There were some glaring issues with regards to ticketing, but overall, everyone I saw was having a good time.
The student protests provided an interesting backdrop to the chaos of a punk festival. If anything, it preoccupied the police enough that the people in the extremely long lines could have fun in the streets without any criminal charges to dampen their mood.
Here's hoping that next years line-up will be just as good, but that the shows themselves will be better spread out. Perhaps a way to avoid the huge lines would be to have each bar have a sizeable headliner. Don't stack one venue in particular full of popular bands because it's just going to cause queues and piss people off when either they can't get in, or they have to wait 12 hours to do so.
comments powered by

Disqus