Oh My Darling!
The Women of Oh My Darling embrace their diversity in Sweet Nostalgia.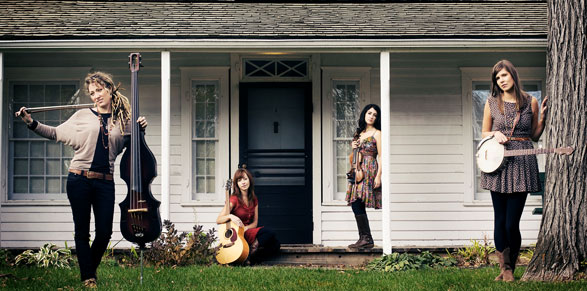 Oh My Darling - Marie-Josée Dandenau, Vanessa Kuzina, Rosalyn Dennett and Allison De Groot
Oh My Darling, are a quartet of high spirited, uniquely talented women, who have created their own fresh sound from a mélange of Appalachian, Irish, and French musical influences. Allison de Groot – banjo/vocals, Rosalyn Dennet – fiddle/vocals, Vanessa Kuzina – guitar/fiddlesticks/vocals and Marie-Josée Dandenau - upright bass/vocals, celebrate their diversity in their latest album Sweet Nostalgia.
"When we started the band it was with the idea to start an old time group. We quickly realized it wasn't going to stay a traditional [old time] group because we had such diverse musical interests," says founder Allison de Groot.
Allison was interested in old time Appalachian music, due in part to the nature of the claw hammer banjo which she can play the hell out of. Rosalyn who lights a fire to her fiddle when she plays, brought her experience of Irish and traditional music. She quickly found a passion for Appalachian thanks to Allison. Vanessa Kuzina, who has released an album of original music called Peony, brings her love of lyrical story telling along with her warm honeyed voice. When Marie-Josée was asked how she fit into the
It's all about getting together with friends and family, sitting down, playing tunes and having fun

context of the group, her answer was as unique as she is. "I think because I'm so different, I fit really perfectly," she begins. "The thing is, it's like when you hear this different style of music and you hear this totally different…" she trails off. "It's like you're cooking and you add the spice you're not familiar with and it makes the dish really different and exotic. I think that I'm…" Her band mates laugh in unison and agree she is indeed that spice.
As diverse as they are, Rosalyn was able to explain the connection that threads itself through the Irish, Appalachian and Métis traditional music they enjoy. "The overwhelming connection is community," she says. "The culture surrounding the music is all community based. It's all about getting together with friends and family, sitting down, playing tunes and having fun."
By extension, this thread also connects the four women. This is never expressed more fully than when you see a live performance of Oh My Darling. That feeling is captured in the recording of Sweet Nostalgia. The album was produced by Steve Dawson and recorded in a straw bale house. "We wanted to leave the city behind and focus for seven days on the project we were recording," says Vanessa. "We wanted to stretch out and breathe and let the music breathe as well. So we set up and really fell into the mood of the beautiful Pembina Valley around us."
Don't mistake them for old fashioned. Not only possessing big talent, they have a sassy modern aesthetic, and it permeates their music as well. You can hear it in the song "Kiss and Tell".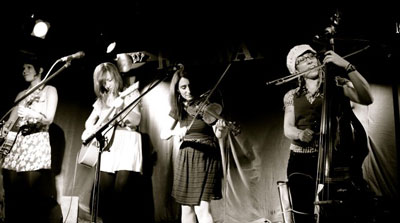 From having a keg of specially crafted beer called Sweet Nostalgia Brown at their CD release party to a performance at a beard growing contest, to forgotten instruments, Allison, Rosalyn, Vanessa, and Marie Josée embrace their experiences and music wholly. (They share this with listeners in the audio portion of this interview too.)
Since nostalgia was a theme to the album, they were asked what makes them nostalgic. You could feel the wistfulness hanging in the air as they shared their thoughts.
"Hmmm," ponders Allison. "There are a lot of people who have cottages outside of Winnipeg. There are so many great lakes. I spent a lot of my childhood in the summer going to a cabin. I would have to say summer at the lake."
Rosalyn picks up next. "I think it would be music parties that my parents would throw when I was a kid. I would try to stay up as long as humanly possible. I would fall asleep sitting down and they'd put me to bed. I'd wake up and go hide on the stairs and listen some more. They'd still be playing."
Having time to consider, Vanessa thoughtfully says, "Sailing. My dad loved to sail. We had a little boat and one of my first memories is with him sailing on a little sailboat on Lake of the Woods and then[the] boat tipping and him telling me to be brave, it would be okay. It was. Every time I get on a boat or see a boat I think of him in those times."
All eyes turn to MJ. "I think for me it would be a combination of Allison and Rosalyn. We had a cottage at Petersville. My parents every weekend would bring all brothers and sisters. I have a twin sister and we would jig until we passed out and they would play and play."
Allison, Rosalyn, Vanessa and Marie-Josée have brought their unique memories and personalities, their music, and their culture to the mix. The combination has made fertile ground for creating something different. Yet that diversity is grounded in a universal reflection as old as dirt. As Rosalyn said, "It's all about getting together with friends and family, sitting down, playing tunes and having fun." When they play their music for you, you are within that circle in those moments.
Enjoy the audio portion of the Oh My Darling interview with a live performance at the end. Log onto http://www.ohmydarling.ca/ for the latest on the girls.
comments powered by

Disqus