Humans Go Forth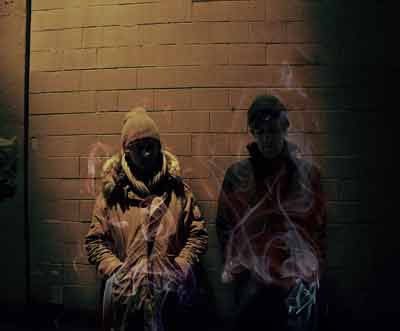 Humans made a big splash on the Electronic charts earlier this year.
With their new record, Traps, Humans made a big splash this spring. Now they are taking it on the road this fall.
Humans came out of nowhere to dominate the electronic charts this the !earshot Electronic charts for two straight months ealier this summer with their latest release Traps. I recently had the pleasure of interviewing Peter Ricq and Robbie Slade of the local Vancouver synthpop duo Humans. They were pinned down in their sound space that they affectionately refer to as the "Bunker Room". They told me they were eating pineapple and seemingly messing around with effects machines in the background.
Q: What are your names and professions and what contributions do you make to the band?
A: Ricq: "Peter Ricq, producer, I play drum machines and keys and write music."
A: Slade: "Robbie Slade, producer, vocalist, I write lyrics and play guitar."
Q: So tell me about the genesis of the band, what brought you guys together?
A: Slade: "In 2009 I think it was in the summer or winter, oh actually it was Hallowe'en at an arts show. Peter was a painter and we talked music, and I was interested in starting a folk band. We jammed and talked about common interests like making t-shirt designs and stuff and then talked about doing recordings and samplings."
Q: So where are you guys from originally? Are you both Vancouverites?
A: Ricq: "Robbie's from Nelson here in B.C. and moved here 10 years ago. And I'm originally from Montreal and moved to Vancouver 5 years ago.
Q: What are the influences of the band; would you say the Montreal scene affected you?
A: Ricq: "I would say I was mostly into electro clash, indie rock and rave beats, whereas Robbie was more into folk, rock and a little bit of soul."
Q: How would you guys self describe your music without labeling or putting it in a box?
A: Ricq: "Well I guess electronic, world beat…maybe indie pop?"
Q: Can you tell me about changes to the band since the early beginning and its evolution?
A: Ricq: "Well at first we were very diverse in our tastes but Robbie has slowly gotten into more electronic music and listening to it more and more. We're using more samples now and the beats have really matured and evolved over time."
Q: So in those early stages did you guys cover any bands to get in sync a bit?
A: Ricq: "No more jamming, we never play any covers live but we are releasing a covers only EP that should be ready by the time school starts so it will be out in the early fall."
Q: So tell me about the lyrical content and what inspires you to write?
A: Ricq: "Oh that would be Robbie who does that so I'll need to go and grab him." Hear rustling in the background. Ricq:"Hey Robbie." Slade: "Yeah" Ricq: "They want to hear about your lyrics" Slade: "Hey…well I took a songwriting class out at UBC with an instructor who's quite famous and well known actually. He taught me how to avoid being too specific with my songwriting and how to strip the songs down. This leaves the door open to generalities and more accessible for interpretation." "When we write together, we usually just sit side by side at a grand piano and each have a glass or wine."
Q: I think INXS used to do it that way too didn't they?
A: Slade: "Yeah, a lot of bands do it actually"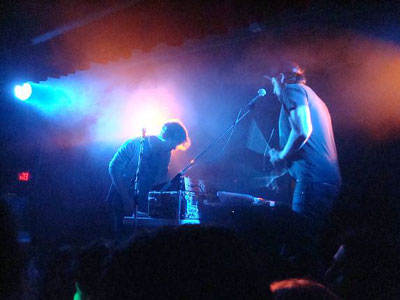 Q: So tell me about the label, you were self releasing before and now you're with Hybridity Music, how has that relationship been?
A: Slade: "Yeah well we self released Avec Mes Mecs in 2010 and then The End in 2011. Traps is actually the first release for the label and it's done really well. They were really easy to work with and the relationship has been mutually beneficial. We've found them to be mentoring and supportive."
Q: You told me earlier about the new covers EP, can you tell me about release dates for any new material? A: Slade: "Well we have a new album in the works and should start recording for it sometime in November."
Q: Any recent shows that stood out for the band for one reason or another?
A: Slade: "Well we played Basscoast in Squamish, and then The Big Time Out in Cumberland and then we play Live at Squamish. I really enjoyed the camping festival atmosphere at Basscoast; that's been our best show so far in my opinion."
Q: What is the band concentrating on right now?
A: Slade: "Just finishing off new material and writing lots and lots of songs. We wrote 23 songs I think it was for Traps and narrowed it down to just seven. Our plan now is to write 40 songs and then strip it down with editing and cutting and put out this new record of only the golden songs."
Q: Anything else that's new and exciting?
A: Slade: "We are working on a new video and in the process of writing the script for the next one. The video for "Horizons" is already out and "De Ciel" is being worked on at the moment and we're just finishing off the last touches on "Possession."
Q: Any upcoming shows that your can tell me about? any local shows in particular?
A: Slade: "We're due to play the Toronto International Film Festival and also Pop Montreal and Pop Halifax, we're also playing in New York City. We have a date in my hometown of Nelson and then we'll likely play a Vancouver show sometime in September; but the venue is as of yet still undecided."
Humans are heading out on the road this fall:
www.dashhumans.com
SEPT 14 - Rifflandia w/TRUST @ Alex Goodwin Hall - Victoria, BC
SEPT 22 - O Patro Vys - Pop Montreal
OCT 4 - Spirit Bar w/ - Nelson, BC
OCT 5 - Hi Fi Club w/Wax Romeo, A-Mac, DJ Reece - Calgary, AB
OCT 6 - Wunderbar w/Spurz +guests - Edmonton, AB
OCT 10 - APK Live - London, ON
OCT 11 - This Ain't Hollywood - Hamilton, ON
OCT 12 - Parts n Labour w/ Beta Frontiers - Toronto, ON
OCT 13 - Divan Orange w/guests - Montreal, QC
OCT 16 - Halifax POP - Gus' Pub - Halifax, NS
OCT 17 - CMJ - New York, NY
OCT 18 - CMJ - New York, NY
OCT 19 - Marlin Room @ Webster Hall (CMJ) - New York, NY
OCT 20 - CMJ - New York, NY
OCT 26 - Fortune Sound Club - Vancouver, BC
comments powered by

Disqus