There is no Limit to The Besnard Lakes
Their 4th studio record, Until in Excess.Imperceptible UFO, is a bit of a change for the Montrealers.
What do you get when you combine a shortwave radio buff, a Kincardine, ON one-time national anthem singer, a jokester that borders the US and a chill west coast gal? You probably already know the answer since you read the title -- at least I hope you did. The Besnard Lakes currently station themselves out of Montreal, QC, and have done so the last decade. They share the Montreal musical landscape with a flurry of amazing musicians that seem to be reproducing faster than India's birth rate, which is a staggering 20.6 births/1,000 population. A lot of this, the Montreal music scene that is, can be credited to the ethnic diversity of the once known "Sin City," but also to its strong bilingualism that adds another layer to the artistic factor to whatever is being produced.
The Besnard Lakes are a four piece band formed from all parts of Canada, as I have already mentioned above. They found each other in Montreal; or should I say the music found them in Montreal. Just like Montreal's beloved Habs, The Besnard Lakes too are slowing becoming Montreal anglophone band in a strong francophone community. To the casual listener, the origin of the artist or group doesn't really mean much, but as I've mentioned before in previous articles, the origin serves up such an importance because the environment plays a factor in the kind of music that one produces. Lets quickly compare two artists, or bands if you will: Hollerado; Toronto-based band with an alternative-rock sound, and Yukon Blonde; Vancouver-based four piece with a chill folk rock feel. Both are Canadian acts living in different provinces. Their sound and style different from one another, but yet they probably still have similar musical influences growing up.
The Besnard Lakes have been creating a discography that follows a retired spy, now a aspiring musician who isn't cutting it. The story travels to great depths as most of the songwriting is divided between husband & wife duo, Jace Lasek (vocals/guitar/keys) and Olga Goreas (bass/vocals). Jace's approach to the writing is very much "music first" and then shifts his focus to creating the lyrical content. While Olga gathers material from her personal experiences and layers them around Jace's writing and composition. This approach to writing has been working well for the husband and wife tandem as The Besnard Lakes have been nominated for the Polaris Music Prize on each of their last two records: The Besnard Lakes Are the Dark Horse (2007) and The Besnard Lakes Are the Roaring Night (2010). Its been three years since their last release, a common duration since Richard White (guitar) and Kevin Laing (drums) joined the band, and The Besnard Lakes are putting forth their fourth studio album, Until in Excess. Imperceptible UFO.
"This album felt like it took forever to finish. We were hoping to make it really quickly and have it out a year ago, but ran into creative brick walls. We probably had about 13 to 14 pieces of music and we ended up chucking a whole bunch of stuff…. It started to get stressful because we weren't sure if it was going to get done at all……Some of the songs that ended up on this record were things that I had done on a 4 track maybe 10-15 years ago. We just completely re-worked the material. We never really throw anything away, we just throw it on the back burner." - Jace Lasek, The Besnard Lakes
This album leaves behind some concepts that the band had stuck with over the years, and introduces tracks that build up to a number of semi-climatic peaks. With Until in Excess. Imperceptible UFO, Jace decided to step away from the spies a bit and open up new doors for future albums…
"The storyline isn't really as strong as it has been on the other records. I kind of get stuck in it because it makes for easier lyric writing for me. As for us dropping the "Are The" in the title of our albums, this time around I was sort of hoping we could start building ourselves out of the system that we have created so we could have more of a scope. The lyrics of the spies and the things I usually write about is pretty loose this time around, but it's still there. The next record that we make, we'll be able to have a broader pallet on stuff we can draw from and not be sort of stuck in a system." - Jace Lasek, The Besnard Lakes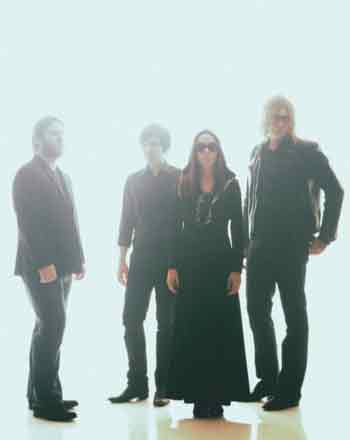 Some of the things Jace is slowly dropping from The Besnard Lakes music is the shortwave radio that has been instrumental in creating a very eerie feel in their compilations.
"I think I actually asked Jace to take it out of a song but he told me it was only a place holder." - Richard White, The Besnard Lakes
[laughs in the studio]
"I have a shortwave radio. I find it very creepy and it will always fascinate me, even if we stop using it. I stumbled on it when I was a kid and I remember sitting on my stoop on a hot summer day listening to shortwave radio - as children do - being totally petrified by the whole idea of it. It's the eerie's shit that it works well with in our music because it's the same in a way." - Jace Lasek, The Besnard Lakes
This whole idea of creating from within your surrounding is what The Besnard Lakes have been doing for the last 8 years with some success in a number of markets. From their musical style to their album art, they always find inspiration in things closest to them.
"The album covers are done by a painter in Montreal called Corri-Lynn Tetz. When we were doing Dark Horse, I had this idea of a horse on fire….Corri was a friend of ours and an amazing artist. We were talking to here one day and I was telling her this idea, and she wanted to paint it. She did it, and we loved it. She continued to stay on with us for the next record and painted a documented war portrait for The Roaring Night." - Jace Lasek, The Besnard Lakes
The new record plays with more lighter colours and possibly multiple meanings. With The Besnard Lakes, a number of interpretations can be drawn from their cover art and music.
"The new cover has more of an idea of light and abduction. I wanted to have the idea of the last cover of the album being sort of off in the distance. The city that is burning on The Roaring Night is in the distance on this cover at the back and it isn't burning anymore. It's just a smoldering remnant of what it was -- your kind of backing away from The Roaring Night cover to see this house that's glowing. The house had kind of become possessed or abducted by something. I was watching a lot of really shitty UFO documentaries and they always have these great artists renditions of barns with giants lights coming from the sky. I thought it was pretty cool and wanted to have this mansion lit up by light instead of fire. Then if you flip over to the back, you see the lawn chair that someone had placed but there is nothing there anymore." - Jace Lasek, The Besnard Lakes
These covers, music and videos that have come from The Besnard Lakes camp all share a similar message, but have their own character. The band works in a democratic way that gives everyone a responsibility that they need to follow through with to create the final product. This responsibility isn't only within the band but from other musicians who want to help out the group keep recreating themselves, and the community.
"I think there is a pretty heavy sense of integrity where people sort of feel like they have to be sort of pushing music in a direction that nobody else is really going in. I think that's why you get a lot of unique sounding bands there that don't sound like anything. There really is no real Montreal sound. I think the idea of experimentation is what really keeps it fresh." - Jace Lasek, The Besnard Lakes
"People from everywhere are basing themselves out of Montreal because it is an ideal city to be in to make music. It's still relatively cheap and you're getting a lot there. None of us are from Montreal but we have lived there for many years. The music isn't as commercial, I think there is a lot more art involved in it." - Richard White, The Besnard Lakes
"Bands are really helpful too. The people in the community aren't jealous. By seeing our albums, you can see that people come in and guest on it. Some of them don't even care to get paid, they just want to come in and help out in anyway. I see that when I am recording other bands. People just coming in to help each other out." - Jace Lasek, The Besnard Lakes
As Lasek mentioned, above, the helping hand was lent to the band by The Barr Brothers' Sarah Page, Moonface's Spencer Krug and Mike Bigelow, viola extraordinaire Monica Guenter and the return of Fifth String Liberation Singers' Choir. A number of other artists have stepped up in the pass to help out the Montreal foursome. These kinds of gestures aren't common in any community, but Montreal's arts commonwealth isn't like any other. Their community station, CKUT, is a prime example of how artistic diversity can work in a unified manner to create programming that's accessible to all parties.
The Besnard Lakes are hitting the road for the next few months touring Until in Excess. Imperceptible UFO and capturing crowds with their atmospheric sounds that would make a holiday album sounds half-decent. If this piece hasn't convinced you to give The Besnard Lakes a try, then check out their site: http://www.thebesnardlakes.com and maybe they can throw you a bone.
comments powered by

Disqus