Keeping Her Eye on the Prize
Sabrina Weeks and her band are coming off an award winning 2012. Now they are reaching for the next level with Got My Eye on You.
At the 15th annual Maple Blues Awards in 2012 Sabrina Weeks and Swing Cat Bounce from Kamloops, BC surprised a few people when they won the New Artist Or Group Of The Year Award for their first CD Tales From Lenny's Diner. This began a hectic year of cross-continent touring. Much of this went on while Weeks was battling with cancer and holding down an administrative job during the day. Sabrina Weeks and Swing Cat Bounce have been hard at it. They have been playing live shows and Weeks was part of the Etta James Tribute at Hugh's Room in Toronto last February. They went back to the studio and the result is their sophomore release Got My Eye on You. The local CD release party in Kamloops was sold out to a happy, adoring group of fans that spent most of the night on the dance floor. I recently spoke to Sabrina Weeks at the studio in her home that she shares with her partner and Swing Cat Bounce guitarist Mike Hilliard.
JD: So Sabrina, how did Got My Eye on You evolve?
SW: We started off when we recorded Lenny's Diner with the idea of recording another CD as well and we started writing for Got My Eye on You about a year before we recorded it. Some of the songs came a lot faster and we put them into our set list right away, because we just fell in love with them; and, other songs we wrote on a writing retreat at Sun Peaks, where my friend has a rental property. We went up there as a whole band and had this most incredible writing retreat experience and wrote a whole bunch of songs up there. Some of the songs we wrote right before we went into the studio and didn't get a chance to perform them live, so it's been quite a work in progress.
JD: Mike Hilliard and you have composing credits on nine of the ten tracks. Would you tell us how the composing process works for you?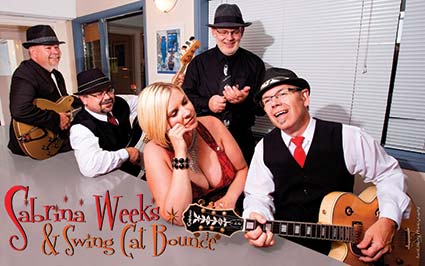 SB: Mike is insanely prolific; annoyingly so, actually (laughs). He can sit down and write three pretty good songs in a day; sometimes in a couple of hours. Annoying! Seriously annoying (laughs). I have to tell you that when I write a song it usually takes me a long, long time. I'm about the lyrics. It has to be the perfect word. It has to have the perfect pentameter and it has to tell the perfect story and it has to be logical. So I really struggle with lyrics, but I work really hard with them and I'm really proud of them when I'm done. This isn't always the case, like "Crickets" for example. We had this idea. We were trying to get gigs and as many musicians know when you try to get gigs, you call or e-mail and you hear nothing; nothing but crickets. But I was working at a job in administration and lots of times we would e-mail out to people and especially internal people and we would hear crickets back to our questions. So it inspired the song "Crickets." That song, the lyrics, melody and music was written in about an hour. So that was any easy one. Mike sat down and wrote most of the music for most of the songs in just a few hours. I tend to write lyrics to music. We rarely have a lyric and then add music because it's harder to fit it. I like the music to inspire the melody and then the melody inspires the lyric. So that's how we tend to work together.
JD: I like the you have a variety of tempos on your songs on Got My Eye On You. You have some swinging, jump blues like the "Burn That Boogie" track and pretty ballads with "Lady Sings the Blues" and at the end there's even an R&B track ("Moving Forward"). What is more difficult to interpret vocally?
SW: Well the hardest one for me was "Moving Forward," which Bill (White) wrote. It's not necessarily the kind of song that I would normally sing. It's not like a plaster yourself to the wall kind of track. I love old Motown tracks, but I don't necessarily love the ones where the vocals are really quiet and really soft and really gentle. That's what it required of me, and I found that I actually grew quite a bit as a vocalist in trying to pull it in, reign it in Nelly (laughs), because I tend to sing full out most of the time.
JD: Ok, the name of the band is Swing Cat Bounce. Swing has been around since the 30s and there have been a number of resurgences. There's been Colin James with his Little Big Band albums, and Brian Setzer and others have helped with its revival. Why is swing always popular?
SW: I think it is because that you can't help but dance to it. It makes people dance a certain way. If you watch people dance to swing, they get really happy and jump around and they kind of get outside themselves and maybe lose some of the stress and some of the pressure they feel in life. It brings you into a new kind of feeling. You have to be there to see it. The people just jump around and get smiling and get happy. You probably aren't going to see someone listening to swing tunes on the verge of ending their life.
JD: No you wouldn't. I think you have a point, there. I was at the CD release party for Got My Eye on You and there were a variety of ages and a variety of dance skills on the dance floor and everybody was having a good time. You used Powder Blues legend, Jack Lavin as your producer on both Sabrina Weeks and Swing Cat Bounce CDs. What does he bring to the plate?
SW: He brings really good ears. He's really dedicated to having the kind of sound that is indicative of classic blues and swing recordings. He's not at all interested in pop. He's doesn't want to have anything to do with electronic anything. Everything has to be organic. He tends to be attracted to the best players and the best chart writers, so his experience and his relationships in Vancouver are the reason we were introduced to Jerry Cook on sax and Vince Mai on trumpet and Linda Kidder who did the background vocals. You just can't put a price on that. It's really a valuable thing that he brings to the project.
JD: Wonderful guess artists on the CD, and I also noticed you had one of my favourites, John Lee Sanders, there.
SW: John and I bonded, actually, over cancer. He had a cancer experience. I had a cancer experience and when both of us were going through this, oddly at the same time, we became friends. He was, of course, a natural pick for any kind of piano work on the album. When I asked him, he was absolutely delighted and he came without question and did the most insanely awesome tracks on the CD.
JD: Now I've got to give a plug for the local guys in Swing Cat Bounce. Would you tell us about the guys in the band? You can be fairly mean about Mike (Hilliard) I guess.
SW: (Laughs) Because he's not listening (Mike is recording the interview). What Mike Hilliard bring to Swing Cat Bounce, is, bar-none, he's the best guitar player I've ever worked with. He is passionate. He has insanely, awesome feel. His feel is blow your mind incredible! One experience is that we were laying down the rhythm track for "Crickets" and we initially had a different kind of part and it just wasn't feeling right. So Mike went into the studio and he hadn't tried playing this rhythm part, because his part was different because he does the lead part and he just laid down this awesome James Brown-esque rhythm part in "Cricket." You definitely have to check it out. It just kicks. It totally kicks and of course he plays these super, fiery electric guitar solos. He can go from one style to another style seamlessly. He can play jazz solos, blues solos, raging fiery blues solos. I just think he's amazing, but I'm not biased at all (laughs)!
JD: He sounds like Marvin Gaye sometimes, too, doesn't he?
SW: Kinda does; and sometimes he sounds like Jimi Hendrix; and sometimes he sounds like Roy Buchanan; and sometimes he sounds like all the jazz guys that I don't know the names of but should, but I think he's just amazing.
JD: I think you should keep him around, eh?
SW: I think I might (laughs). Now let's talk about his brother Ed (Hilliard). Ed is an unbelievably awesome drummer. We had so very, very, very few drum edits to do in the studio. Like, really! Most of the time, the largest piece of editing you do in the studio has to do with drum editing, and we had very little drum editing to do because Eddie is the kind of guy that takes his parts and practices. He practices them until they feel right. He has incredible feel. He has incredible meter and he has amazing work ethic. He's just the most loveable guy in the world. You know all those bad drummer jokes? None of them apply to Eddie. He's just awesome and I love him to bits. So, we also had Terry Strudwick on the recording who is a bass monster. I've been working with Terry for probably about twelve years. I was introduced to him through my very first big CD project through a band called Lava Kazu. He came in and played bass tracks on all the original songs we wrote for that project and he just blew my mind. I moved to Kamloops and we had a different bass player with the project and I didn't get a chance to work with him again. I played with him in a few jams and we became pretty good friends. When we put together Swing Cat Bounce he was the bass player we had in mind, but he was in Kelowna at the time. So then, we lost our bass player, Ken Sell, who was fantastic, and Terry just happened to be available and we snagged him up. It was right at this pivotal moment when we were recording this CD, so we recorded Terry on the tracks. I have to tell you that he made a huge difference. Every musician brings something different to the table and what Terry brought to the table was this wealth of experience of playing things funky and playing things bluesy because he's been playing that for so many years. He's had thousands of gigs. He's got amazing feel and an incredible ear. I just feel so blessed to have him in this group and on the recording in particular. Last but not least we have Bill White and Bill is our rhythm guitar player. What I love about him the most, and he knows this very well, is that when we perform live he sings. I really, really love his voice. I love the vocal harmonies that he adds and he's a good solid guitar player that learns his parts, rarely makes mistakes and his solos are fun. They bring interesting aspects to the band; a little variety in regards to the soloing and I really think he's great, too.
JD: Ya, you have quite a good line-up and it shows on this new CD Got My Eye On You.
JD: So where can we get Got My Eye on You?
SW: At the moment it's for sale on our website sabrinaweeks.com. You can get a physical copy that way by just filling out the PayPal form or you can download the Mp3 version from CD Baby or i-tunes. It's going to be on Amazon, Spotify … just Google it. It's out there. Very shortly the physical CD will be available through CD Universe and they will be responsible for cataloguing, so small record shops could bring it in if they are asked, pretty much anywhere in Canada and the U.S.
JD: That's great. What do you have planned for the rest of the year?
SW: Lots and lots of gigging and we are planning on recording a live album early in November. We're not sure of the location but Doug Perry is going to be recording the live CD and video at the same time, so we are going to ask people to volunteer to be part of the video as part of the audience because as every audience member knows and every musician knows there is a reciprocity that goes on between the audience and the band and the energy from the audience feeds the band and the band feeds the audience and it creates a beautiful cycle that is so necessary for a really good live recording. So we are hoping to have that happen and the writing for that we are hoping to start right away. We want them done so we can play them all summer long on our set list at festivals and all the gigs we are going to have so those songs are really solid. Songs tend to morph. They start off being one thing and tend to morph and I would love to give these songs and opportunity to become what they will become.
JD: Ya, while we've been talking—let's see—Mike has written two songs and you are well on your way (laughs).
SW: (Laughs) You know that wouldn't surprise me in the slightest.
JD: Ok, Sabrina, these are going to be the fun questions. If you could perform with anyone living or dead, except your current band, who would it be?
SW: Well, I'd like to have Etta James on stage with me. I think that would be amazing!
JD: I knew that answer.
SW: Well she's my favourite (laughs).
JD: This one's a bit harder. Going way back to when you were a child, what was your first musical memory?
SW: My first musical memory has to do with singing in Sunday school. I remember, I must have been five or six—definitely less than eight—and I was singing the lead in the Sunday school part and I remember being completely terrified, being up there, so, so scared. I remember I was singing but I don't remember seeing the people in the audience. I'm thinking that it was so traumatic (laughs) to be up there that I totally blocked it out. I saw a picture of myself singing up there and I was literally white as ghost. Totally white; no smiles on my face—as you always see when I'm on the stage now and I was so, so scared.
JD: Well, you are not scared anymore and the CD is great. It's called Sabrina Weeks and Swing Cat Bounce Got My Eye on You and it's available at all the usual places online. Thanks for being on Jazz Notes.
SW: Thanks Jim, it was so, so fun.
comments powered by

Disqus