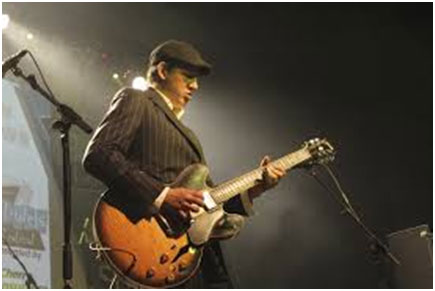 Steve Strongman has been showered with accolades.
Steve Strongman Remains True Blue
Blues is truth - and the truth will set you free" - Mighty Mo Rodgers.
People respond to honesty. When a musician is true to themselves and their craft it resonates. This has never been more apparent than with Steve Strongman's acoustic blues album A Natural Fact.
Kitchener, Ontario native Steve Strongman, has been heaped with accolades that include 3 Maple Blues awards in 2012 for Songwriter of the Year, Guitarist of the Year, and Recording/Producer of the Year. He was the recipient of a 2013 Juno Award for Blues Recording of the Year and is nominated once again for a 2013 Maple Blues Award for Entertainer of the Year and Guitarist of the Year. He's shared the stage with legends such as Mighty Mo Rodgers and opened for B.B. King.
To me everything is rooted in blues. I hear blues in everything.

All the recognition doesn't seem to have changed the blues for Strongman. "Well, it's been really, really special but you don't become a musician and write songs to get awards. It's not the reason for doing it. When it does happen though, it really puts wind in your sails. It makes me realize wow, I'm on the right path and I'm doing a good job of it and people are enjoying it. It's been an incredible year, especially when we live in such a talented country."
The blues has always been a focus for Strongman. As a fifteen-year-old teen, he'd tell his mom he was going to the library to study but get off the bus early to sneak into a club to see legendary blues performer Mel Brown. "I guess I really was studying," laughs Strongman. Under the mentorship of Mel Brown, Steve learned his lessons well. Brown did not live to see his protégé receive the recognition he's getting now, but Strongman likes to think that Mel knows what's going on.
While Steve Strongman is a lover of all genres of music, the blues has been his main avenue of expression. "To me everything seems rooted in blues. I hear blues in everything," he says. "Blues is really interesting to me because musically it covers so much. As a performer in the genre you really have to try and push the envelope on what you're bringing to the table. That's what I try and do," Strongman says. "So I still try to be true to the art form that I love, but put my own personal take on it." He continues, "That's what I try and do, bring a unique perspective to blues. I can't really get behind writing about where blues originated because I wasn't there. I try and be honest and people seem to be taking something from it."
I try and be honest in everything that I do, and I love what I do.

On his album A Natural Fact, there are songs about putting your foot in your mouth ("Can't Go Back"), or the nature of keeping secrets ("Secret"), or having to leave home and missing your family ("Comin' Home Tonight"). They have the ring of truth because Steve says he writes from his own personal experience. People connect with the music because they may also have had a similar experience. When he was asked if he ever puts his foot in his mouth he laughs and says, "Oh yes, I'd be lying if I said I didn't. It happens all the time."
Steve Strongman has a gift for connecting with people whether they are his audience or someone in the business of making music. He is quick to share his success. "I really share this with all the people who have helped me. I've been playing in bars and clubs my whole life, sleeping on couches, in vans in provincial parks. Literally I was and I've done that. I've had a lot of help and have had amazing people around me. My family is amazing and my friends that I tour with and play music with are so supportive. I think that it's really important for an artist, no matter what level you get to, to remain grounded and remember why you're doing this."
Recognizing all the help he's received he tries to reciprocate. Steve does workshops and has been involved with an interesting program called Blues in the Schools which is an educational program designed to promote, perpetuate and preserve the art and heritage of blues music.
When Steve was asked if there was 'Canadian' blues his response came easy. "I think blues in Canada is very much like Canadians are, it's a little bit of everything and we have a unique perspective on it in different parts of the country too. I think Canadian blues is looking fabulous, there's a lot of great young performers coming up and making a name for themselves. I think other people in the world are starting to take notice of uniquely Canadian blues. The blues is obviously an American art form, but as Canadians I do think we have our own perspective on it."
Steve Strongman has been in the business of the blues for a while. He can attribute some of that success not only to his considerable talent but also to his work ethic and his honesty. "I try to be honest in everything that I do, and I really love what I do," he says. "I hope that comes across when I perform."
For more information go to http://www.stevestrongman.com
comments powered by

Disqus