The Ballantynes: Seven Member Army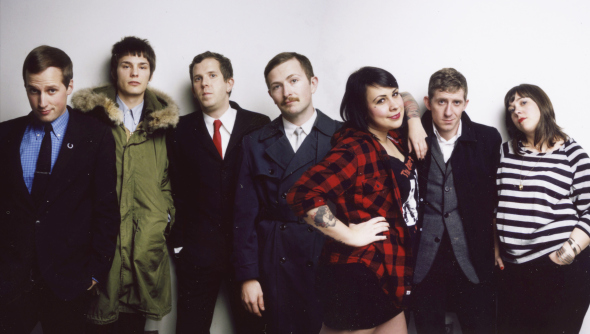 Organ wailing, hip shaking, tambourine shimmering, trouble.
The Ballantynes are a young Vancouver garage-soul revivalist project whose sole purpose is to move your feet and shake your hips. The band is a circus of seven members, three official vocalists and two drummers. You never know quite what can happen during a Ballantynes set and you get the sense that neither do they. This gives Ballantynes shows a wild, throw anything-at-the-wall-to-see-what-sticks energy you can't get anywhere else.
Here's my email conversation with the band.
Scott Wood: Your Facebook page says, "The Ballantynes are a seven piece labor of love formed in East Vancouver in 2011." Can you share your origin story? And can you list everyone in the band and what they do...
Vanessa: Jarrod had a particular idea in mind and it just turned out that it was what we were all looking for.
Jarrod: It was a chain reaction. We came at it from a social dynamic first. People we knew we could have a good time with and could hold their own. It's myself on organ/vocals/guitar, Vanessa on vocals and percussion, Jen on vocals and organ, our wild card Max on bass, Corey on guitar, Trevor and Mick on the drums, and we are one big deliberate accident.
Forming the band: People we knew we could have a good time with and could hold their own.

Scott Wood: Seven members? This must sometimes be like herding cats. Who is the ringleader? Can you tell me a funny story about this?
Corey: Funny you say that because herding kittens is exactly the term we use. We all take turns handling business and wearing the bossy pants... And we all hurricane.
Vanessa: Our stories aren't fit for print. We're a bunch of wild turkeys.
Scott Wood: Touring with all these members must be really fun and a huge logistical nightmare!
Vanessa: We only have one life or death rule: your phone is on, charged and with you.
Scott Wood: You guys are a pretty unique band. Can you describe what you do (and how different what you do is from a traditional indie band) and what inspired you do make this kind of music?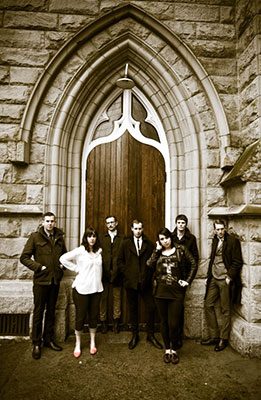 Corey: I think if anything it's just a unique combination of musical inspiration. We all come from such different backgrounds when it comes to what music we have played. I wouldn't really say we are unique but our approach is probably different than other bands.
Scott Wood: With so many vocalists, how do you determine who writes? Who sings? How do you maintain a cohesive sound with all those cooks in the kitchen? When you perform, who is the frontman?
Jarrod: We all write.
Corey: This band has and will always be a sum of its parts project. We all bring our own things to every song, but I think front man duties are passed around to whoever happens to be leading the song at any given moment.
Scott Wood: I googled the band and found out that Ballantynes is also the name of a large department store in New Zealand. I almost read an "interview" with their Managing Director Mary Devine on balancing family life while climbing the corporate ladder. How do you balance your day job, the band, and your own love life?
Vanessa: Like spinning plates. Or burning the candle at both ends. Or what are those batons called that you light on fire? I don't know, I'm not a hippy.
Jarrod: Yes, you are.
Vanessa: Okay, yes I am. But in the "lets wear moon stones and hug everyone" way. I don't know any cool tricks.
Jarrod: Maybe it's like swallowing fire.
Vanessa: Everyone makes sacrifices. And mistakes.
Jarrod: We wouldn't have anything to write about if we didn't.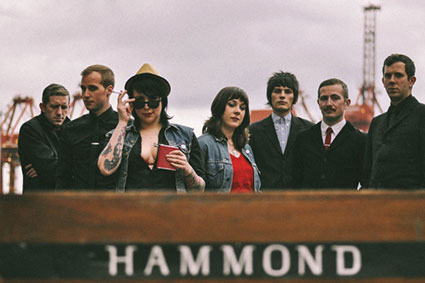 Touring with seven members: We only have one life or death rule: your phone is on, charged and with you.

Scott Wood: The Vancouver scene can be small. How important is it to have brother or sister bands? Who is one of yours and why are they so awesome? (How have they helped you out?)
Corey: I'm not sure if I would say it's small. There are a lot of bands in this city doing rad things. Even more awesome is the fact that we are all different style wise. As far as bro bands, you can definitely throw Needles//Pins into that category seeing as how we just did a mini-tour to Alberta with them.
Scott Wood: So far you guys have released 3 singles. Can you talk about being an indie band and your release strategy?
Corey: Well we have been working with the local label La-Ti-Da Records on each of our 3 7-inches and with them we really get a lot of freedom as far as how our releases go. It's really nice to be able to be involved in that process.
Scott Wood: Please pick your favorite Ballantynes video for me and give it an intro.
This video was shot by our friend Owen Ellis, who is going to be doing the music video for "Velvet" this month.
Find more about The Ballantynes online.
http://theballantynes.bandcamp.com/
http://theballantynesband.com/
Listen to upcoming episodes of the interview show for an audio chat with The Ballantynes.
The Interview Show is everywhere.
Follow me on twitter @interview_show
Listen to The Interview Show on SoundCloud soundcloud.com/interviewshow
SoundCloud RSS Feed
www.cjsf.ca (Vancouver, BC, Mondays 4:30-5pm PST and Wednesdays 12:30am PST)
www.ckdu.ca (Halifax, NS, Saturdays 1:30-2:00am AST)
www.radiocfxu.ca (Campus Community Radio, Antigonish, NS, Fridays 11pm-12am AST)
www.cfru.ca (University of Guelph Radio, ON, Tuesdays 3pm EST)
www.umfm.com (Winnipeg's Hit Free Radio, Fridays 6-6:30pm CST)
www.caperradio.com (Cape Breton University Radio, NS, Wednesdays 3-3:30pm AST)
www.localfm.ca (Campus Radio Saint John Inc., NB, Tuesdays 11:30am and Fridays 3:30pm AST)
comments powered by

Disqus