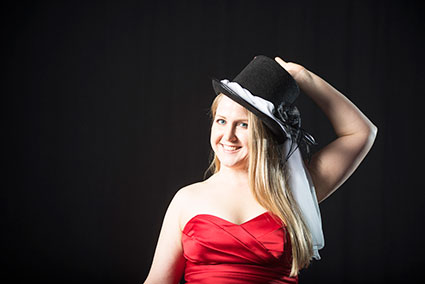 Rebekah Bell is red hot!
The Rebekah Bell Interview
With a little help from her friends, Rebekah Bell has made a bold foray into the Great American Songbook
By Jim Dupuis
Rebekah Bell is a jazz musician and music teacher, who has lived in northern Canada for many years. A family friend turned her on to jazz at a very young age and it has become her passion. Over the years she has honed her craft by playing gigs and travelling from Whitehorse, YT to Vancouver, B.C. to attend lessons with Vancouver legend Bob Murphy. Murphy and his sometime music partner Joani Taylor have mentored Bell over the years. Bell is exceedingly grateful for this. She knew that she wanted to teach music at an early age and followed her dream to the University of Victoria where she obtained a solid music education. She participated in local musical theatre and has taught, worked, directed and performed in choir groups, big bands and smaller jazz combos. Bell can play countless reed instruments, but her instrument of choice is her voice and this really comes through on To Watch Over Me, which is her first CD. Rebekah Bell has released a CD of classic songs from the Great American Songbook featuring a veteran band of Vancouver musicians, with the formidable Joani Taylor as producer. Bell sings and skats her way through this fourteen song package and even plays flute on one track. Her final song is a cover of the Beatles song "Oh Darling," but after her first recording outing she just might be humming another BeatIes tune: "With a Little Help From My Friends." I recently caught up to her for a nice chat after she had spent another busy day of teaching school.
JD: This is Jim with Jazz Notes on 92.5 the X and today we are speaking with Rebekah Bell. She is a jazz singer and teacher in Whitehorse, Yukon. Hi Rebekah, how are you doing?
RB: I'm good thanks.
JD: Good. I just mentioned that you lived way up north in Whitehorse. What are the advantages and disadvantages of living far away from the major centres?
RB: One of the big advantages, I think is that I live in the capital of Yukon. Being that we live in the capital we get a lot of services we wouldn't get in a lot of other places. The population of Whitehorse is about 28,000 people. For that population—that size of city—we have a ton of things that we get that we wouldn't get in any other city that has a population of 28,000; so the services that we get and the programs that we are able to access and all those things. We're really kind of spoiled in that sense, I think. I haven't lived here forever so I can compare it to other places, too. Disadvantages—obviously, the fact that we're further away from bigger centres and it costs a lot more to go where we are going. At the same time there are a lot of things going on here, too. As far as music and jazz goes there are a lot of performing opportunities and performers up here. It makes it really culturally rich to live here.
JD: That's good to hear. So, where else have you lived?
RB: I grew up in Fort St. John, which is another northern B.C. place. I went to University of Victoria, so I lived in Victoria for five years, as well. I've visited other places but not lived in other places. Those are the main places I've lived other than here.
JD: Ok. So we're going to go way back to when you were a little one. Why don't you tell us about the musical environment in your home when you were growing up.
RB: My parents thrived on music. They were always singing and were in choirs. We lived in a little subdivision where most of the families knew each other fairly well. One of the couples that lived there was Robert Benedict and his wife, at the time, Janet. We spent a lot of time at their house. They didn't have kids, but they were fun to be around. There was always music going on. He was a composer, piano tuner and tinkerer around. He did lots of stuff. He refinished pianos. He was always playing music and Jan was always transcribing it or playing herself. She was a really good concert pianist, as well. So I grew up around them for a couple of years, spending tons of time at their house. That's probably where I first heard jazz. We didn't live there forever. We moved into town because that was just out of town, but we still stayed in contact and I spent lots of time with them, and when they split up I still spent lots of time with Bob after Jan moved south to Vancouver. I think that's where my jazz roots sort of started. Then I listened to tons of jazz. I listened to CBC every Friday night as a teenager, which is probably really weird (laughs). I listened to the jazz shows on CBC and recorded them on my cassette player. I was exposed to jazz there and then I started ordering through BMG. At the time you could order from Mercury and all those places for really cheap, so I ordered tons of jazz CDs and listened to them constantly. So I think that all the listening that I did is where my love for jazz came from.
JD: That's real neat. You had formal training and a lot of it. Is it true that you started playing piano at the age of six?
RB: I did a little bit of piano, but honestly when I was six and started learning piano, I didn't realize it at the time, but I was learning piano by ear and not really learning to read the notes, so on my music book, it said, "1, 2, 3, 4, 5" and that went with your fingers and when it went past 1,2,3,4,5 as in C,D,E,F,G, I didn't know what I was supposed to do and my piano teacher never taught me. So, I actually kind of gave up piano after a while because I didn't understand it. Then when I was eight or nine I really wanted to learn how to play the flute. I don't know where the flute idea came from, but I really wanted to learn how to play the flute. So I got a second hand flute from someone that my family knew and started messing around on that and then when I had the opportunity I started in band in grade six at school and learned to play the flute for real. I got a better flute, because the one I was using was centuries old. I have no idea how old it is. It's actually on my wall downstairs at my house as a decoration, now. So I learned that and that was kind of the start of my real formal training in music, because that's where I started to learn how to read music. So I went through band in elementary and high school. During high school I was really motivated to learn music because I love music. I tried lots of different instruments and learned lots of things. Probably by about grade nine or ten I knew that I wanted to teach music because I was doing some private teaching to younger students and I was helping out with paperwork and music filing and all the stuff that is behind the scenes in teaching music and I enjoyed it and I was good at it. So it was like, "Hmmm that sounds like a good career choice." Most people in grade nine don't know what they are going to do for a living, but that's what I was focused on—learning one new instrument every year from the different families of wind instruments, knowing that that would help me in my further studies and teaching later on.
JD: Wow. One a year. I haven't learned one yet. I think I'm behind a little bit. Maybe I'll just stick to this (both laugh). Now, you went to U Vic. Did you run into Hugh Fraser or Ian McDougall over there?
RB: Ya, Ian was doing the big band and directing and stuff, there. I auditioned at the university on flute. So, I wasn't in the jazz stream. I was more in the flute for education. Flute was my main instrument and that's what I did in ensembles, mainly. However, there were a couple of times when Ian needed a flute player for a couple of tunes so I got to do a few concerts with his groups and that was a lot of fun. It gave me an opportunity to play the flute in different styles which was good.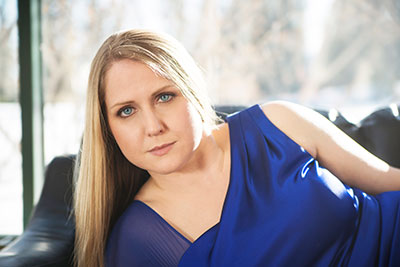 Ali says having her band behind her relaxes her.
JD: Ya, it would be. His bands are legendary and incredible musicians seem to flock around Mr. McDougall. He's quite a character, isn't he?
RB: He is. I was actually really lucky to work with him and there were a lot of great profs at U Vic while I was there. He was great. I also got to do some other jazz because we did "how to teach jazz" in the music ed. stream of things, so we did some other performances. Like, we played a couple of times at Hermann's Jazz Club. We did a vocal jazz thing down there for one of the jazz classes that I was doing as well. So there was stuff with the big band Ian had and stuff for other courses I was taking, too.
JD: I like Ian a lot. I've interviewed him before and he kept me in stitches. He is a character. There's no doubt about that and boy can that man play and lead a band.
RB: That's true.
JD: One of the main reasons that I phoned you is that I wanted to talk to you about the new CD you have out. It's called Rebekah Bell To Watch Over Me and it's an independent release. You have some pretty good people on it. I'm a big fan of Bob Murphy and Joani Taylor. I lived around Vancouver for years and I used to go to restaurant called Carnegies, where Bob ran the music. I've seen Bob play, figuratively around 100 times. I love his piano playing and I'm really impressed that you chose him to be in the band. Was he involved at all in the arrangements of the music?
RB: This is definitely a collaboration. The first time I ever heard Bob Murphy play was not in person. I heard him on a recording. My friend Robert Benedict said, "You got to hear this CD. It's really good." So he put it on and I think it was on a CD, and not a cassette, at the time. It was when I was in university. It was Christine Duncan and Bob Murphy. I listened to it and took it away and kept listening to it. I thought, "Man that piano player is amazing!" I really enjoyed their arrangements and Christine Duncan is amazing but I kept thinking that he was really good and I really enjoyed his style. So fifteen years later I was driving back from Dawson City from a gig there, with another musician that is now in Vancouver, and I was talking about how I was stuck and wanted to improve and I didn't know where to go or what to do to get better because I wasn't really getting feedback from any source and he said, "Well, what about Bob Murphy? He does teaching." I said, "Really, Bob Murphy does teaching?" and he said that I should get in touch with him. So, I Googled him. Found his website and e-mailed him. I told him when I was going to be in Vancouver and asked if I could get a lesson. That was a few years ago and that's where it all started, really. So then in August I thought that I should probably record a CD and some people suggested it, I was doing a lesson with Bob and Joani and because I tend to get together with them every time I'm in Vancouver, I broached the subject. Joani said that she would produce it for me and I said ok. Honestly, straight up, I didn't know what a producer did. I had no idea. I had never done any of it before in this capacity. So the learning curve was huge for me this year. So Joani offered to produce and asked who I would want to play piano? I was kind of looking over at Bob, and he was doing something else and she said, "Would you want Bob?" and I said, "Ya!" So we asked him and Bob said "Sure, I'd do that." I was like, "Holy crap! I can't believe I just got Bob Murphy to record with me. It's amazing." If I hadn't had Bob to do the recording with, I don't know that I'd want to have done it, because he is so fantastic and I really wanted to work with him on the recording. To have Joani involved as well—holy cow, what a team! They obviously know each other really, really well already. Them working together with me and putting some of the ideas to test and figuring out ways to do things was really incredible and really fun to do because we came up with some really incredible things because all of us were involved, too.
JD: Funny you would mention that Christine Duncan CD. My next question is, some of Bob's best work has been done with women vocalists, such as Christine Duncan, Joani Taylor and Shannon Gunn. Why do you think he has such an affinity with women vocalists? (laughs).
RB: He was saying that he doesn't watch very much, but that he just listens. He watches, a lot; and he listens a lot. Once you get a connection between him and the singer, there are incredible things that can happen. The other part is that you really have to do a tune that he can feel and dig into. That's a big thing and that came up in the selection of the tunes for the CD. I'm really glad that he's able and that he's so in tune with what he can do and what he can get into because when he's into a song—oh my goodness—some amazing piano playing happens. But also, it inspires you as a singer to do much more and way better. I sing with him way better than I sing with anybody else. I don't know exactly way, but there is an amazing connection that happens.
JD: You are not the first do notice that, believe me. I recall going to Carnegies and a singer named Shannon Gunn used to sing with him and they just fitted together so well. It was just the duo. They didn't have the resources for a full band. Bob on piano and Shannon on vocals and in my mind they brought the best out of each other.
RB: If it's going well, it's really a conversation between the musicians. That was one of the very cool things about recording with the people I recorded with. It was a collaboration; it was a conversation; it was in the moment. Real music! You got some really great magic that happened in those moments.
JD: You can tell that was happening. The CD includes intros and cues before each song from the band members. Did you keep that in to show it was so real?
RB: Ya, it was really about keeping it real. We recorded everything live off the floor and the way we were set up at Armoury Studios we could all see each other. I actually couldn't see the drummer, Buff Allen, because we had to put him in a corner, poor guy, but the other two Doug Stephenson (bass) and Bob (Murphy, piano) could both see the drummer and I could see Doug and Bob so it worked really well because then we could communicate and make the music happen, too and it was all in the moment. All of those tracks are one or two takes. We only recorded the last track on the CD once. It was totally amazing. So cool to do it that way.
JD: There's a massive great American songbook to choose from and you guys made great selections from it. I like the variety. You included a Latin song with "Dindi" and a Billie Holiday song with "God Bless the Child" and the title track "Someone to Watch Over Me." I feel that you really made great choices in the selection of tunes. But going back to the intro and cues off the floor, who's the potty mouth guy that got bleeped twice?
RB: (Laughs) I had to keep that. Actually I didn't even know it was there. I was giving some of students a ride home and had to go in to do something and the CD was on and I left the truck running. I came out and they said, "Nice swear words!" I didn't know what they were talking about and when I listen to it closer, "Wooh! What happened there." The potty mouth happened to be Bob (Murphy) talking about the piano player which was himself.
JD: (Laughs) Ok. So, you played flute on "Dindi." How did you feel about contributing other than vocals on this project?
RB: I knew I wanted to do a track other than a flute solo. That made me kind of nervous though, because I have never recorded a jazz flute solo and I haven't done a lot of jazz flute playing. It was all improvised and I can improvise off the top of my head when I'm singing. No problem, because it's in there and it just comes out. But when there's an instrument involved you have to press the right keys down and get the right notes and all that other stuff. It adds another dimension to it. So I'm really glad that I did it. I really like that track. It really sounds great with the flute. I definitely was a little apprehensive about doing it, but it turned out well. I had to overdub that because I couldn't play flute and sing at the same time, so our approach was that if it didn't sound good we didn't have to use it. If it sounds good we'll use it. So it took a little pressure off me.
JD: I'm certainly glad you used it, because it really fits well with the song and your playing is beautiful on that.
RB: Thank you.
JD: So how can we get your new CD To Watch Over Me?
RB: You can purchase it online from my website which is www.rebekahbellandallthatjazz.com and it will be up on iTunes pretty quick. Otherwise if you live in Whitehorse you can find me and get it (laughs) and it's available through a couple of stores, here.
JD: Good. I think quite a few people will pick it up. I guess your school year is almost over in that you are a school teacher. Do you have any performances lined up for the summer?
RB: I'm actually bringing the band on the CD and Joani (Taylor) and her husband up to Whitehorse for July 4th and we are doing a CD release concert here. That will be fun. I think Bob and Joani were talking and they said they hadn't been to Whitehorse since 1979. It's quite a lot different now, I'm pretty sure. We're going to do that and we have another CD release concert booked at The Cellar on July 17th with the guys from the CD and that is going to be a lot of fun. Joani is actually going to do a couple of tunes with the band as well so she will be our guest performer on both those gigs so that will be great. I have not lined up a lot of gigs because another lovely thing in my life is that I am leaving Whitehorse sometime this summer to move south somewhere, (laughs) and I wish I knew more than that right now, but basically I have to get a job elsewhere to move elsewhere, otherwise I'm just going to move somewhere and be a gypsy. But right now I'm applying for other music teaching jobs in B.C. mostly, because I really want to move back to it. I kind of like B.C. It's where I feel like I belong. I'm aiming for south. Once I know where I'm going to be I can actually set up some other gigs.
JD: Well good luck with the move and I'd like to thank you for speaking with me. I enjoyed speaking with you. I enjoyed the CD and it will get lots of play here at The X.
RB: Thank you so much.
Rebekah Bell To Watch Over Me can be purchased online at http://www.rebekahbellandallthatjazz.com/ and will be available soon on iTunes
Jim Dupuis is the host of Jazz Notes, now in it's 13th year on Wed. 5-7 PM PT at www.thex.ca
comments powered by

Disqus