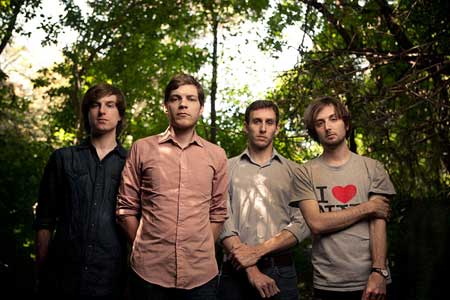 The new Two Hours Traffic
Two Hours Traffic: Two blood transfusions make for Foolish Blood
Important and difficult changes set the stage for Two Hours Traffic's latest.
Two Hours Traffic has seen a bit of a shake up in the last year. Gone is founding member, Alec O'Hanley and long-time producer Joel Plaskett. But it has been productive as well with the release last fall of a four track E.P. and now a new full-length album this spring. In early March I had a chance to call up one of two original members and the current driving force behind Charlottetown's Two Hours Traffic. I chatted with Liam Corcoran via telephone from Saskatoon while they are on a cross Canada tour in support of their new album: Foolish Blood.
The new full length is their first without the other half of the founding membership, former bassist and vocalist Alec O'Hanley. O'Hanley however does receive writing and performance credits on no less than four of the cuts from the new disc: "Audrey" "Faster 4 U" "Ready for a Look" and the first single from the record "Amour than Amis".
Corcoran chooses his words carefully when talking about O'Hanley's departure. "Towards the end of Alec's time in the band he did contribute to some of the songs but he now lives in Toronto and is working with a couple different acts so he's no longer a member of the group". Along with Andy MacDonald (lead guitar/backing vocals) and himself, Corcoran reflected that O'Hanley was a contributor to the lyric writing "when Alec was in the group we pretty much had three guys writing the lyrics but with the change in development, it will just be me and Andy for now".
It usually starts with a chord progression and then we jam it out for a while

It is a big transition for the band. Two Hours Traffic started out as just 2 friends: Corcoran and O'Hanley. The band was transformed into a four piece shortly after they arrived at the University of Prince Edward Island where they met MacDonald and drummer/percussionist Derek Ellis. The members seemed to bond with similar interests and in terms of musical taste and style. "We found common ground with some early influences and decided to play covers at high school shows, some of the bands we agreed upon were bands like Spoon, Pixies, Beck and Hayden".
In 2002 the band decided to put together some of their own work and put out a six song E.P. entitled: "The April Storm". With this release they caught the eyes and ears of fellow Maritimer, Joel Plaskett, (Joel Plaskett Emergency, Thrush Hermit) who liked what he heard so much that he signed on to produce the band's first self-released and self-titled record in 2005. From here a relationship would develop, and Plaskett would continue to produce material for the band; 2006's "Isolator" E.P. in addition to two full length records, the 2007 Polaris Prize winning "Little Jabs", and "Territory" in '09.
In June of 2012, the band decided to move in a different direction in the studio when they stopped working with Plaskett and signed on with Darryl Neudorf as the man behind the board. The result of this collaborative effort was the aforementioned E.P. in November and release of the L.P. this past February.
Switching producers and losing a key and long time founding member of a band in a rather short time frame seems like a major shift in direction. O'Hanley's departure sees former North Lakes frontman Nathan Gill taking the reigns as bassist and backing vocalist. I asked Corcoran about the addition since Gill has joined the band and he stated"I like how Nathan is nice and laid back, he certainly doesn't add any stress to the proceedings. It's very welcome, he just goes with the flow and he has a nice yet energetic attitude on stage; he's a bit younger than us too and he's certainly been a nice addition".
Montreal was a big surprise for us this time around. That can be a tough town.

Despite the personnel changes, the band hasn't really changed its approach to writing music. "It usually starts with a chord progression and then we jam it out for a while in order to find structure. This is usually done before adding any serious lyrics to the piece". "Usually one of the last bumps for us is figuring out what we want the song to say, so we usually get the groove down in order to get things musically established prior to taking that step". Corcoran self describes Two Hours Traffic as "power-pop with catchy melodies". Despite this labeling, and having a well rounded knowledge for writing pop songs, he feels that they all have a similar interest in harder rock acts and even hip-hop to a lesser degree.
Corcoran, who also contributes guitar and keyboards, was quick to point out "the new record is our primary focus at the moment and the tour has been pleasantly received thus far". Foolish Blood comes rather quickly at the heels of a November 2012 four song E.P. "Siren Spell" which is also noteworthy for having contained the two tracks "Amour Than Amis" and "Audrey".
Foolish Blood is released on the Bumstead record label, who they've been with since their early years as a four piece. Corcoran feels their relationship with the label, despite a lack of band notoriety, has been very supportive. "They've stuck by us. It's not like we've been a huge smash hit or anything but they've continued to support the albums. They've also helped us to head out onto the road to support the records and we've been to a lot of cool places on tour. I think they've believed in the music and believed in us as a band. It's a small label and we know everyone there very well, and our manager Larry Wanagas runs the operation".
The label even supported making a video for "Amour Than Amis". "It's fun to make a video, we did one in Toronto with two ladies who directed and acted in it but I don't know if we'll do it again." As for the next single I made a comment about "Last Star" as I thought I'd read it has potential. Corcoran thought about it for a moment. "We haven't really thought that far ahead, but that one might be a bit too long in terms of the length of it, you never know though... We don't really get a lot of mainstream radio play so it doesn't really seem all that important right now, I don't really know what will be our next single".
The current tour has been a lot of fun for the band with some notable highpoints. "I was most impressed with the shows we did at South by Southwest in Austin, Texas. It went really well for us this year. We've been a few other times but this one in particular seemed to be a really good showcase for us. It was well attended and we felt pretty good with how we played. When we arrived back in Canada, we played some different bars and clubs but we're pretty used to the circuit that we're on; we've played most of those spots before so we know what we're getting into. It's good to have the solid fanbase that we do in certain parts of the country and most nights have been quite good".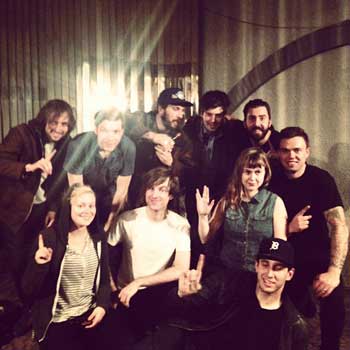 Rah Rah and THT: almost end-of-tour group shot.
"Montreal was a big surprise for us this time around," say Corcoran. "That can be a tough town to get people out and we were jam packed,. It was pretty exciting! Winnipeg was really awesome, we played the Park Theatre. It's a beautiful venue and we had a big crowd, especially for a Tuesday night. We've been playing with Rah Rah who are from Regina so it's kind of cool to be combining our two crowds together on this tour, we've been having some really good nights with them".
"We love getting all the way out west to B.C. It's always nice when you can see the mountains. We've always had pretty good nights in Vancouver and Victoria. We're also playing Golden and Nelson for the first time so that will be nice." But is is work too. They have a record to sell. "We plan on hitting the road pretty hard for this record. We're going to Europe after the Canadian tour and we'd like to get back to the States at some point again as well; we should be busy for the next while". The European dates kick off in early May in Liverpool and then the rest are in Germany.
We're just really plugging away on these live shows. We're playing some of the new songs mixed in with a bunch of the old, we're just trying to put on a good show and focus on the touring right now". Perhaps we should all learn what we've been missing from PEI and get out there and support them when we get the chance.
For more information www.joshuahyslop.com
comments powered by

Disqus