Vicious 5150 Hits the Marks, Hard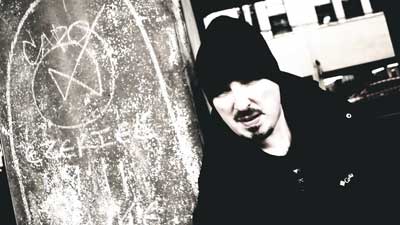 Poco Rapper Centres Himself with an 'Orinoco Flow'
Vicious 5150 is a rapper from the Vancouver suburb called Port Coquitlam. His name is a combination of Vicious, which he states "is a very accurate word to describe his delivery when he hits the recording booth" and 5150 which was "originally used as a penal code for criminal insanity." He's been rapping for 13 years now, recording seriously since 2001. As far as solo albums go, on June 1st, 2013, he put out #7 titled Disassociation. Not content to rest there, Vicious 5150 has dropped another 8 group and collaborative projects (from 2004 to now).
Vicious 5150 tweeted me for an interview and I had to respect this man's hustle
Scott Wood: This interview is on an online magazine primarily read by campus community radio programmers. My interview with your pal and local Vancouver rapper Tyrow James got me the most complaints ever for a show due to copious swearing. Can you talk about how you see campus community radio as a resource for what you do?
Vicious 5150: Hahah. That doesn't surprise me at all. But yea, community radio is where it's at. I dig the fact that there's another avenue offering artists a chance to showcase their music, and since I am just that, it's perfect for me. I'd be stupid not to take that opportunity (P.S. Thanks Scott!)
Scott Wood: Your hood, Port Coquitlam, doesn't really have a solid rep or well-known stereotype like other communities in the Vancouver area. Surrey is supposedly all white trash/ghetto/thugged out Indo-Canadians; the West End is completely gay; East Van is all hipsters; etc. If you had your way, what would be Poco's rep?
Vicious 5150: Poco is pretty much your everyday, small town where everybody knows each other. It's overall a very community-oriented place to live. Obviously it isn't perfect, but it's been a pretty cool place to grow up. There isn't a whole lot going on as far as offering musicians a venue to play music at, especially not hip hop, so we pretty much take our craft elsewhere, but still put it down for where we live.
Are beefs useful for the creative process?:
If you're fired up enough and you're gunning for your opponent on record, you're basically going for blood.

Scott Wood: You used to "have beef" with another local emcee Mista Mead. You guys have made up and released a collabo-record. Can you tell the story?
Vicious 5150: Well, Mista Mead and I were a lot younger then (this incident was a good 8 years ago), and to put it simply, it was a pretty petty squabble over nothing really important. Words were exchanged on songs and whatnot. But what I can take out of that situation (in a positive way)—as shitty of a situation as it was—is that it strengthened our current friendship in a major way. And [since we've made up] we've been collaborating on so many songs and projects, eventually we felt it was time to do a duo project. We just thought it would sound cool and we got what we wanted out of it and more.
Scott Wood: Are beefs useful for the creative process?
Vicious 5150: Haha. Oh man. Can they ever! If you're fired up enough and you're gunning for your opponent on record, you're basically going for blood. You go into battle to win. It's especially fun if you know the person you're dissing would be a hell of a challenge. That makes it that much sweeter to participate, wh
Listening to mediation music before shows?:
It's to be done to groove with the present, that way you're not worrying about the future and distracting yourself with anxiety and whatnot.

ether it be friendly competition or an actual issue. It keeps you sharp.
Scott Wood: Is it true you listen to mediation music before shows and recording? (I am imagining you centering yourself in the lotus position while listening to Enya's "Orinoco Flow.")
Vicious 5150: Haha. At times, yes. It calms me down. I'm more of a Bjork guy than Enya, but...Enya's good shit too. But yea, meditation with or without music is a very soothing process. It's to be done to groove with the present, that way you're not worrying about the future and distracting yourself with anxiety and whatnot. Meditation helps me see things, people and other creatures for what they really are. I could go on for days about that topic. Haha.
Scott Wood: The first video single from your current release Disassociation is called "Dreamcatcher." The track features Mr Morder of The Rappists, and Fano. The video was directed by another local rapper Tyrow James. Tell me a bit about the track?
Vicious 5150: "Dreamcatcher" was actually the very first song I recorded for Disassociation back in winter. That song was based off of a conversation Morder and I had about a week prior to this, where we had discussed Binaural Beats (look it up on Wikipedia), and then it lead to a conversation about favourite Bjork tracks, and we discussed how we both enjoyed the song "Possibly Maybe". So long story short, I decided to sample both a Binaural Beat (a very specific one that's meant to be used as a sleep aid), and the backing music from Bjork's "Possibly Maybe," and it created a very tripped out sound I really enjoyed just listening to, even before we put words to it.
I had written a verse on the bus on my phone around the concept of "Dreamcatcher, "and I really could hear Morder doing the second verse, so I sent it to him, he instantly liked it and contributed a verse. Now, Fano has been one of my best bro's for many years, and he always wanted to record something, so I had him do a weird voice on the hook and we both thought it sounded cool so we kept it on the song.
As far as the video goes, that was shot in the Haney area of Maple Ridge, and what else can I say except Tyrow James really captured the essence of the song in that video, everyone did.
Scott Wood: You've been a member of several local crews: Hooded Lynch Mafia (The H.L.M.), BNE (Business Never Ends) and The Rappists, and an original/current member of Hazmat Music—to name three. Can you talk a bit about your experiences being in a crew vs. going solo?
Vicious 5150: Honestly, I enjoy working with groups a lot more at times. Having the option of different perspectives towards the same idea is nothing short of amazing.
HLM was a group my good friend Darkness and I had started at the end of the 90's. We still work together to this day actually, which is also really cool after all that time. You don't see that with many groups.
As far as BNE goes, that was a crew waiting to happen, it started off as a group called All Inclusive, which featured myself, RcThaHazard, Ill Tone, Monta B, 1Del, Bob Westfall and Synz (we all still work together pretty often). All Inclusive eventually turned into BNE, which consists currently of myself, RC, Synz, 1Del, and DZ Man, and we've done so many songs and show together over the last 7-8 years.
The Rappists—now that group is a very interesting and abstract group. Here you have a whole mess of guys, many of which came from doing metal music, some of which never really rapped before until a couple of years ago, and they came together with the idea of The Rappists. Tyrow James and I had played a show with them out in Ridge last October, and we instantly became good buddies of theirs. I started chilling with the Rappists and coming over to record songs with them as a feature, and then I just ended up joining the crew later on in the fall/winter season.
As it stands now, BNE, The Rappists, J Clawsin, we all work under the umbrella of Hazmat Music. We're all proud members of that team. You can't just make up that kind of unity. I feel blessed to be part of it all.
Scott Wood: What's your take on "paying-to-play" with regards to local shows? What's the solution?
Keeping it real:
Could you imagine some fanatic gamer just totally calling me out like, "Yo, man! You ain't got no XBox! You fake, dog, you fake!"

Vicious 5150: "Paying-to-play" for those who don't know is when an artist approaches a venue or promoter, and the representative whoever that may be says to the artist "you can be on this show if you pay us X amount of dollars" or the other method "you can play this show and sell X amount of tickets for us". Now, I personally don't feel going that route is beneficial to me or anything I'm doing, I won't knock anyone who feels it does benefit them, or any of the promoters or venues who practice this way, but, I want artists to know that this isn't the only way to get a gig..
The solution is to build your audience and your network; the solution is to look into every venue you can that would like to help you out. Starting with places local to your area is a good way to do it when you're just building things up for yourself or your team. There are many places that are willing to help artists out. You just have to look for them and they're easier to find than you think. No matter what, there's always a place to play, broaden your horizons.
Scott Wood: There has been a lot of cynicism directed at Jay-Z's latest record, Magna Carta... Holy Grail. If you think about it, he is the first hip hop superstar to stay "relevant" into his middle age. Other talented older rappers tend to just disappear (Big Daddy Cane) or go into acting (LL Cool J)—what is your take on aging in hip hop?
Vicious 5150: Jay-Z, I have to give it up to him, longevity and staying relevant is a tough thing to accomplish for many artists and performers of all backgrounds of the entertainment industry. As far as LL and Kane go, LL can pull off acting very naturally in my opinion (same case with The Rock transitioning naturally from wrestling to acting). Kane on the other hand, he's an MC, and one of the pioneers of this genre, and should be respected. Now as far as his longevity goes, that remains to be seen, I really don't know what else he could do at this point to keep himself fresh as much as I respect the guy and his music.
Scott Wood: I've heard you are more of a homebody than other local rappers. Does this mean in the future we can look forward to more raps about Doritos, sitting on the couch in your underwear and Xbox?
Vicious 5150: Hahahah! I've done lots of songs about lots of things, so it's a possibility... But I don't own an XBox! I got a PS3, so I can't claim I have an XBox. Could you imagine some fanatic gamer just totally calling me out like, "Yo, man! You ain't got no XBox! You fake, dog, you fake!" That might be awesome.
Scott Wood: Can you pick your favorite Vicious 5150 video and give it an intro?
Vicious 5150: My second favourite video choice is "Fleshbag."
Scott Wood: Bonus question: Local rapper Tyrow James told me to ask you "why you feel the need to answer every YouTube comment on your videos?" I am curious about this myself.
Vicious 5150: Well, whether it's a good comment or a bad one, I don't HAVE to answer every comment, I just really enjoy it. I figure fair's fair, they took the time to get at me for whatever reason. I'm not too important to talk to others. I always say "thank you" if someone says something nice to me and (depending on how rude or idiotic the bad comment is) I'll answer it just for them. And I use the term "idiotic" loosely, because someone may get the completely wrong idea about what I was trying to get across in the video and song, and then just go to town on their keyboard. Haha. So if they made a mistake, I'm there to correct them—in a polite way I might add. And I've actually made fans from those same people that way. Fans and connections pop up in the strangest places, and that's why I take the time to answer people. You never know!
Find more about Vicious 5150 online.
Official Website : http://www.vicious5150.bandcamp.com
Youtube : http://www.youtube.com/TheVicious5150
Twitter : http://www.twitter.com/TheVicious5150
Facebook : http://www.facebook.com/TheVicious5150
The Interview Show is everywhere.
Follow me on twitter @interview_show
Listen to The Interview Show on SoundCloud soundcloud.com/interviewshow
SoundCloud RSS Feed
www.cjsf.ca (Vancouver, BC, Mondays 4:30-5pm PST and Wednesdays 12:30am PST)
www.ckdu.ca (Halifax, NS, Saturdays 1:30-2:00am AST)
www.radiocfxu.ca (Campus Community Radio, Antigonish, NS, Fridays 11pm-12am AST)
www.cfru.ca (University of Guelph Radio, ON, Tuesdays 3pm EST)
www.umfm.com (Winnipeg's Hit Free Radio, Fridays 6-6:30pm CST)
www.caperradio.com (Cape Breton University Radio, NS, Wednesdays 3-3:30pm AST)
www.localfm.ca (Campus Radio Saint John Inc., NB, Tuesdays 11:30am and Fridays 3:30pm AST)
comments powered by

Disqus