A View From The Balconies
It`s hair straight back for Toronto rockers The Balconies who are on a rising trajectory leading up to the release of their new album Fast Motions.
Jacquie Neville, lead singer for The Balconies, uses everything she has to express the music inside. Her long dark hair whips around as her head snaps back and forth in rhythm. If her hands aren't pounding it out on her guitar they are in action in the air. A classic rocker stance is morphed into dance and back again. Her voice is astonishing in strength and range. Bass playing brother Steve Neville performs opposite to his sister's energy with a kind of low-slung cool. Liam Jaeger wields his guitar with precision and singular intensity while Theo McKibbon powerfully bangs it out behind them on drums.
It's a loud, sweaty, and riveting affair at a Balconies show and that's how they like it.
"I really look up to people like Joan Jett, Freddie Mercury, and Tina Turner", says Jacquie.
Weve always had one foot in the classical world and one in the rock world

"They're all amazing performers and were the first musicians I was introduced to at a young age. I was like 'wow' I want to do that. Whatever they're doing, it's amazing engaging the audience as much as possible and have them get lost in the moment with you. You're part of something." Jacquie (whose childhood nickname was Chaos due to her abundance of energy) is skilled at creating those moments.
As teens, the brother sister pair found common ground in music. They had a high school band and were writing music together and performing in the Ottawa area. It was in university where The Balconies formed as a trio. Jacquie, Steve and Liam studied music and are classically trained musicians.
Liam, who has a Master's degree in classical guitar, was asked how he got from classical to rock. His response came easy: " I've always been drawn into high intensity music, whether it be a wild physical performance, intense emotional content or just intense music. There are those elements in all kinds of music. You study classical music; it's big baroque preludes or romantic sonatas. I grew up playing rock music but when I was about 17, I realized I wasn't ever going to be able to read compositions by

great composers if I don't buckle down and really start learning how to read music. For me it was a good experience to get intensely involved in a different element for a few years, but I realized I really missed head banging and playing loud."
When asked if there were other similarities he jokes, "If you look at photographs of old composers a lot of them had pretty awesome hairdos, and sweet clothes. Franz Liszt in his day was a rock star." Jacquie chimes in, "There's an element of virtuoso in classical music and in rock music. There are similarities like running rhythms and beautiful harmonies even though they are in different context."
The trio is now a quartet with Theo McKibbon joining on drums. When asked how they nabbed him, Theo explains, "I had been playing around a bit in bands. I became good friends with Liam and we played in a side project together. I received a message from them saying they had changed to a four piece from the three piece and do I want to play with them? I wanted to listen to some songs so they sent me some new stuff and I was blown away. I thought this was an opportunity not be missed. On top of that they are such great people. It was an easy decision to make."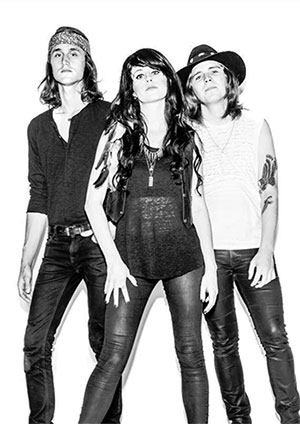 The Balconies are serious musicians with a fire in their bellies. They are under no illusions about the hard work required to not only have a music career but to thrive. "We've always had one foot in the classical world and one in the rock world," says Jacquie. "The band just started taking off so we said 'let's do this full-time', we're young and have the energy to tour all the time and stay up late loading gear." Steve adds, "Although we were in university, we knew pursuing a life of music would eventually entail travelling and doing shows. If you're not prepared to do that, then you're not prepared to be a musician."
Their talent and work ethic is paying off. They've shared the light with Mother Mother, Wide Mouth Mason, Devo, Sloan, Tokyo Police Club and Big Sugar, to name a few. A relentless tour schedule has taken them to Europe, touring with Rival Sons, and playing showcases in Cannes and the UK. They've performed at South by Southwest, Canadian Music Week, and North By Northeast. They've had a summer of festival dates as well.
What's it all for? It's to give people a taste of what's to come with the hotly anticipated release of their new album in January. Fast Motions was recorded with producer Arnold Lannie, who has produced some great Canadian bands like Simple Plan, and Our Lady Peace. If the already released singles and videos like "Do ItIn The Dark" and "The Slo" are any indication, The Balconies are primed for takeoff.
"Really it's about taking people on a journey," says Jacquie, "We just want to blast your faces off."
comments powered by

Disqus