The Journey to Bear Mountain Begins (and Ends) with Sweat
Vancouver Dance Band talks Smoking Weed, Social Media and Geometrical Extraterrestrial Beings
Bear Mountain started as a bedroom dance project by Ian Bevis. You might know Ian from another Vancouver band, the glitter bomb militia known Top Less Gay Love Techno Party (TLGLTP). When Ian wanted to play Bear Mountain songs live, he brought in longtime friend Kyle Statham into the fold and even his own twin brother Greg.
Their debut release XO came out last year and dance music lover Bevis promises, "from lush synth sounds and chopped vocal samples, to tropical drum beats and house-drenched kicks, the album manages to capture the feeling of the infinite and the impossible, all rolled into one." The album's opening cut, "Two Step," is my favorite and you can find the video at the bottom of this interview.
I don't think every band needs to be a social media expert, but it is a great way to reach your audience on an entirely new level.

The band has just finished up a stint opening for UK indie favorites Bloc Party. I caught up with Ian Bevis just before the band left for many more summer music festival appearances.
Scott Wood: You guys have been opening for Bloc Party this year. It must have been awesome to get that invitation. Bloc Party is a band that took an extended break and have now reformed. How do you think this can effect a band's momentum/lifespan/profile with their fans?
Ian Bevis: I think every band or artist gets to a point where they need to take a break. Maybe that's just the thing that the band needs to survive, so that break may end up extending the lifespan of the band. But you also have to be realistic about where the music industry is at today, and that fans and audiences are looking for a consistent output from an artist.
Scott Wood: I've read that Bear Mountain's writing process works like this: Ian writes on the computer and then brings it to the band and you all play the material until it feels ready? (Feel free to correct me.) When is something ready to show the band?
Ian Bevis: Yep, that's pretty much how it works. You know you've got something when you listen back to it later and you get that feeling. I think it's just an instinct that you know something is going to work or not. I've got tons of ideas sitting on my computer that the band will never hear, but that's part of the process. Sometimes you think something is great and then you'll show it to someone, or listen back a week later and realize it's crap. A good idea has an inspiration life space where you'll be really excited about it for some time, but soon grow tired of it. You've just got to make sure you don't chop the tree down before it grows up. There's not one time when something is ready to show the band. An idea may go through multiple ringers along the way.
Scott Wood: Ian used to work for Vancouver-based social media management system HootSuite. Should every band become a social media expert these days?
Ian Bevis: You did your research! I don't think every band needs to be a social media expert, but it is a great way to reach your audience on an entirely new level. I follow my favourite artists on their social channels, and my favourite ones are those who find a way to really connect with me. I think as long as you're authentic on social media, then you're doing great.
Scott Wood: I've read you are an avid music blog reader. The blogosphere's effect on the music industry has been good and bad. What's one positive and negative you've noticed?
Ian Bevis: For someone like me, who was making demos and beats by myself for a long time, blogs were a way for me to share that music with people other than my friends. I made a couple friends who ran music blogs, and they really supported me from early on. I'm not sure a band like us would be able to do what we're doing, if we hadn't built an audience for ourselves online first. The negative side of it gets pretty nasty sometimes in comments sections and stuff, and there are a lot of unsolicited opinions out there. Everyone's a critic and everyone's an artist, which can be a blessing and a curse.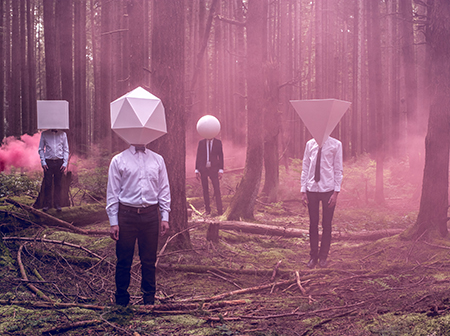 Scott Wood: Ian is a member of another much loved Vancouver-Berlin band Top Less Gay Love Techno Party. They are known for their costumes and glitter guns—among other things. Onstage, the band members of Bear Mountain are a little more subdued than TLGLTP. What would it take for you to take up the glitter gun again?
Ian Bevis: Subdued?? I wouldn't call our show subdued, but there's less spandex and glitter than topless, yes. We have our own version of the glitter gun. His name is Kenji and makes the best fucking tacos you've ever had.
Topless is definitely still alive and splashing, we're just about to release our album so we're pretty excited for that. TLGLTP is a project I do with some of my best lover-friends in the world, and I definitely need that band so I can get my fix of spandex and sex parties.
Scott Wood: You guys also have a full time visualist Kenji who is described as "a member of the band." He tours with you and crafts your visuals. Is he involved with the writing? Can you describe how you collaborate? Does he work solo and come back to you with ideas? Do you "jam"?
Ian Bevis: Yes, he is a member of the band and is the creative director / visual artist / spiritual guru. He's involved as a creative mind, focused on the visual identity and performance of the band. On stage, he collaborates as the visual artist and lighting artist where he hooks the sounds into our visual aspect of the show. Off stage, he's behind the aesthetics and identity of the band. He created the Geometrical Extraterrestrial Beings (which you can only experience at a Bear Mountain show); he says they come from the future from the far constellation of Alcyone.
We definitely work together, jam together, sleep together, eat together—he's part of the family.
The trick I find is to not work for the sake of working, but work for the sake of growth.

Scott Wood: You talk a lot in interviews about your love of Berlin, Germany and how you want to create (the next Bear Mountain record) there. Can you sell other musicians on staying in this city?
Ian Bevis: Berlin is just so conducive to being an artist. Art and music are really supported and revered there, and not pushed to a small pocket of the city. Also the music scene there is so evolved. Maybe it's the all night clubs and the venues, but I find it really pushes people as DJ's and the music is really evolved. You know lots of DJs can play for two or three hours, but as the parties there go on all night and even for a few days, I find that's when a DJ is really pushed to his limits and tested. Also I love smoking inside and drinking outside.
Scott Wood: XO is your first record. How do you feel about the band's identity at this point?
Ian Bevis: We're still evolving, it was our first record. If we felt we were done now, or we have arrived, then we'd have already lost. There are so many sounds to explore and songs to write that I feel we're just getting started. Even as producers and musicians we all have so much we want to learn.
We feel like we have to work, work, work to get this band to where we want it to be.
There's so much we want to do as creative people and musicians. We hope to one day develop a Bear Mountain comic book, a cartoon series featuring our geometric alter egos, and the live show will become huge. These things take time, space and dedication. We prefer to look forward. We can't help but take quick glances in the mirror and see where we're at, but we mostly want to keep our eyes on the road so we can get where we're going.
We can't help but take quick glances in the mirror and see where we're at, but we mostly want to keep our eyes on the road so we can get where we're going.

Scott Wood: In many interviews Ian talks about "working hard and being nice" (I think you actually said "not be a dick") as keys to success in the industry. Sometimes working hard to achieve your dreams can wear you down. When was the last time you were less than nice?
Ian Bevis: My brother has a pretty good idea of the last time I was being an asshole. The trick I find is to not work for the sake of working, but work for the sake of growth. If you're working, but you're not getting anywhere, maybe you're better off changing your strategy. You need to take breaks and marinate in whatever you've been working on, because sometimes the best ideas will come to you in the spaces between working. I think everyone needs to find out what helps them get creative, and then just do that every day.
Scott Wood: Bear Mountain is also the name of a golf resort in Victoria, BC (a city near the band's home base in Vancouver, BC). What's your leisure activity of choice when you leave music behind?
Ian Bevis: Smoking weed and hanging with friends probably. But those two things tie into music pretty well.
Scott Wood: Can you pick your favorite Bear Mountain video and give it an intro?
Ian Bevis: "Two Step" is my favourite because that's how we met Kenji. We needed a video in a few days, and we met Kenji over a beer one day and he put this together in a few days. After that we played a show together and he joined the band.
Find more about Bear Mountain online.
mybearmountain.com/
https://www.facebook.com/mybearmountain
soundcloud.com/bearmountain
@mybearmountain
Listen to upcoming episodes of the interview show for an audio chat with Bear Mountain.
The Interview Show is everywhere.
Follow me on twitter @interview_show
Listen to The Interview Show on SoundCloud soundcloud.com/interviewshow
SoundCloud RSS Feed
www.cjsf.ca (Vancouver, BC, Mondays 4:30-5pm PST and Wednesdays 12:30am PST)
www.ckdu.ca (Halifax, NS, Saturdays 1:30-2:00am AST)
www.radiocfxu.ca (Campus Community Radio, Antigonish, NS, Fridays 11pm-12am AST)
www.cfru.ca (University of Guelph Radio, ON, Tuesdays 3pm EST)
www.umfm.com (Winnipeg's Hit Free Radio, Fridays 6-6:30pm CST)
www.caperradio.com (Cape Breton University Radio, NS, Wednesdays 3-3:30pm AST)
www.localfm.ca (Campus Radio Saint John Inc., NB, Tuesdays 11:30am and Fridays 3:30pm AST)
comments powered by

Disqus