Goodbye to The Cellar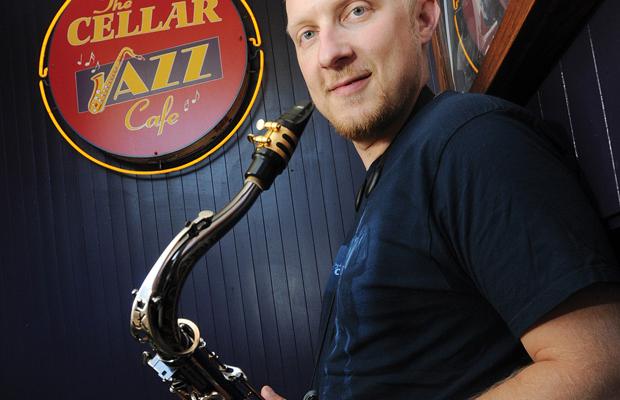 Cory Weeds at the Cellar Jazz
Cory Weeds and the Past, Present and Future of an Iconic Vancouver Jazz Venue
It would be an understatement to say that the Vancouver jazz community is in shock. Recently Cory Weeds announced that Cory Weeds' Cellar Jazz Club would be closing at the end of February. The basement club on Broadway would be no more. Here, both locals and visitors got their jazz fix from a variety of talented area musicians and often stars from other parts of Canada and the U.S.
Weeds, the fast-talking, multi-tasking businessman and talented musician has ran this club/restaurant/recording label from this location for over a decade and has decided to pack it in. Just before Christmas I managed to track him down at Sun Peaks, where he was visiting and we discussed the closing of The Cellar, some of the highlights over the years and what is in the future for one of Canada's favourite jazz musicians.
JD: Today I'm talking to Cory Weeds, who is the owner of Cory Weeds' Cellar Jazz Club, which is the premier jazz club and restaurant in Vancouver and he's got something important to tell us.
CW: If your listeners haven't heard, The Cellar is shutting its doors as of February 27th, 2014. The decision was made, going on about a month ago, now. It sort of just became public and people are just finding out about it. Of course it sent shock waves around the jazz world. I didn't realize how far it would reach and the impact it would have, you know—not only in Vancouver, but all over the province, all over the country and all over the continent.
JD: I could see that, Cory. The Cellar has been very important to a lot of us; even people who haven't been there. They've been there through the live recordings, through seeing bands at festivals that first played at The Cellar. I think for the actual Vancouver music community, the players who actually play there it is a sad thing. So the question everybody wants to know. Why? I thinking some of the reasons would be obvious, but let us know, please?
CW: Sure. Of course a lot of people want to attach it to one specific thing so they will feel better about it. We all want specific reasons. We want reasons to be concrete so we can deal with them in our one way. The fact of the matter is I can't give you a concrete reason as to exactly why I made this decision. First of all what I can tell you that is 100% true is that it was a personal decision of mine. I wasn't forced into it by economics. I wasn't forced into it by a lease situation. I wasn't forced into it by any of those things. Now to say that those things didn't play a part in my decision, that would be a lie. All of those things played a part in my decision. We have had problems with the landlord working something out that's going to be viable long term at The Cellar. Economics? We had a really bad July, August, September, October and many restaurants in our area and many restaurants in our city had those bad times. When we have our good times like we are having now it doesn't make up for those bad times.
However I had the financial support from my investors. The third reason would be the restaurant industry has been something I've been continuously uncomfortable with. I was never comfortable with and never wanted to be in that side of the business. I didn't enjoy it at all. For people who are in the restaurant business they can attest how hard it is even if you are good at it. I'm not good at it. I never wanted to become good at it. It is just something that continually got worse for me. Having said that, we made some changes in the last couple of years that eased my stress back there--taking care of those types of things. But it's bigger than that. It's not just kitchen. It's every aspect of that side of the business. I don't want to deal with staff. I don't want to deal with wine lists. I don't want to deal with chefs. I don't want to deal with menus. I don't want to deal with peoples' complaints. You know I just don't want to deal with that side of the business. It's a very finicky business especially in Vancouver and it's different at a place like The Cellar. Take a random restaurant like The Keg. You go to The Keg maybe once or twice a year. If it's your favourite restaurant you go maybe four or five times a year. You don't take ownership at The Keg. At The Cellar people come there ten times a month; fifteen times a month. It's a small place. People have access to the owner all the time. Half the time the owner is on the stage playing music. You have access to the owner so you take ownership and real pride in The Cellar.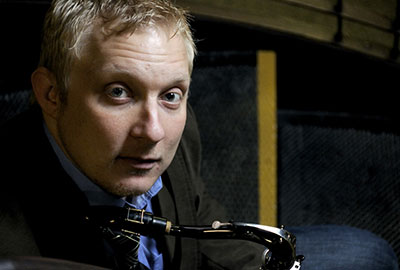 Cory Weeds And that's a really wonderful thing. I'm not complaining about that aspect per se, but it also presents its challenges for me. People say things to me that they would never dream of saying to another restaurant owner. It got to the point that I was willing to walk away because of that reason. So I would have to say that that was the biggest part. The fourth reason is that I'm tired. I've been fighting this fight for thirteen and a half years. I have no regrets. Even the stuff I hate, I love. I've fought hard. I've got a young family. My musical career has taken off a little bit in ways that I didn't think it would. I'm tired and I need a break. So those are the reasons and I don't want to ask the questions for you but I'm sure one of the questions will be "What are you future plans and is there a Cellar in the future?" The honest answer to that question is I really don't know. I'm open. Of course I've got calls from every restaurant. I'm getting calls from people that want to meet and talk to me and I'm starting a Wednesday night series for the month of January at a little place down on Beach Avenue, and I'll see how that goes. There's nothing imminent. I've gone to meetings. I've looked at spaces. I've talked to architects. I've talked to investors. I've talked to people and nothing is imminent. I'm stepping back for a minute. And don't forget I'm also dealing with closing a business at our busiest time of the year. They you announce we are closing and it's even busier now because everybody kind of wants to get a piece of it. We've got a great line-up. I'm just going to take some time. I'm hoping to take a break for a couple of months. I'm going to be without a job so I can't sit on the sidelines for too long. If a situation presents itself that I feel can be beneficial for me and my family, then I'll look at it and re-enter. I'm by no means done presenting this music and I'm by no means given up on the jazz fans in Vancouver. I've just given up the uphill battle at that location. For the time being we are going to be without a jazz club.
JD: Those are all valid reasons and I totally understand what you are saying. And about the restaurant thing, I've been there a couple of times and your food was awesome and the prices were very reasonable.
CW: Thank you.
JD: Hell, you could even have charged more and I would have been happy to pay it. The Cellar has been a great venue and it's understandable. Every place has its life and time and times up is what you are telling us.
CW: You know I'm excited about what the future holds for me, but no doubt it's sad. It's something that's been very special to a lot of people for a lot of years. It's sad. I'm sad. I'm thinking of my exit speech on the very last night and I wonder how I'm going to get through it. More than a third of my life has been spent at that place. You know, you're right. There is a time and I feel very good because I haven't questioned the decision once. I've come close a couple of times to getting out, but this decision came very easy and very quickly and I haven't questioned it once. That's how I know I'm doing the right thing and I have to allow myself some time to be sad and to grieve it because it's the death of a jazz club. I'm just happy that I'm going out on my own terms, rather than having something else dictate to me why I'm going out. That was a big worry I had for a long time, to make this a personal choice and to go out on my own terms was very important to me and I just felt like now was the right time.
JD: Yes, and you have the recording arm—Cellar Live, and some of the musicians that you've brought in from both Canada and the US have given exposure to them. I certainly wouldn't have known many of these artists from the US and that you've sent them to all of these radio stations, is quite incredible. So what are your personal highlights from The Cellar. How about the people you have played with for starters?
CW: Wow, first of all, thank you for the kind words about the label. People need to know that the label is going to continue. It is going to be a little bit different. We might not be releasing recordings at such a feverish pace as we were because we had a built-in studio at The Cellar. The label will continue. There are other issues in the recording business that are continuing to cause the industry problems. I'm thinking about what you just said about sending to radio stations and then you get this announcement by Canada Post and all that crazy stuff. There are always things to think about, but the label will continue to operate as normal. As far as my personal highlights, it's pretty hard to look back over thirteen years because things have changed so much and I've done more stuff than I ever thought imaginable. I can tell you that getting the opportunity to play, record and tour with Harold Mabern, back in September was a career highlight for me—and a club highlight. I didn't have a great weekend at the club. We were dealing with some flooding issues while that was going on—but just to be in the presence of Harold Mabern! Just recently for my 40th birthday we had the Louis Hayes Cannonball Adderley Legacy Band for four nights and a live recording. I got up to play a tune and although I don't want to call my playing a highlight—just being around those guys, hearing that music, hanging out Vincent Herring (alto sax), Rick Germanson (piano), Dezron Douglas and Jeremy Pelt (trumpet). Of course Louis Hayes is a legend. Sometimes those big weekends for me can be more hassle than they are worth, but everything seemed to work on this weekend so that was a huge highlight for me. Getting to play with Joey DeFrancesco, too. One of the great things about the people that I brought and my own personal highlights is that I could to involve a lot of my friends. So, I did a tour with Steve Davis, the great trombone player and I got to involve three of my closest friends and musical contemporaries in a tour across Canada. We played at The Cellar and recorded a live record in New York City.
You know I play with all those guys in my club and involve them in the process, too. Same thing, with my record with
Joey DeFrancesco
,
Live at The Cellar
, it involved
Chris Davis
. It's not me just recording with those big guys and not involving local musicians. Part of my mandate at the club was that I wanted to introduce more people to the great local talent that we have in this city. A lot of hoopla gets made about all the big names but really what it's proved is that many of the musicians in this city can perform with the best of the world. Yeah. I get just as much pleasure out of playing with
Harold Mabern
and looking back and seeing
Julian McDonough
at the drum chair, or bringing in
Mike LeDonne
from New York and having
Oliver Gannon
, who I grew up idolizing and
Jesse Cahill
, one of my best friends, on stage. I don't need
Billy Higgins, Wes Montgomery
or
Grant Green
up there—of course I would love that, but these are my friends. These are my people. I'm making music with my friends, people that are very special to me.
Career highlights? Playing with Lonnie Smith, playing with Joey DeFrancesco, sitting in with Louis Hayes, playing with Harold Mabern. Club highlight? Having George Coleman at the club was really special to me and having the opportunity to get him again, is really rare. To have him come out in honor of Ross Taggart, with whom he taught, before Ross passed—that was pretty special to me. And Vince Herring, who is the only one, to me, that is playing the alto sax in that Cannonball Adderley tradition. I remember him coming two years ago and playing with a local band. I was just running around the club with my arms in the air like I was at a hockey game. I couldn't believe the power and the excitement. You know, I'm sure there's been dozens of others. There's just been so many highlights. I have no regrets. It's been great!
JD: Awesome, Cory. Please don't ever lose that enthusiasm. I know you won't.
CD: One thing that's not going to change is that I have more passion about this music than anybody. I live and breathe it. I don't read anything other than jazz books and don't listen to anything other than jazz music. It's my whole life. That's not going to change and it just won't manifest itself at The Cellar anymore. It will continue on in other ways, shapes and forms. I love the music, too much.
JD: That's great. I've seen a maturing of some of the local musicians that have played at your club over the years. On the recent Cellar Live CD of Peter Bernstein with Vancouver's Tilden Webb Trio—that CD, to me, is excellent. It isn't just excellent because of Bernstein. It's a given that he's good, but the Tilden Webb Trio have matured so much over the years. Their part on this CD is just incredible. I've enjoyed that CD so much.
CW: Thank you. It's a good one.
JD: I think that's part and parcel that they got to play at The Cellar so often.
CW: Sure, that's exactly what I'm talking about. I put that trio together with Peter for a very specific reason. They've played a lot together. It's a husband and wife team (Tilden Webb and Jodi Proznick). Jesse's played with them. They all went to McGill together. There's a lot of thought with whom I put with whom and why, and that CD has resonated with a lot of people. Tilden doesn't play a lot of jazz music, because it's hard to make a living doing that. He's doing a lot of pop, blues, funk and R&B, so when he gets a chance to play jazz, he really brings it. We have a really great crop of wonderful musicians here and those three have something very special together. They've got a chemistry and camaraderie that you don't find too often.
JD: I'm sorry to hear that The Cellar is closing, but maybe you deserve a break, yet I can envision you with three or more other jobs.
CW: Yes, it's already kind of starting. If you visit The Cellar website and get on The Cellar mailing list you will see that we've announced a concert series for the month of April at the Vancouver Symphony Orchestra School of Music called Pyatt Hall. It is an acoustically treated kind of hall that lives kind of off the Orpheum Theatre. It's about a hundred seats and we are doing concerts every weekend in April. We have some really great stuff. We have Denzal Sinclaire with the Jill Townsend Big Band doing Frank Sinatra at the Sands. We've got R.I.O., which is Ron Johnston, Ian MacDougall and Oliver Gannon with special guests and PJ Perry Quartet with Renee Rosnes from New York and we close it out with Champian Fulton, who is a wonderful singer/pianist from New York City. There are a couple of reasons I'm doing that. It's a great hall. I wanted to try to save some gigs that I had booked post-closing . If anybody is coming to Vancouver and wants to hear some great music in April there are going to be four spectacular weekends and all the information can be found on The Cellar Jazz website. http://www.cellarjazz.com/index.cfm?go=site.calendar. Cory Weeds' Cellar Jazz Club will continue. The website will continue post-closing and that will serve as a place to find announcements for anything that I'm involved in moving forward past The Cellar.
JD: Those shows sound great. I'll have to get to Vancouver for some of them. Thanks for letting us know what is happening and thanks for bringing us all the wonderful music for so many years at The Cellar and good luck with your future endeavours.
CW: Thanks, Jim.
Jim Dupuis is the host of Jazz Notes, now in it's 13th year on Wed. 5-7 PM PT at www.thex.ca
comments powered by

Disqus