The Belle Game Want to Score a Breaking Bad Murder Scene

Scott Wood gets the details on Mishaps, Taco Bell and Delayed Gratification
Vancouver's love affair with The Belle Game started a few years ago with the song "Tiny Fires." The climb has been steady since, climaxing in late 2012 with the release of their first full length Ritual Tradition Habit. The band has been touring steadily for most of 2013. Many having been praising the band as one of Canada's most promising acts. Indie tastemaker website Pitchfork loves them. Naturally, I thought I would find out more about Vancouver's latest success story.
I chatted with band member Katrina Jones (piano, back-up vocals) via laptop while the band was blitzing Canada.
Scott Wood: The Belle Game is an intriguing name. What is its origin?
Katrina: Andrea and Adam were hanging out with their friend Max (who's from Germany) one night. They were making some music, playing with a glockenspiel, when Max said 'Bell Game,' which is the literal translation of the instrument from German to English.
Scott Wood: The Calgary Herald said that The Belle Game has been experiencing "musical success on a tantric level and members of The Belle Game are now enjoying the fruits of their frustration..." Heh heh: this is a pretty funny quote. What's the next type of (delayed) gratification the band would like to experience?
Katrina: Our measure of success would be to feel excited and passionate about what we do and to be able to live off our art comfortably. If there's any way to achieve those things, that's all the gratification we need.
Scott Wood: Now that the band has been getting more exposure, you guys have to be ready to put yourselves out there even more. Your singer Andrea Lo has said, "I'm a fairly private person, I like to think. My band has been pushing me to do interviews, so I'm getting better at it." It's hard to imagine the lead singer of a band is shy. How is this possible? What's one tip you can give other bands on how to do interviews?
Recording 101: Personally, I'd rather learn the ropes on a project where we're still discovering our sound versus a project that we we've put lots of time and effort into.

Katrina: Personally, I'm not sure why people assume there's a correlation between lead singers and their being extroverted. Just because someone has an incredible singing voice (like Andrea) doesn't mean they necessarily want to shout it from the mountaintops. To create music and then to share it with people can be a difficult and vulnerable process. When doing interviews, the best is to be honest, open and grateful that people even want to talk to you about your music.
Scott Wood: If Andrea has to do more interviews, what do other band members have to do **more** to balance out band duties? And how does the division of labour work in the The Belle Game?
Katrina: We all try to balance responsibility equally throughout the members. We're lucky that we have a great team behind us that can help us with things like planning a tour and accounting, etc. So more and more our responsibilities are becoming solely the creative stuff, which is great!
Scott Wood: Your first full length release is getting a lot of praise. Congrats! You've released two EPs, Inventing Letters (2009) and Sleep to Grow (2011), before the full length, Ritual Tradition Habit (2013). Andrea has described your second EP Sleep to Grow this way:

The Belle Game: Katrina Jones is second from left. "Our second EP was – and the rest of my band will probably beat me up about this – kind of an experimental mishap." Can you talk about something good that came from that experimenting and something you wouldn't do again?
Katrina: Haha! Even though Andrea describes it as a 'mishap', it was a very useful learning experience. We feel like if it wasn't for the first 2 EPs (however much we like or dislike them) it would've taken a lot longer for Ritual Tradition Habit to come out of us. The best thing that came from that experience was that we got to learn 'recording 101'. Before the EPs, some of us (myself included) had never even been in a recording studio before. Personally, I'd rather learn the
Annoying fellow band members in the tour van: I sing really loudly along to songs... people might think it's funny at first, but after a while I feel like everyone's just thinking... Stop.

ropes on a project where we're still discovering our sound versus a project that we we've put lots of time and effort into.
Scott Wood: You guys are currently on tour, spending a lot of time in the tour van together. Confess: what's one annoying habit you have that is endearing at first, but drives everyone else in the band crazy when you do for 12 hours straight?
Katrina: I sing really loudly along to songs. And I strangely know a lot of song lyrics, often to songs I had no idea I knew all the words to. I feel as though people might think it's funny at first, but after a while I feel like everyone's just thinking... Stop.
Scott Wood: Now that the tour is almost over what's the home comfort that you are looking forward to the most?
Katrina: Good food! And cooking! It's hard eating out all the time. Its fun at first, but the novelty wears out quick. You can only eat Taco Bell so much before getting sick.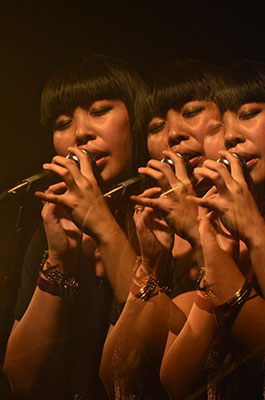 Andrea Lo of the Belle Game
Scott Wood: You guys recently got to go to a musicians' retreat in Banff and write/work on some songs with Kevin Drew and Charles Spearin from legendary Canadian indie band Broken Social Scene. What's one thing working with these pros taught you?
Katrina: When writing, they forced us to relax. Stop overanalyzing, stop talking. Just jam and play music for as long as it feels good and if an idea isn't coming, just stop. We push ourselves too hard and sometimes don't have boundaries on when to give up on an idea.
Scott Wood: Your music has been featured on mainstream US TV, night time soap and doctor drama Grey's Anatomy. If you could have one of your songs on your current favorite TV show in the death scene of a favorite character, what would it be and how would they die? And what song of yours would they die to?
Katrina: I would use "Wait Up for You" in the final episode of Breaking Bad when (spoiler alert) Walt kills all the Nazis using his machine-gun trunk. The song is about growing up and breaking free from family or loved ones who have held you back or kept you down, so I think it would be appropriate.
Scott Wood: Your music is often described as "orchestral dark pop music" and I read an interview where Andrea described your writing process "in [Kat and Adam's] basement and we'll spend a lot of time over-analyzing things, arguing and lighting candles so we can maybe get inspired." If you guys were witches in a teen movie, one of you would get corrupted by the power and the rest of the group would have to fight him or her and only beat the evil with their combined witchy might. Who would be the first to go bad?
Katrina: Probably Alex because he'd get too excited about his new found powers. He loves comics and sci-fi, so I can see him going a little too full on and we'd be forced to restrain him.
Scott Wood: Thanks for answering my questions. Can you intro your favorite The Belle Game video clip? (And send me the official link?)
Katrina: This is our new video for our song "River." It was filmed in Japan. It focuses on the story of a rent-boy who's had enough of his partying lifestyle and travels to the countryside to find his family and a new life.
Find more about The Belle Game online:
http://thebellegame.com
www.facebook.com/thebellegame
@thebellegame
Listen to upcoming episodes of the interview show for an audio chat with The Belle Game.
The Interview Show is everywhere.
Follow me on twitter @interview_show
Listen to The Interview Show on SoundCloud soundcloud.com/interviewshow
SoundCloud RSS Feed
www.cjsf.ca (Vancouver, BC, Mondays 4:30-5pm PST and Wednesdays 12:30am PST)
www.ckdu.ca (Halifax, NS, Saturdays 1:30-2:00am AST)
www.radiocfxu.ca (Campus Community Radio, Antigonish, NS, Fridays 11pm-12am AST)
www.cfru.ca (University of Guelph Radio, ON, Tuesdays 3pm EST)
www.umfm.com (Winnipeg's Hit Free Radio, Fridays 6-6:30pm CST)
www.caperradio.com (Cape Breton University Radio, NS, Wednesdays 3-3:30pm AST)
www.localfm.ca (Campus Radio Saint John Inc., NB, Tuesdays 11:30am and Fridays 3:30pm AST)
comments powered by

Disqus