What No Strawberries? The Audrey Ochoa Interview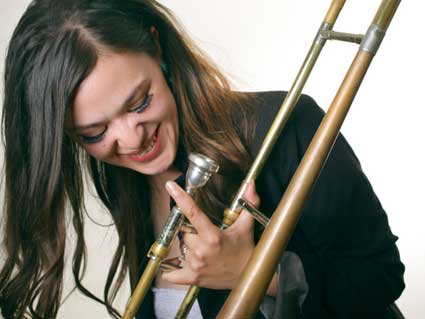 Audrey Ochoa

debuted at number 1 on the
!earshot Jazz charts earlier this year.
Audrey Ochoa and her Quartet topped the earshot Jazz charts earlier this spring. Jim Dupuis finds out what makes this rising star tick.
Audrey Ochoa, the trombone player from Edmonton is a serious musician and educator, but she likes to keep things light. Audrey performs with numerous ensembles including the Edmonton Jazz Orchestra, King Muskafa, Edmonton Jazz Collective, her husband Don Berner's sextet and her own jazz ensembles, which include the Audrey Ochoa Quartet. She has performed with such notables as P.J. Perry, Hugh Fraser, Lew Tebackin, and Hilario Duran and has appeared at numerous festivals including the Edmonton and Montreal Jazz Festivals. She recently released her debut CD, Trombone and Other Delights featuring guitarist Jim Head, pianist Chris Andrew, bassist Mike Lent and percussionist Luis Tovar. It is produced by the legendary Tommy Banks. Audrey was a fun interview as she is quick to laugh and easily finds humor in her chosen profession. She can tease fellow musicians, yet spends time contemplating how a child will react to a musical explanation or theory. The cover of Trombone and Other Delights is a reimagining of a classic LP cover and she had plenty of fun with that photo shoot. The man behind the original cover, Herb Alpert, once mentioned to an audience that he couldn't play the cover.
I suppose like everybody else in Canada, at some point, you are exposed to band in school and I decided that the trombone was the bee's knees.

Nor can Audrey, but she can play almost anything else. This recording has a light Latin feel, and there are a variety of styles and tempos to be found, all played by these very talented Albertans. Maybe you can even find humor in some of the sounds emanating from certain tracks. Audrey Ochoa had a hand in composing all eight tracks and you would never know that this was her first kick at the can. You might buy the album for the cover, but plan on getting a nice surprise when you finally play it. I did. Though, I'm still choked I wasn't invited to the photo shoot. Hell, I would have brought the strawberries.
JD: This is Jim with Jazz Notes and tonight we are speaking with Audrey Ochoa from Edmonton. We have your new CD. It's called Trombone and Other Delights, so I'm going to go out on a limb and say you are a trombone player. How did you get into the trombone?
AO: (laughs) I suppose like everybody else in Canada, at some point, you are exposed to band in school and I decided that the trombone was the bee's knees. More accurately my dad was a trumpet player; my older sister played saxophone, so there was no way I was going to repeat what they did. So that's kind of what was left.
JD:> That makes sense. You don't want to do what the other people are doing. So that partly answers my second question—about the musical environment in your home. Was your dad a music teacher?
AO: My dad was a teacher and a professional trumpet player in Edmonton and before that in the Philippines, which is where he's from. Yeah, band instruments in the house and he was always gigging on the weekends and we were expected to play at every possible function.
JD: A built-in band in the family. Musical training—did you just get lessons from your dad or from other people?
AO: You know, just in school all the way up to university. I started taking lessons with John McPherson, who is the principal with the ESO (Edmonton Symphony Orchestra) and I went to the University of Alberta and got a degree, you know, in classical music, essentially. That's about it.
JD: Ok, we'll go back to your childhood. What's your first musical memory?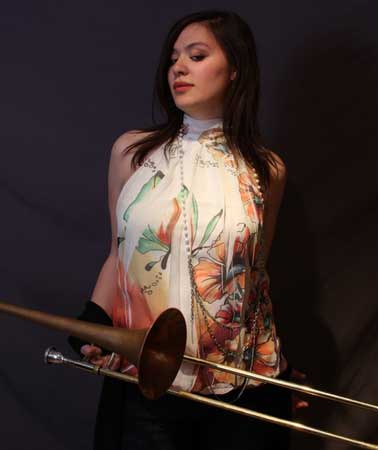 Ali says having her band behind her relaxes her.
OA: John Philip Sousa and marching. (laughs) That's the kind of thing we found fun in our house. I don't know it makes me sound crazy. There you go (laughs).
JD: Sousa's music has that effect and makes you want to march.
AO: Very serious business at the time.
JD: That music does seem serious, but there is a fun side to it; the whole marching thing. I get that. For sure. Did any particular artist or song have an impact on you?
OA: Let's see. I mentioned Sousa and in Edmonton there's always been a live music, especially a jazz scene, where you would have to go to Tommy Banks and PJ Perry which was affordable. I could go see them, not whenever I wanted, but when they were playing in town at The Yardbird, which is a club we have in town.
JD: Ya, you are lucky to have that. It's an institution. I've had the pleasure of interviewing both PJ and Tommy and they are excellent people. Now that you mention Tommy Banks, you have that new CD out called Trombone and Other Delights and I see that you worked with the great Tommy Banks. He's the producer of it. How did that all happen?
AO: I've known him for a while and he'd produced my husband's album Don Berner's Love Letters to a Rat Free Capital, which I'm also on. Compared to the times I've been in the studio with other producers, he was really efficient and he's probably the most knowledgeable guy in town regarding jazz production and actually recording it. When I knew I was making my album I wondered who I would get to produce it and I wondered, why don't I just ask him. The worse he can say is no and he said yes. It was an e-mail and a fingers crossed wish.
JD: Do you have to call him Senator Banks or just Tommy?
AO: He's retired now. I think I called him Senator and I called him Tommy. He prefers Tommy. There's also Tom or Mr. Banks, but I just went with Tommy. That's what the universe calls him, too.
JD: Continuing on with Trombone and Other Delights, I like your selection of band mates. I know of most of them and have enjoyed their previous projects. I'm a big fan of Chris Andrew. Maybe you could tell us a bit about them.
AO: Chris Andrew—I called him once before I really knew him and told him that Kevin had just left the Back Street Boys so there was an opening (both laugh). He's one of the most heartbreaking piano players that I get to play with. He rarely plays something that doesn't seem very profound to me and breaks my heart. I love playing with him and he's a really modest guy. He does exactly what you tell him to and he brings so much to the game. He's well versed in multiple styles of jazz and music in general. He can really play it all. Let's see, Jim Head. I wanted Jim on some of those specific tracks because in addition to him being a fabulous jazz guitarist, I like listening to him rock out. I really enjoy the track he plays on "End of Days." I told him that this is an ode to Soundgarden and make it sound like a rock out and he did. There's Luis Tovar (drums and percussions) from Calgary. I've known him for about eight years. We played in the Latin band scene. Every city has a Latin band scene where they play the greatest hits of Latin dance music. We started playing in that together and then we realized that we both liked jazz and we both liked pop and we could play that. We really developed a rapport and like playing together as likewise with Mike Lent (bass). He's a personal hero of mine in Edmonton. There's nothing he can't play either. He comes with the most positive attitude. He's very collaborative. He'll question my writing as to improve it. If I say no or yes, he's good to go either way. It was a dream team to play with those guys.
JD: I agree. I must commend you on the songs and your writing. There are some with a nice, light Latin touch to them and some jazz and like you said some that rock out. It's a good CD and we are glad that you sent it to us.
AO: Why thank you.
JD: So how does someone get a copy?
AO: It's on i-tunes and it's distributed by Dynasty Records and they distribute to all HMV stores in Canada and FYE in the United States. You could always send me an e-mail (laughs) and I will cheerfully mail you one and try to get you signatures if that's what you want; but these guys are kind of hard to get a hold of and a couple of them are in Calgary—but that's ok (laughs).
JD: That sounds pretty good. That's what musicians have to do these days (laughs).
AO: I'm just flattered anybody would buy it. It's my first album and I'm learning this end of it; the distribution end of it. And, also, there's the thrill of having people actually pick it up. It's a thrill and new to me.
JD: Oh they should pick it up and they will. It's that good. Now, you composed every song on the CD and one track you share the credits. That takes a lot of time and a lot of effort. What kind of mood do you have to be in to compose songs? How does composing work for you?
AO: I could give you a philosophical answer or a more pragmatic one. One is deadlines are fantastic and knowing that I was going to make a recording with all originals on it—I just sat down and said you have to write at least ten and of the ten, eight I really like. Part of the process is that I'm going to steal some things that I like (laughs) so basically I find a tune that I enjoy that already exists and I analyze what it is about this tune that I enjoy. For example 'Santa Rosa', the opening track, there's a salsa singer named Tito Nieves from Colombia, I think. I stole the harmony from one of his songs I really like and I really like reggaeton music and I thought I'd steal a reggaeton beat and put it over that and I put four or five of my favorite things together and that's what popped out.
JD: They say, "Imitation is the sincerest form of flattery." So you are paying homage to these genres. It's not theft and I'm pretty sure their lawyers couldn't get a cent out of you. (Both laugh).
AO: I don't think I'm going to reinvent the wheel. I just want to write a tune. I'm no trailblazer.
JD: One last thing I wanted to ask you about composing. Do you also play piano?
AO: I do. I would never bill or market myself as a piano player, but I compose on the piano for sure. You can get a sense of the harmony and screw around on the piano more than you can on the trombone, where you play one note at a time. Technology is great. I can record myself playing something on the piano and play the trombone over top and record that and do it multiple times until I find something I like.
JD: I understand you are also and educator. Where do you teach?
AO: I teach privately. I taught at Alberta College and Red Deer College. I also teach in the school system. I teach band part-time.
JD: That would be a lot of fun and a challenge, too.
AO: It's fun and it's more of a challenge than it is fun. I don't mean that in a derogatory way. I mean the moments of joy are outweighed by the moments of hard work.
JD: I understand that. I have a standard question I ask teachers and they usually hate me for asking it. Students have learned plenty from you. What have you learned from your students?
AO: Oh my gosh! You have to learn how to break down information into the smallest possible unit when you are trying to explain a concept; as small as air control to as large as improvisation, to a kid. You really have to be able to break it down and not be philosophical or too esoteric when you are describing improvisation. That helps me because I have to sit down and think what the Hell am I doing when I'm improvising? You know, I'm telling kids to use rhythmic tricks, when he doesn't have a lot of harmonic knowledge, then I should really use more rhythmic tricks instead of worrying about language. It's things like that. Being able to really analyze what I'm doing, so I can break it down and tell them how to do it.
JD: That makes sense to me. Well, you certainly didn't reinvent the wheel with the cover of your CD. For those that haven't seen it yet, and you should go online and check it out, it is a take-off on Herb Alpert's Whipped Cream and Other Delights and it's called Trombone and Other Delights, including the iconic photo of the woman with nothing on but whipped cream. Well we don't know what's under there. Why did you decide to do that one. It is a wonderful idea.
AO: Why thank you. I wasn't quite sure I was going to be able to pull it off, honestly. Here's how it worked. After I'd written the tunes and we were closing in on production deadlines—I needed an album cover. I thought what the heck do I do, as I am looking at all these other album covers that I really admire. A lot of them are quite pensive or really moody or are just pictures of people not really smiling. I get a lot of enjoyment out of music and playing it and I'd like to think that there's some comedy on my album so that it's not so serious. That album cover (Herb Alpert's Whipped Cream and Other Delights) was the first thing that popped into my head when I was Googling "great album covers." So when it popped up on my screen, I thought that would be really funny. It would just be funny to recreate that. Plus I'm a girl and I could recreate that without it being too much of a joke. I called a photographer I know and sent her a picture of the album and asked her if she could recreate this. She said that this was the funniest thing she'd ever seen and she would love to. It took us two hours in my living room to recreate that whole scene—eight cans of shaving foam (laughs).
JD: (laughing) So it's shaving foam it's not whipped cream, aww.
OA: I shouldn't have popped that bubble.
JD: Ya, it's probably a better consistency and it lasts longer and photographs better?
OA: That's what we figured out. Whipped cream melts too quickly. There's no way we could take more that like three shots if I used whipped cream. It was a hot day. It was August. Shaving foam was the way to go!
JD: Ya, I would think so. I actually looked that up today. The model that did the original cover is named Dolores Erickson. When she did the photo shoot she was three months pregnant, but she said she wasn't showing and the cream started to melt. They gave her a number of photos that she could choose from. She thought that some were a little risqué, as far as she thought and probably were for 1965. They gave her the more risqué ones and she was so modest that eventually she destroyed them.
OA: (laughing) I'm a little more covered up than the model because eventually I have to give a copy of that disc to my parents and my Catholic father wouldn't totally approve of me showing much more than I did.
JD: (laughing) That's what dads are for. What the heck. So what are your plans for the summer?
OA: We released this a little late to get the festival thing happening. I'm looking at that for next year. There's the Jazz Festival in Edmonton and I'm doing a couple of gigs there and I'm doing a gig with Don Berner and there's always lots happening around Edmonton around this time; the usual gigs here and there.
JD: Sounds good. Audrey, I'd like to thank you for speaking with me and good luck with your gigs for the rest of the summer.
AO: Thanks so much.
Jim Dupuis is the host of Jazz Notes, now in it's 13th year on Wed. 5-7 PM PT at www.thex.ca
comments powered by

Disqus