Sharing Secret Hand Shakes with BESTiE
One magical jam session started a Vancouver indie juggernaut
BESTiE is Vancouver's latest promising band. The group started in the spring of 2012 in East Vancouver when friends Andrew Janczewski, Tristan Orchard, Daniel Ruiz and Rob Cameron started jamming, with the goal of making a fun, accessible pop band. In 2013, the band won 3rd place at The Peak Performance Project—a local mainstream radio talent search with the goal of growing new local bands. Finally in April 2014, BESTiE released their debut full-length album, No Bad Days.
Their debut single "Pineapple" is perfect for your personal summer soundtrack.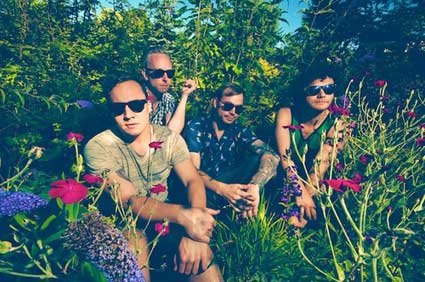 I've known Tristan as a fixture of the Vancouver indie music scene for years, putting on shows, finding interesting new talent and DJ-ing various events. He started the local music blog WinnieCooper.net which has evolved into an influential west coast indie music hub and the place you can find out which shows you need to go to in Vancouver. (You can also listen to and download episodes of the interview show podcast on WinnieCooper as well.) It was almost as if while putting all that effort into the local scene, he was preparing for being in his own band.
BESTiE frontman Tristan Orchard answered my questions while BESTiE was on its first proper tour!
Scott Wood: You guys write that you're inspired by "ice cream, the beach, girls, floating down a river in an inner tube, high fives and heartbreak…" Who was the last person you high fived and why?
Tristan from BESTiE: That would be Daniel our drummer. We do a side-fist-pound thing where you also lean in and say "safe" into the other person's ear. It's our band's signature thing that we like to spread to others to promote safety. It started while we were in our van realizing we're on tour as we were en route to Kelowna—our first stop. It was a good moment!
We do a side-fist-pound thing where you also lean in and say "safe" into the other person's ear. It's our band's signature thing...

Scott Wood: Tristan when was the last time the other guys in the band would be tempted NOT to call you their BESTiE?
Tristan from BESTiE: We're all polar opposite signs. I'm the one always pushing people out of their comfort zones and more of a "dive in head-first" person. It causes tension, but it all works out and we balance each other out—it makes us 'us,' if you will.
Scott Wood: I've read that BESTiE came together because you all shared a practice space, called Goody. But you guys (Tristan, Rob, and Andrew) used it as a rehearsal space in separate bands, until a day when Rob and Andrew "finally let" you (Tristan) jam with them. What was holding them back from jamming? Why did this origin jam finally happen?
Tristan from BESTiE: It was really good timing with everyone being in between bands. The previous one I played in was coming to an end. Life events at the time had me in a bad place; everything I had worked towards in the last two years was in flux. The music they were playing was inviting and the opposite of how I felt, and BESTiE was born from there.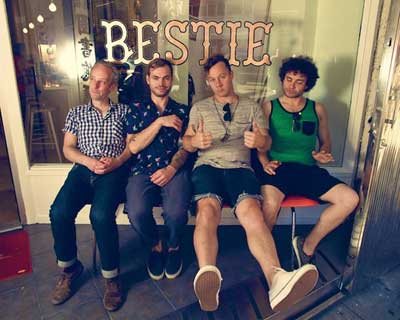 Ali says having her band behind her relaxes her.
Scott Wood: Tristan, in Vancouver you are well-known AND well-loved for putting on indie music shows and being a club promoter. You've been active on the scene for years. This experience can only have helped BESTiE immensely. What's a good piece of advice that younger bands should know when trying to get shows and dealing with promoters and/or clubs?
Tristan from BESTiE: Aw thanks. I remember saying once, "ask not what your music scene has done for you, but what you can do for your music scene." A little nod to JFK, but I think it rings true. Get involved, put on your own shows, start your own space/night/blog/label/jamspace/whatever. Create your own scene. You already have everything you need to do so and pretty soon people will be coming to you.
Scott Wood: A lot of music writers say that your track "Pineapple" sounds like Vampire Weekend. Before starting Vampire Weekend, lead singer Ezra Koenig created a "serious" rap band L'Homme Run (which sounds awful). Tell me some embarrassing dark secrets from BESTiE's past—before BESTiE made you all legit.
Tristan from BESTiE: The first "band" I ever played in was called Weekend at Lily's and our one song we had was called "Dancing Lily" and it was about Lily and her brother Jack who we once tricked and fed dog biscuits too. I'm really big into pranks apparently.
Scott Wood: BESTiE videos are becoming well-known for always containing beautiful women. (Nothing wrong with that!) What do you find tremendously attractive in men?
I think the dark will always be there and even in saying "no bad days," it's acknowledging that.

Tristan from BESTiE: This is a great question. I think it's very similar actually. Confidence, personality and a person's drive to be their complete unique self and letting that out and not hiding behind a wall of pretentious insecurity.
Scott Wood: You guys have been together since 2012. Like most indie bands you've had to pause your momentum while you try to find ways to fund your music. How should a band navigate these kinds of inevitable choppy waters?
Tristan from BESTiE: Don't be afraid to put yourself out there to pursue any means of pursuing your art. Whether it's doing a radio station talent contest like The Peak Performance Project, which inevitably has greatly helped us, or entering for grants or putting in any outside work for your music on the business side. It's unfortunately also pretty essential.
Scott Wood: Your debut record is called No More Bad Days—that's a slogan I've seen on many t-shirts and bumper stickers in always warm places like Florida and Puerto Vallarta. So many indie bands like to revel in depression and low self-esteem (and there's nothing wrong with that). So far, it seems like BESTiE always keeps it upbeat, positive and escapist. Why is that? Will we ever see BESTiE's dark side?
...we do have dark songs - "Foolish Hearts..." was created in the depths of winter and is about heartbreak and death.

Tristan from BESTiE: I think the dark will always be there and even in saying "no bad days," it's acknowledging that. It's more of a focus on the positives and steering to the light that we try to do. That being said, I think we do have dark songs—"Foolish Hearts," for example was created in the depths of winter and is about heartbreak and death. You can't have one without the other.
Scott Wood: Tristan you have a degree in film and have shot various music videos (for other bands) and TV documentaries. You have shot all of the BESTiE videos so far. How does BESTiE music inspire your visuals and/or vice versa?
Tristan from BESTiE: Yes. I think to write a song you really have to enter its world and walk around in it or a song idea never really gets fleshed out. The two art forms are really exchangeable. The videos are great as another almost more direct, (being there are visuals and audio) way of conveying the song meaning and vibe. I'm thinking of the music video a lot of the time while were writing the music and how we can create something achievable and hopefully effective with available resources.
Scott Wood: Thanks for answering my questions! Could you introduce your favourite BESTiE video?
Tristan from BESTiE: Thank you for your time! Great questions. This is our new video for "Foolish Hearts." It was shot on basically no budget with friends. The shoot happened spur-of-the-moment the day after my grandmother died and the person I was dating broke up with me. It was very improvised. It's great how life can inspire you to create and express yourself when you find yourself in inexplicable places. I hope you like it.
Find more about BESTiE online.
http://bbbestie.com/
www.facebook.com/bbBestie
bestie.bandcamp.com/
@bbBESTiE
The Interview Show is everywhere.
Follow me on twitter @interview_show
Listen to The Interview Show on SoundCloud soundcloud.com/interviewshow
SoundCloud RSS Feed
www.cjsf.ca (Vancouver, BC, Mondays 4:30-5pm PST and Wednesdays 12:30am PST)
www.ckdu.ca (Halifax, NS, Saturdays 1:30-2:00am AST)
www.radiocfxu.ca (Campus Community Radio, Antigonish, NS, Fridays 11pm-12am AST)
www.cfru.ca (University of Guelph Radio, ON, Tuesdays 3pm EST)
www.umfm.com (Winnipeg's Hit Free Radio, Fridays 6-6:30pm CST)
www.caperradio.com (Cape Breton University Radio, NS, Wednesdays 3-3:30pm AST)
www.localfm.ca (Campus Radio Saint John Inc., NB, Tuesdays 11:30am and Fridays 3:30pm AST)
comments powered by

Disqus