The Heavyweights Brass Band from
bottom row L: John Pittman, Lowell Whitty, Jon Challenor
Upper row L: Rob Teehan, Chris Butcher, Paul Metcalfe
The Heavyweights Brass Band Come Out Swinging with Brasstronomical
Brass band music is gaining street cred with six raucous musicians who want to make you groove
"Connected by a Craigslist ad, The Heavyweights Brass Band has captured the imagination of appreciative audiences everywhere they play. These Toronto transplants have been blowing people away with their New Orleans inspired brass band sound since 2009.
The Heavyweights are classical and jazz schooled musicians. Chris Butcher is the energetic trombone player and bandleader, Rob Teehan plays the sousaphone, Paul Metcalfe is on the saxophone, Jon Challoner is one of two trumpet players, the other trumpet player is John Pittman, and rounding out the band is drummer Lowell Whitty. Individually they are well known, accomplished and in demand musicians. Collectively their skill truly echoes the term heavyweights.
In a busy musical hub like Toronto bands come and go but the Heavyweights Brass Band have gained a foothold. What makes them stand out from the crowd? Chris Butcher says, "What separates us from most groups is there is a drummer and five horn players, with the horns being in front. So many times in other styles of music from pop to salsa music, eastern European brass band music to reggae, you'll find horns. With the Heavyweights we put the horns in front. The horns are playing melody. It's what makes us different. That's where we wanted to put the emphasis."
Every member of The Heavyweights Brass Band comes from a background of a school music program

Their debut album Don't Bring Me Down created a lot of opportunities for the band, like opening for The Roots. "The CD is still a strong statement, but we've grown so much since then," says Chris Butcher. They've developed into a cohesive unit with a more focused sound. Today The Heavyweights Brass Band is grittier and funkier and while they continue to be inspired by the New Orleans tradition the sound is all they're own. They're going for a second round knockout with their sophomore album Brasstronomical.
The albumis a product of multi-cultural surroundings and eclectic individual tastes. In essence Brasstronomical is the band responding to their environment. There are flavours of Afro-Cuban rhythms, R & B, neo-soul, soaring prog-rock and a delicious treatment of the traditional New Orleans vibe. Jon Challoner, Paul Metcalfe, Rob Teehan, and Chris Butcher have all exercised their compositional chops with flair and imagination proving they are more than just jazz guys who play Lady Gaga.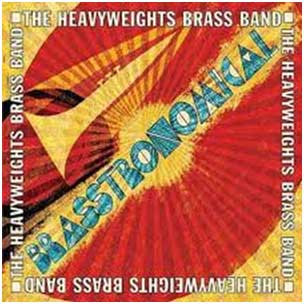 The album is solid all the way through. There are some memorable tracks like "Misterioso" written by Chris Butcher. It features some heavy hitters in the world of Afro-Cuban rhythm with soprano sax musician Jane Bunnett and percussion master Giovanni Hidalgo on congas. Paul Metcalfe's "Booze Hounds" features the expressive vocals of Jay Douglas and captures the spirit of music in the Big Easy. That spirit stays with you long after the song has ended. Rob Teehan kills it on the vocals for the traditional "St. James Infirmary".
Not the types to coast along they all look for ways to challenge themselves individually, collectively and ultimately us as listeners. Rush's "YYZ" is a jaw-dropping showstopper that fits the criteria.
When Chris Butcher was asked how much eye rolling and uneasy laugher ensued when the song came up as a contender for the album, he responds, "We've had such a great response to that song. Our trumpeter [Jon] was looking for a virtuosic showstopper piece. Apparently he was a big prog-rock guy and Rush was his favourite band. I've only known him as the most straight-ahead jazz guy of all of us. Our drummer is a big Rush fan as well. I'm the one who had the least experience." Chris initially balked at the song. "I wasn't opened minded about it. It is by far the most difficult tune we've ever played with all the mixed meters and the virtuosic lines. The craziest thing though is the sousaphone on that; a sousaphone is executing Geddy Lee's bass breaks. Butcher continues, "Rob is a monster. Nobody on the planet could have played that, at least nobody that I've played with or heard. I hope Rush gets to hear it." The letters YYZ are the code letters for the Lester B. Pearson International Airport and the opening rhythm is the morse code. The song takes on added meaning when Chris explains, "Everybody in the group is from across the country. All our roads led to Toronto and we are so grateful to be in this city. It totally shapes our music."
The Heavyweights Brass Band is busy trying to expand their reach but they believe in and make time for encouraging and mentoring students. Chris is fluent in expressing his thoughts about the next generation of musicians. "Every member of the Heavyweights Brass Band comes from a background of a school music program. I wouldn't be playing music right now if it wasn't for my high school band teacher Darren Ritchie, a professional trumpet player. We all have the same story of a director or mentor who gave one hundred and twenty percent. It's something we like to give back."
They have backed their words with action. The band gives back to the music community through clinics and music camps. For their CD release they put together a prize package of instruments, instrument repair, charts from a publishing company and a clinic by The Heavyweights Brass Band. The package was valued at $3500. It was given to the school that brought the most students to the show. Lawrence Park was the school that got it.
The Heavyweights Brass Band is an independent jazz based instrumental group that can really dig a deep groove. It can be a tricky thing to get the music out according to Butcher.
"We need your support," says Chris. "Check out the music, check us out on Facebook, go to YouTube for videos, our music is streaming on SoundCloud. Tell your friends and share the love."
https://www.facebook.com/heavyweightsbrassband
comments powered by

Disqus