I think if I see Sir Mix-A-Lot, I might be tempted to sing "I like Big Butts and I cannot LIE!"

Something More Than HUMANS
Vancouver's HUMANS must perform a Vulcan mindmeld to answer my questions
Vancouver's HUMANS is two dudes bonded for life, Peter Ricq and Robbie Slade. They met at an art show back in 2009, where Robbie was tending bar and Peter's art was in the show. Peter's work was mainly robots fucking women, so Robbie instantly felt a bond and soon enough they were making music together. I've had HUMANS on my radio show, the interview show, back in 2010 when they were starting out and again in 2011. It's so great to see a talented local act work hard and expand their reach beyond our town.
The band recently put out a new record Noontide so I decided to check in. I asked HUMANS some questions. Robbie and Peter performed a Vulcan mindmeld and then answered them.
Scott Wood: Let's start with a HUMANS video! Introduce the video for me.
Peter/Robbie: HUMANS "Wicked Games" ft. Tristan Orchard from BESTiE (a cover of that classic Chris Isaac track). This video was really easy to shoot (only took about 5 hours), but it was also the hardest to shoot. We almost puked several times.
Scott Wood: One of my favorite HUMANS tracks is "Avec Mes Mecs." I have seen people come up to Robbie at parties and shout/sing the chorus at him, "Who knew that all we had to do was party?" That must be fun. Tell me about a song and artist that if you met him/her, you might be tempted to sing the chorus of that's artist's work at him/her.
Peter/Robbie: Yeah. I think you are the person who does that every time. Haha. I think if I see Sir Mix-A-Lot, I might be tempted to sing "I like Big Butts and I cannot LIE!" I think you would do it with me.
Scott Wood: Some press photos for your new record Noontide have HUMANS Robbie and Peter in bed together clowning around. What is typical Robbie and Peter late night pillowtalk when you are on the road?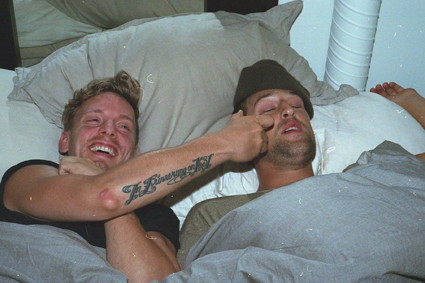 Peter/Robbie: We pretty much only talk about movies. How did James Cameron dream up Terminator? Why do you hate Arnold? Isn't it crazy they made action figures out of Robocop, even though it was so violent?
Scott Wood: You guys are a rare music-making duo where you said there aren't any defined music making roles--I guess except that Robbie sings. Peter's said "But it's hard sometimes when you show something that you actually think is good and the other guy shuts it down." Can you tell me about a time where one guy has had to shut down the other guy (and it was a good thing for the track)?
Peter/Robbie: I can't really remember the parts that don't make it, but there is a track called "Years," which we'll eventually release one day. I was never happy with the singing and it was pretty hard on Robbie, I'm sure. One day, about 6 months later, after jamming that track every so often and playing it live a couple times, he sang something different and it just clicked. I really like it now.
Scott Wood: Robbie Slade has said "My interpretation of what constitutes dance music is kinda ever evolving..." Can you talk about an artist you might not have appreciated a few years ago and what you appreciate about him/her/them now and why?
Peter/Robbie: I've been playing some tracks that my idol-cousin Tim ripped for me from his vinyl collection, and you would never think that they are dance music, but if you play them at just the right time, magic ensues. Two focus tracks are: Lletta Mbulu "Down by the River" (the version he gave me is actually an edit by his friend Haners) and Ned Doheny "Give it Up for Love." I just love how effortlessly groovy the tunes are and how they leave so much up to you for interpretation.
Scott Wood: Peter Ricq and Robbie Slade, you guys both have day jobs and other music projects, Robbie has Sabota, and Peter is in Gang Signs among others. Most working musicians today have to juggle multiple projects for money and creative satisfaction. Can you help other bands out and talk about how you guys juggle other projects and the conversation skills a band might need to negotiate difficult conversations around commitment to the project?
Peter/Robbie: It's good to have an understanding of which band has priority over others. It keeps it simple that way. Might get complicated, if a smaller project gets bigger than the main focus. Perhaps there's no real answer, do whatever feels right.
Isn't it crazy they made action figures out of Robocop, even though it was so violent?

Scott Wood: I saw you guys get featured on EntertainmentWeekly.com--that's a big mainstream US pop culture media magazine's website. Congrats! I once interviewed Brooks from a US band The Growlers. He told me that the reason most bands fail is because you have to tour and create music for 5 years before you begin to get serious traction. Now he was talking about the US market, but you guys have been together for over 5 years now. What's your reaction to what Brooks said?
Peter/Robbie: I love the Growlers and I agree with what Brooks says. Some bands do make it before 5 years and other bands, like Modest Mouse or Les Savy Fav, I believe it took them 10 years to get recognition. Perhaps one of those reasons for bands taking around 5 years on the road to get serious traction is to prove to agents and Labels that you are professional and that they can invest in you.
Scott Wood: Peter has said about writing for Noontide that keeping people dancing is always something you guys are focusing on. "But now we're getting better at the sound, at keeping people dancing. That's basically the qualifier—whether people are dancing or not." Can you guys talk about a song on the record that you had to tweak until it was finally ready for the dance floor?
Peter/Robbie: Not really, I find that the song never made it, if we didn't think it could get you moving, so we moved on. The only track that we thought wouldn't get people grooving was "All My," but during our album listening party at a gallery, it had people on the dance floor moving with their hands up and spinning around.
Scott Wood: At some point in the distant future, you guys are making the last HUMANS video. Sniff, sniff. It's a horror flick with no happy endings. Peter you get to kill off Robbie. Robbie you get to kill off Peter. Write each other's death scenes... (I hate to break your mindmeld.)
Peter: "I really don't want to do this, why is this happening? how? what? Can I have those pants?"
Robbie: The puppets return from the grave and eat Peter alive. I have popcorn and am maniacally laughing
Scott Wood: Thanks for answering my questions Peter and Robbie! Can you introduce your favorite HUMANS video?
Peter/Robbie: HUMANS "Tell Me." This is our latest video from our Noontide LP. It's basically a sequel to our first video "Bike Home" and stars puppets Rick 'n' Slade—5 years since their first introductory roles. Enjoy.
Scott Wood: And here is the original puppets video for "Bike Home."
Find more about HUMANS online.
WEB: http://dashumans.com/
FACEBOOK: https://www.facebook.com/dashumans
TWITTER: @dashumans
INSTAGRAM: http://instagram.com/dashumans
The Interview Show is everywhere.
Follow me on twitter @interview_show
Listen to The Interview Show on SoundCloud soundcloud.com/interviewshow
SoundCloud RSS Feed
www.cjsf.ca (Vancouver, BC, Mondays 4:30-5pm PST and Wednesdays 12:30am PST)
www.ckdu.ca (Halifax, NS, Saturdays 1:30-2:00am AST)
www.radiocfxu.ca (Campus Community Radio, Antigonish, NS, Fridays 11pm-12am AST)
www.cfru.ca (University of Guelph Radio, ON, Tuesdays 3pm EST)
www.umfm.com (Winnipeg's Hit Free Radio, Fridays 6-6:30pm CST)
www.caperradio.com (Cape Breton University Radio, NS, Wednesdays 3-3:30pm AST)
www.localfm.ca (Campus Radio Saint John Inc., NB, Tuesdays 11:30am and Fridays 3:30pm AST)
comments powered by

Disqus