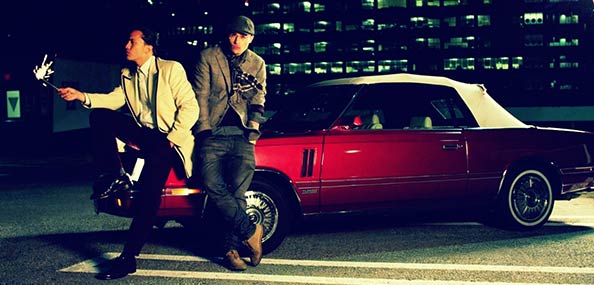 I've been writing songs since I was about 8 years old... I feel like everything I do is music.

What's Next for Times Neue Roman?
Hopefully NOT another visit from the ghost of Rob Ford
At the end of each year, most people who cover music do "best of" lists. When it came time to do mine, I thought of one favorite act, Times Neue Roman. Their last record Vehicle came out around the beginning of 2014. It had some catchy singles, like "Sade is in My Tapedeck" and "Late Night Toronto," a collab with another up and coming TO rapper Kidd Rich, but I didn't hear much from the band after that.
Usually when a band releases a record, you can bet on a tour and media blitz. But a quick scan through my email inbox and a google search revealed nothing. I had a million questions. How could such a promising act disappear? Did they split up? Were they dead? A dreaded major label album hold up? What happened?
Times Neue Roman is Arowbe and Alexander The (sometimes Alex JR). I catch up with these two creatives and find out what ever happened to Times Neue Roman.
Scott Wood: First, let's get everyone up to speed with a video from your album Vehicle. Can you introduce a track?
Arowbe: "So Many Females" …The chorus goes, "The Ride Alone Is Love Enough." It's both a statement and question. It's kind of about all the uncertainties, all the questions, all the things you're not talking about when you're traveling the course of a romance.
Scott Wood: It took a long time to write and record your second album Vehicle. What are the most proud of from the record?
Arowbe: For me, I think it's that this album which goes in so many directions musically has such a sense of cohesiveness to it. There are recurring themes and moods. There's a texture to it.
Alex JR: "Way Way Down" came natural, exactly what we wanted to happen in the one week. We were out in mountains of BC recording the album.
Arowbe: I don't see it as the proudest point of the album, because it didn't take that kind of grunt work that makes your feel proud. "Way Way Down" was the first song we recorded in our cabin there. It came kind of magically. We had just set up the gear and Alex started playing the keys and just started singing these female names that you hear. The song is quite light. The idea is that it's like a reflection and blessing, looking back at past relationships and wishing happiness to past lovers.
We have some songs recorded that are better than anything we've put out yet.

Scott Wood: So it seemed like the record Vehicle came out and then …nothing... I know you guys have a manager, so there must have been a plan to push the record....
Alex JR: A lot of the songs [from that record] were out in advance. From the "Sade Is In My Tapedeck" video to the "So Many Females" video, there were larger gaps in each release. We've also grown so much from the making of the first track to finally releasing our album to the world. Two Years to be exact. We've had great opportunities with EMI Canada and our friends at Honest Music and Daps Records. But by the time we came to the release, we were fed up and took it into our own hands and release the record ourselves. It's like a planned marriage for a 2 year planned future wedding date. So much can change and take a different road. We've definitely grown much from this experience.
Scott Wood: The indie and mainstream music industry is really centered on touring. I would love your thoughts on this.
Arowbe: Touring is a lot of work!
Alex JR: I believe in touring. It's a different process on its own though. We have friends that tour like crazy and come back looking exhausted. They've told us that we need to tour. But we also love creating the album as a piece by itself. The industry can shoot us down for not touring. Are we mad at that? Yes. But only to our fans that couldn't get to see Times Neue Roman play live. Something that we definitely want to get back into. Trust.
Arowbe: I don't have any regrets about it myself, mainly because I think my energy is better spent making stuff than publicizing and disseminating it. Touring is part of sharing you work. And obviously it's an important piece of the industry flow. I think, perhaps naively, that our music will find its own position in the world. But I just like to get on to the next project when I finish one. Perhaps that happens at cost of promotion and publicity.
Scott Wood: You guys obviously had to make some hard decisions when you decided not to tour this record. Can you talk about the conversations indie bands have to have (and the sacrifices they need to be prepared to make) when they mount a tour?
Arowbe: You have to think about all the occupational hazards.
Alex JR: I have some tips. You've got to talk about who's going to carry the keyboards. Musicians have gear. The emcee isn't used to carrying anything. You've gotta keep them in check from packing gear to wrapping up on stage before they decide to go to the bar and use those drink tickets. Or use their personality skills by keeping them by the merch table to rack up gas money from selling shirts, while you finish with getting your gear together and not stolen. Also make sure your gear is protected from getting smashed, because it will. From airplanes to vans to stages to bars to the streets, your gear will see lots of dirty floors—faster than the soles of your Timberlands.
Scott Wood: When you guys decided not to tour, is it like when one person in a serious long term relationship proposes and the other person doesn't say "yes" right away? Does it kill the band?
Arowbe: I toured Times Neue Roman without Alex once. It took three people to replace him! And they did a great job. But I still felt lonely.
Alex JR: Sorry, I believe in Polygamy. I'm into this relationship but also have to satisfy my main woman. We're still making things happen. I still promised Arowbe the honeymoon… it'll come. Trust.
Scott Wood: You guys were ahead of the curve on the Rob Ford gong show. Did you feel vindicated when the controversy blew up and Toronto became a laughing stock because of that circus?
Arowbe: That was weirdly predictive. We shot that video of Rob Ford "drunken stupor" a year before all the controversies played out. It started with just taking the piss out of this sort of oafish mayor. It was light. And then a year later, it becomes this media circus. And it's funny for a bit but then it's not at all when it's knotted up with alcoholism and addiction, and the man's mental and physical health.
I will say though that it is fascinating how these life-imitating-art things happen. Like were there weak signals that we were reading on some subconscious level that guided us to produce that visual? Even that song kind of made itself or seemed to have its own intentions.
I believe in Polygamy. I'm into this relationship, but also have to satisfy my main woman. I still promised Arowbe the honeymoon.

Alex JR: The production of the song "Late Night Toronto" had supernatural elements. There were tons of weird misplacements in our Logic Pro Audio session. But we let the track live in its own form.
Arowbe: The guest appearances from Rich Kidd and Colleen Rennison (aka No Sinner) were just done-in-one take too. They just heard the track and joined in. So it was like this jam session between all the collaborators, including the ghostly software we were recording on.
Alex JR: The video lent another supernatural element, everything we created kind of foreshadowed the tension we had in the city with our Mayor Rob Ford and all its dark alley ways.
Scott Wood: It seems like new YouTube sensations pop up all every day. You need to get a lot of plays to make serious money from YouTube. Will there ever be alternatives to touring?
Arowbe: It depends what you're trying to do. I've been writing songs since I was about 8 years old. We get a lot TV placements and stuff, but music is a very small part of my direct income. But because making music is so essential to who I am, and my creative practices—and even just how I understand myself when I get up in the morning—I feel like everything I do is music.
...figuring out how your skills as a musician are transferable to something completely different, and then finding market value in that, is one alternative to touring.

In my day job, I work in innovation and foresight. I help organizations to better understand themselves, change, and make new things in the context of new and emerging ideas and technologies, and changing global forces.
Now think about what a song or a work of art is. Ezra Pound [Modernist poet] said, "artists are the antennae of the race." And Jacques Derrida [French philosopher] said, "The song presents life to itself." Years of songwriting have trained me how to do my job, which is to see things in the world, articulate them and help others understand them and why they're relevant, and we're supposed to act based on these cultural signals and political, environmental, and economic forces. Writing verse is like training for this kind of work. So I guess what I'm saying is, figuring out how your skills as a musician are transferable to something completely different, and then finding market value in that, is one alternative to touring.
Scott Wood: So where does Times Neue Roman go from here? If TNR is done, can you share your best memories?
Alex JR: New palettes to play with. We've been in the recording studio. Plan on releasing new music, but again on our terms. It's been a tough last album. But extremely satisfied with the creations.
Arowbe: We have some songs recorded that are better than anything we've put out yet.
Alex JR: "Late Night Toronto"—not the song, but the night. And we ain't done.
Scott Wood: Thanks for answering my questions! Let's end this chat with another Times Neue Roman video.
Arowbe: "Sade Is In My Tape Deck" is still a favourite.
Alex Jr: Stay tune for more from TNR. Promise. Big ups to our friend Han Han. Just released her album. Check her out. Times Neue Roman had our hands on this one.
Find more about Times Neue Roman online.
www.timesneueroman.com/
https://www.facebook.com/timesneueroman
@TimesNeueRoman
https://soundcloud.com/timesneueroman
The Interview Show is everywhere.
Follow me on twitter @interview_show
Listen to The Interview Show on SoundCloud soundcloud.com/interviewshow
SoundCloud RSS Feed
www.cjsf.ca (Vancouver, BC, Mondays 4:30-5pm PST and Wednesdays 12:30am PST)
www.ckdu.ca (Halifax, NS, Saturdays 1:30-2:00am AST)
www.radiocfxu.ca (Campus Community Radio, Antigonish, NS, Fridays 11pm-12am AST)
www.cfru.ca (University of Guelph Radio, ON, Tuesdays 3pm EST)
www.umfm.com (Winnipeg's Hit Free Radio, Fridays 6-6:30pm CST)
www.caperradio.com (Cape Breton University Radio, NS, Wednesdays 3-3:30pm AST)
www.localfm.ca (Campus Radio Saint John Inc., NB, Tuesdays 11:30am and Fridays 3:30pm AST)
comments powered by

Disqus