Photo by Sofia Shukl
The Speechless Radio Really Just Wants to Talk
...Having Learned The Universal Lesson that Bad Breakups Make Great Songs
I met Michael Elder on my way home from Vancouver's Media Club after seeing UK buzz band Cymbals. He emailed me a few weeks later, telling me about his music project The Speechless Radio and his latest record Never Settle. I listened to the record and felt like somebody needed to give this guy a hug. Never Settle is a break up record and the sweet sensitive guy on the album really got hurt.
Scott Wood: Hello Michael! You have chosen the stage name The Speechless Radio. Can you tell me what it means and why you chose this name?
Michael Elder: When I started making music on my own, I decided right off the bat that I did not want to release it under the name "Michael Elder." My name isn't cool like Hamilton Leithauser, Jens Lekman, or Ty Segall, so I figured I would sort of get looked over.
I also knew that I wanted a name with "The" in it. I don't know why, but I did.
...I did not want to release it under the name "Michael Elder." My name isn't cool like Hamilton Leithauser, Jens Lekman, or Ty Segall...

I decided to go with a name that had to do with sound, so that's how the "Radio" part came in. "Speechless" came up, so that the name would have this little contradiction in it. And thus, I make music under the name "The Speechless Radio."
Scott Wood: I met you outside a concert (the band was UK's Cymbals). Concerts can be a great place to meet like-minded people or just other interesting people. Can you tell me about another time you met a kindred spirit at a concert (or maybe just a weird guy or girl)?
Michael Elder: Four years ago, I tried to go see Rural Alberta Advantage at the Biltmore, but I showed up and it was sold out. I stood around outside to figure out what to do next, and that's where I met my buddy Jacey. He and I have since hung out at other shows and he has interviewed me about my music too. Oh, I also said "Hi" to [actor] Jorge Garcia [Hurley] from Lost at a Bon Iver concert back in 2011.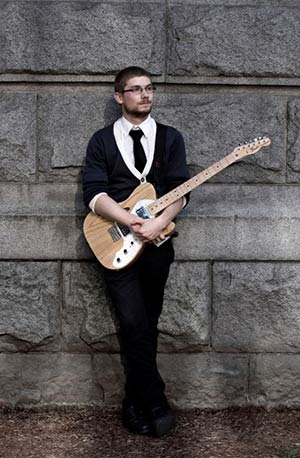 Victoria Johnson Photography
Scott Wood: Never Settle is your sixth album. Wow. That's a lot for a guy under 25. You must always be writing. Are you that weird guy standing in the corner of a party who is writing a song instead of being social? Where's the weirdest place you've had to stop and write a song in your head?
Michael Elder: I'm actually a pretty social guy, most of the time I can't write unless it's quiet and I'm alone. Still, that hasn't stopped me from writing in weird places. I've scribbled down lyrics while camping, on a plane, on the bus, at work, or even in my sleep! I've had to wake up and jot something down, it's happened more than once. I also write stuff when I can't pay attention in class—which is pretty often.
Scott Wood: After listening to your entire record (Never Settle), I wanted to give you a hug! Especially after tracks "Never Settle" and "Balance". (You've really nailed the sweet sensitive guy vibe on this record.) This record is a break up record after a particularly BAD relationship. Has your ex heard these songs? How did s/he react?
Michael Elder: Me and her aren't in touch anymore, I actually don't know if she's heard most of these songs. I'm a little more worried about the next couple releases, on those songs I dig deeper and get more aggressive. I'm not as nice on those ones.
Scott Wood: You wanted to introduce a video here…
Michael Elder: Yes, Scott! I grabbed some stuff around the house and made a lyric video for the song "Balance" from my record Never Settle!
Scott Wood: You played all the instruments on this record yourself! Can you give the list of all the instruments you had to play and then tell me which one was the most difficult to master and why?
Michael Elder: On this album, I played guitar, bass, banjo, ukulele, mandolin, piano, trumpet, trombone, clarinet, synthesizers, and I recorded the drums one at a time. I just started playing clarinet early this year, and I'm not ashamed to admit that I suck at that instrument. It always takes me a whole bunch of tries until I get a part right, then I have to bury it in the mix. I hope to improve my clarinet playing and use it more in my songs in the future.
...writing in weird places... I've scribbled down lyrics while camping, on a plane, on the bus, at work, or even in my sleep!

Scott Wood: You left your hometown of Prince George to come to (the big city of) Vancouver. For people who don't know, could you describe Prince George? What has been the biggest (and most unexpected) adjustment you've made living life in the big city?
Michael Elder: Not everyone may agree with me, but I think life in Prince George is great. It's cheaper to live there, easier to get places, and I like the local music scene. Everybody knows each other's bands and they play shows together, it's a lot of fun. You've got to be able to handle the snow though!
I left my parents' home to live in Vancouver, so living on my own has been a huge change. There's been a lot of microwave food or Kraft Dinner and other stuff like that, but these days I'm doing better.
Scott Wood: Your bio says you've played in several bands in your hometown of Prince George. Which one was the most embarrassing and why?
Michael Elder: I don't know if I'd call it embarrassing, but my brother and I (and a couple friends) made a cover band to play at our high school prom. We just sort of set our stuff up on the dance floor and played, we hardly had a stage or a proper sound system so I don't think people could really hear us.
Scott Wood: I read that your twin brother Jordan mixed the tracks on this record. Is it easier working with your twin than someone else? (Do you guys have that "psychic" twin link?) You've said you want to make The Speechless Radio a band project. Adding your twin sounds like a no-brainer... Or does it?
Michael Elder: I find it easy to work with Jordan because he provides really useful ideas and feedback. We both love a lot of the same music, so he knows what I'm talking about when I'm trying to get something to sound like a specific part from a certain song. I guess that's a little like the twin link…? Jordan is planning on moving after graduating at UBC. He probably won't be able to drum for me often, but he can still help out with the recordings.
Scott Wood: Thanks for answering my questions! I would love it if you could introduce your favorite The Speechless Radio video!
Michael Elder: "January" is one of my favourite songs I've ever written. My favourite album ever is Hospice by The Antlers, so naturally I wanted to write a song that could fit on it, and I think "January" is the closest that I've ever gotten. I had all this hurt built up in me and I let it loose on this one. The first time I ever played this song in front of people was at a little song writing workshop on campus, a few months after I wrote it. I talked about it and started playing, but I couldn't keep it in and started crying in front of these people I didn't even know. It was weird and embarrassing, but it made me realize how hurt I felt when I made that song. I made this video for the demo version of "January."
Find more about The Speechless Radio online.
http://thespeechlessradio.com/
https://www.facebook.com/thespeechlessradio
http://thespeechlessradio.bandcamp.com/
https://soundcloud.com/thespeechlessradio
The Interview Show is everywhere.
Follow me on twitter @interview_show
Listen to The Interview Show on SoundCloud soundcloud.com/interviewshow
SoundCloud RSS Feed
www.cjsf.ca (Vancouver, BC, Mondays 4:30-5pm PST and Wednesdays 12:30am PST)
www.ckdu.ca (Halifax, NS, Saturdays 1:30-2:00am AST)
www.radiocfxu.ca (Campus Community Radio, Antigonish, NS, Fridays 11pm-12am AST)
www.cfru.ca (University of Guelph Radio, ON, Tuesdays 3pm EST)
www.umfm.com (Winnipeg's Hit Free Radio, Fridays 6-6:30pm CST)
www.caperradio.com (Cape Breton University Radio, NS, Wednesdays 3-3:30pm AST)
www.localfm.ca (Campus Radio Saint John Inc., NB, Tuesdays 11:30am and Fridays 3:30pm AST)
comments powered by

Disqus