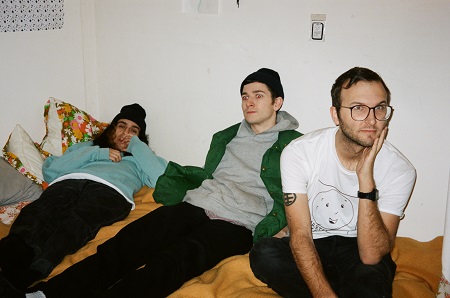 Vancouver indie band Weed don't have time for 420
But they celebrate friends, comic books and nude beaches.
Sometimes a simple snap decision can stick with you forever. Take for example Vancouver indie band Weed's name. This band doesn't smoke pot and they are not a part of Vancouver's fertile 420 scene, but as you can imagine they get asked about marijuana a lot. Who doesn't want to talk about smoking pot if they get the chance?
...we are not indie rock juggernauts, so I'm guessing there's no "whoa they're people too" moments when other bands see us scratching our balls or shopping at Target.

The guys in Weed (Will Anderson—along with guitarist Kevin Doherty, bassist Hugo Noriega, and originally drummer Bobby Siadat, now various drummers) are also well known for only playing all ages shows and their fantastic original drummer. Will from the band put up a cute FAQ on their blog, letting people know the questions Weed are absolutely tired of getting asked.
most common interview questions we get (from now on if anybody asks one of these questions i am gonna kick the interviewer in the throat...)
so the name weed, why'd you pick that?
it's about the verb weed, like when you weed somebody out of your life.
do you smoke a lot of weed though?
no.
is bobby still in the band?
no but he does play occasional shows with us. he is busy with his own project.
who are your influences?
my bloody valentine, husker du, dinosaur jr, sonic youth, the band.
how do you write songs?
kevin or will comes up with a riff then we bring them to the practice space and edit them.
why is playing all-ages shows so important to you?
because everyone should get to see the shows.
does that make it harder to book tours?
not that i know of.
i run a small newspaper in vancouver and do a lot of interviews... it's not that hard to talk about interesting things.
While preparing for this interview, I decided I'd like to avoid getting kicked in the throat (if at all possible). But don't worry! I still find out everything important about Vancouver's best scuzzy indie band Weed.
Scott Wood: Hello Will from Weed! Let's start with a Weed track. I'd love you to introduce a Weed song to get people into to what you do.
Will from Weed: Here's my favourite song on our new record. It's called "Stay in the Summer." There's two songwriters in the band, myself and Kevin. Naturally all my favourite songs are his, caus I'm sick of mine. But anyway, I feel like this is a classic Weed song. It sums up our vibe succinctly. The breakdown part of the song explodes at the end and I always want it to hit really hard when we play it live, but I dunno if the kids like it as much as I do.
Scott Wood: You've often said that the band name Weed is meant as the verb "to weed out bad influences in one's life." I was thinking the other day of Weed as the plant that you can't really get rid of. It's hard to be an indie band—there's so much against you and you have to really sacrifice to make it work. I'd love you to talk about one indie band survival test that couldn't stop Weed from flourishing.
Will from Weed: The obvious answer here would be our vehicle. Nowadays we can afford to rent a car and that reduces the stress considerably. My grandparents gave me a mini-van when the band was first starting to tour. That broke down I think three times. The first time was on our initial huge drive from Seattle to Fargo (stopping once to play for the two employees of a coffee shop in Bozeman, Montana). We had to drive straight through the night and ended up getting a little turnt around 4 AM, just pulled over and started screaming our heads off and huge shadow puppets on the sides of these farms in North Dakota. Not sure why. Anyway a couple hours later our alternator gave out. We got towed to Sears. Bobby our drummer left his wallet, passport and cell phone in the bathroom and we played one of my favorite shows ever in Fargo that night.
Scott Wood: Your current record Running Back is mostly about a break up between "soulmate-level friends." So many songs focus on romantic breakups. I'm amazed there aren't more songs about friendship breakups, considering most bands are complicated and oddly intimate friendships. Why do you think there aren't more friendship break up songs?
Will from Weed: I'm not really sure. I would say more than half of the lyrics I've written ever, are about decaying friendships rather than romantic breakups. Some of both, for sure, but the losing of friends and role models is what affects me more. Usually, romantic dissolutions are more visceral and immediately painful. Maybe I'm unusual in that I've had a couple really intense friendships come to screeching halts. Also, maybe there are more songs out there about friend breakups than we know?
Scott Wood: Will, you're originally from the US and in you've lived several places in the States, but you keep Running Back to Vancouver. Most local indie bands must leave Vancouver's high cost of living for Edmonton or Montreal to take a real shot at being a band. What keeps drawing you back to this city?
Will from Weed: Vancouver is not the most expensive place I have lived. I don't know what it is precisely that draws me here. Tried to put my finger on it many times. I grew up in Wisconsin, but came into my own and carved my own identity here in Vancouver. Learned a lot about music and figured out what I was into for art and even politics once I got here.
Scott Wood: Running Back is your second full length. You're still learning about being band at the second record. What's the biggest lesson Running Back taught you about being Weed?
Will from Weed: We're pretty dysfunctional. I learned that there are no rules. Sometimes only two members of the band can go on tour, but it's OK. Sometimes the whole band doesn't care if/how we remix the record, but it's OK. Not everyone can or should care about the project the same amount. It's totally OK.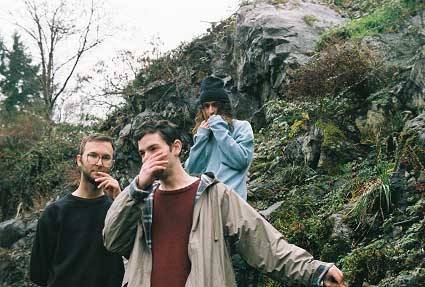 Scott Wood: You've said that you feel the band is nearing "a tipping point—is this when we're going to go full-time, or are we going to stay broke?" This sounds agonizing. What's a tip for other bands on how to get thru this time in a band's life?
Will from Weed: If you're not getting any satisfaction out of it, break up and start a new band. Reconfigure. We do it all the time and maybe that's why we have existed for 5 years?
Scott Wood: I've heard that Weed formed in 2010 with the chance meeting of Will and Kevin at Wreck Beach—Vancouver's legendary nude beach. I've met so many interesting and unexpected people at Wreck. Can you tell me about how you guys met or another strange moment at Wreck?
Will from Weed: I heard that the lady selling food got arrested recently. That sucks. I went down there just the other day with the band Vats from Seattle. They were really impressed, but hated how many stairs there were. I remember once I went to Wreck Beach in the middle of winter and the middle of the night while I was living in the university dorms. This girl named Jayme made me walk down there and we had a deep sesh about mortality and going to university and happiness. Not many people down there at night, especially in December. Maybe a couple bonfires. It's cool.
Scott Wood: Will you grew up in Eau Claire, Wisconsin. I've read that Justin Vernon of the indie rock juggernaut Bon Iver was your camp counselor and you've said you have an image of him etched in your brain of him "scratching his balls." What's something bizarre and humanizing that another band has seen you do?
Will from Weed: It's a bit different because we are not indie rock juggernauts, so I'm guessing there's no "whoa they're people too" moments when other bands see us scratching our balls or shopping at Target. Trying to think here. Occasionally I'll get noticed around Vancouver at my job (which is pretty boring) or at a show. Jen from the Courtneys and I were at a show together around Christmas and we both got noticed by a fan, who thought it was cool that we hang out together. We both thought that was kinda cool and fun.
Scott Wood: Will, your day job is managing a comic book store. Can you recommend Weed fans a comic that shares the sensibilities of Weed 's music?
Will from Weed: Hmmm… Not sure if this comic is like Weed's music but I'll plug it for visibility anyway. Check out CF's series Powr Mastrs. He's from Providence Rhode Island, which is one of my favourite cities. I wouldn't recommend listening to our band while reading it or trying to soundtrack it or something like that, but maybe if there was a film adaptation? Worth a shot.
Scott Wood: Thanks for answering my questions! Please introduce your favorite Weed video.
Will from Weed: No problem, thanks for asking. Kevin directed a video for our song "Ben's Tour" eons ago. Still one of my favourites. Just four guys bangin' their way through life, frigging around with Yo-Yos and trying to get each other's attention.
Weed - "Ben's Tour" from Cruising USA on Vimeo.
Weed aren't easy to find online, but that just makes them hotter.
The Interview Show is everywhere.
Follow me on twitter @interview_show
Listen to The Interview Show on SoundCloud soundcloud.com/interviewshow
SoundCloud RSS Feed
www.cjsf.ca (Vancouver, BC, Mondays 4:30-5pm PST and Wednesdays 12:30am PST)
www.ckdu.ca (Halifax, NS, Saturdays 1:30-2:00am AST)
www.radiocfxu.ca (Campus Community Radio, Antigonish, NS, Fridays 11pm-12am AST)
www.cfru.ca (University of Guelph Radio, ON, Tuesdays 3pm EST)
www.umfm.com (Winnipeg's Hit Free Radio, Fridays 6-6:30pm CST)
www.caperradio.com (Cape Breton University Radio, NS, Wednesdays 3-3:30pm AST)
www.localfm.ca (Campus Radio Saint John Inc., NB, Tuesdays 11:30am and Fridays 3:30pm AST)
comments powered by

Disqus