It's Monica's Turn: The Monica Chapman Interview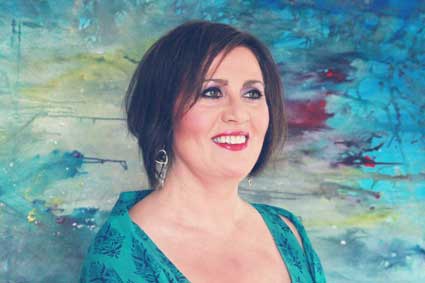 Monica Chapman
Vocalist Monica Chapman conspires with legendary producer Bill King to jazz up the musical theatre world
Ontario musician Monica Chapman, speaks four languages and has numerous musical and academic credentials. This happened, even though, she couldn't speak English when she arrived in Canada at the age of nine. She has a grown family and a happy life with her husband of many years. Chapman's love for musical theatre and a very strong voice has allowed her to dabble in it from time to time. This spawned a few CDs that featured show tunes.
Yet, there was something missing and her husband encouraged her to try her hand at jazz. A trip to Nathan Phillips Square in Toronto to hear Bill King and the Divas changed all that. She used her networking skills to get in touch with King and he agreed to work with her. So far, two jazz albums are the result of this collaboration. King's bio wouldn't fit on this page, but suffice it to say he has been in demand as a pianist, arranger and producer for a very long time. So it was quite a coup for Monica Chapman to get to work with him.
The resulting albums, trips to New York to fulfill a life-long dream to sing on Broadway, and an upcoming gig at the upcoming TD Toronto International Jazz Festival announces to the world, in more than one language, that yes, it is Monica Chapman's turn.
JD: Hi Monica. So you are a classically trained pianist and vocalist. When did your relationship with music begin?
MC: Hi Jim. I would say, even before I could speak—one year old—one and a half. I didn't sing then, but I was exposed to music from a very young age.
As soon as I opened my mouth and started singing I was transported to another world. The audience embraced me and I brought the house down.

JD: Who in your family were the musicians?
MC: There were no [professional] musicians in my family. In my husband's side of the family they are very musical. He was very musical and his uncle played first violin in the Toronto Symphony and another uncle, Saul Chapman, was a renowned composer. He play with Jimmy Dorsey's band—the clarinet. His pieces, his compositions were played on CBC, JAZZ-FM, a few years back, maybe 15 years ago.
JD: You started playing piano at a young age, didn't you?
MC: Yes. My parents and I immigrated to Canada from Romania. I was born in Bucharest and we came to Canada when I was nine and a half. We landed by boat in Montreal. They knew very early on that I had and inclination towards music and that I had a gift. I started singing at the age of three and a half. My father played mandolin for me. He wasn't a professional musician. He was an engineer, but music ran in our family—the love—the passion for music. They exposed me to it early on. When we came to Canada they enrolled me in piano lessons and dance. Later on, at the age of sixteen, when we moved to Toronto, I took formal singing lessons, as well.
JD: From what I've read, you did very well in school. You have degrees in Piano Performance (A.R.C.T.) and voice at the Royal Conservatory of Music of Toronto, as well as a Bachelor of Arts degree in English Literature from York University, so you did lots of studying over the years.
MC: Yes, I wanted to have a command of the English language as well, because it was my fourth language. I didn't speak a word of English when I came to Canada.

Monica Chapoman celebrates her CD release.
JD: You've done really well. The world thinks of Canada as a bilingual nation, but in fact most of us don't speak one language very well—me, included. It seems that we don't get exposed to the other languages as much. It's a disadvantage to only have one language. I've travelled a fair amount and boy I wish I spoke another language or two. I just don't have the aptitude.
MC: I'm sure you do. We all do. You have to start young. You grasp these things at an early age. They say in psychology, I didn't take psychology, but they say before the age of ten you can learn very easily. I was exposed to it because we travelled all over the world. So I had no choice. It was a necessity. Romanian, you know and French. They put me in a French school. I know Hebrew, too—believe it or not. We lived in Israel for a few years and then we came here. I have a very colourful life, Jim (laughs).
JD: That's awesome. Were there any particular obstacles other than language that you had to overcome to get where you are today?
MC: The language was a big one. Learning English was a challenge because the English language is difficult, so hopefully I've mastered that. Any other obstacles? Well music is a life study, isn't it? Like anything else you meet obstacles and challenges and reach plateaus which you have to overcome and work with it. The thing is with me, I never give up. I'm so passionate about music. I wanted so much to be as good as I could possibly be.
JD: Well, that's a good goal and I think you are well on your way to succeeding at that goal.
MC: Thank you.
JD: You mentioned your passion and your dream. I think I read somewhere that you had a dream to sing on Broadway and you were not going to give up until you had achieved that dream and you did it. What was that like?
MC: That was just amazing, Jim. I was invited to Jim Caruso's Cast Party at Birdland. It's by invitation and I got the honor of opening the show. He said, "You open the show." I sang one of the songs from my new album P.S. I Love You. I sang "I Love a Piano." I absolutely love musical theatre. That's my roots and then I made the transition to jazz. "I Love a Piano" is an Irving Berlin tune and it was sung by Judy Garland in Easter Parade. I sang that song and I brought the house down! Jim, I don't want to be a show off or anything, but I just envisioned being on that stage and I wasn't a bit nervous, because they made me feel comfortable from the minute I set foot on that stage with the stellar trio they had. We just jelled. As soon as I opened my mouth and started singing I was transported to another world. The audience embraced me and I brought the house down. They invited me back. I'm going back in the fall. I also sang at The Salon in New York. It's on Youtube, so I have a video from that experience. That was really something, too. What a thrill. I love New York. I just fell in love.
JD: I also noticed you have an English Lit degree. I also work in a library, so I have an affinity with books. I'm kind of wondering who your favourite author or favourite book is?
MC: Oh, that's a hard one (laughs). You know, over the years, I've read a lot of books. It's like asking 'what's your favourite composer' or 'what's your favourite song' -- 'who's your favorite singer?' That's a hard call because I have many favourites. But I'll tell you one of the recent books that really blew me away is called "The Girl With No Name" and it was written by her mom, Marina Chapman (no relation). It's a book that's out right now. http://www.amazon.com/The-Girl-With-Name-Incredible/dp/1605985457 . They should make a movie about it. Unbelievable story! It just blew me away!
JD: When you are home what music do you listen to other than your own?
MC: I don't listen to my own. I listen to others and then I make it my own when I record a CD. I love listening to Ella Fitzgerald, Sarah Vaughan and Billie Holiday, Lena Horne; all those ladies and Frank Sinatra and Michael Buble and the list goes on and on. Those are the jazz artists and icons. Oh, I like Molly Johnson, too; the living (laughs), the up to date jazz vocalists as well. As you know I come from classical musical theatre training. I just got into jazz ten years ago. I'm mentored by Bill King. He's my mentor, producer, pianist. He produced two of my albums in the four years I've been with him. A year and a half ago he produced But Beautiful, my debut jazz album that did pretty well and now my newest P.S. I Love You. It's being played on CBC and JAZZ-FM and on your station (CFBX). Thank you very much.
JD: I was about to come to that. So, how did you meet Bill King?
MC: I'm glad you asked. About ten years ago my husband and I went out to see Bill King with his Divas . We went to Nathan Phillips Square to hear them and we heard them up here in the Waterloo area and that's how we came to hear about Bill and one thing lead to another. I was ready to become a jazz singer thanks to my husband, who encouraged me. He thought I had a voice well suited to jazz. We connected on Facebook—networking. That's how I heard about Bill and he wanted to work with me. I had a musical theatre album called Sincerely—all Broadway show tunes. He saw something worthy in me to develop, so that's how it started.
JD: That's cool. You mentioned you have a new CD out call P.S. I Love You. How did that come about? How did you select the songs? I like the songs you selected.
MC: Oh, thank you very much. It was a process. I started off listening and selecting. I chose songs that made an impact for many years. For example "I Love a Piano." I love musical theatre. That's what I said and I would watch movies with Judy Garland and it came from Easter Parade. Also, "Shaking the Blues Away," it was an Irving Berlin tune. It was Doris Day in Love Me or Leave Me, the 1952 movie. These songs that I just love since I came to Canada at the age of nine, I thought it would be really cool to record. So that's how it started.
JD: So, Bill does the piano and arrangements, on this CD, right? He's an amazing arranger.
MC: Yes, he is.
JD: I played "I Love a Piano" on my show recently and I put it in with a bunch of traditional jazz songs because he has William Sperandei playing trumpet in Dixieland style. It fit in nicely. The CD has nice arrangements and obviously your singing is very good. You have an all-star line-up on it. I mean, Dave Young (bassist). How did you get him? Of course, Bill on piano, Nathan Hiltz on guitar. Nathan has been here. Sperandei is great and Mark Kelso on drums. What a good bunch of musicians. What was it like playing with them?
MC: It was wonderful. A lot of these musicians were on my debut jazz album as well (But Beautiful). Nathan Hiltz and I have played together in a lot of shows in Toronto. Bill assembled these musicians, including Dave Young, who played with the Oscar Peterson Trio. It was an honour just to have him. William Sperandei is one of my favourite trumpeters and he played on my first album as well. I thought I'd like to highly feature him on this album as well. It was a thrill! I can't describe the process, being in the recording studio, putting the tracks down with these musicians. It was just unbelievable. Such a thrill.
JD: Yes, good, good people and they want to play with you, so that goes two ways. Good to hear that. Now, how do we get P.S. I Love You?
MC: It's available on iTunes, CD Baby, Amazon and all the good digital outlets or you can order from me directly. A lot of fans and friends have messaged me on Facebook. You can connect with me on Facebook—Monica Chapman.
JD: (laughs) I think I've done that.
MC: Ya, you have (laughs) and it is available in a few stores in Toronto right now. It just came out in January and it's already selling well on iTunes. I might put it through HMV. We are talking now and we are in the process. So, we will see what happens and it's also available at my shows, of course. My big CD release is coming up at Lulu Lounge in Toronto on April 24th. Jim, I'm so thrilled, as I was recently booked at Relish Bar & Grill on the Danforth in Toronto as part of the TD Jazz Festival. I'm really thrilled to be a part of it.
JD: So you are one busy woman—no doubt about that.
MC: It's what I wanted to do. I raised my family. I have a son in university, at U of T, taking molecular genetics. He's a bright guy and musical as well. He's in his PhD program. I have a lovely daughter, who's very talented—has a beautiful voice. But she's working right now and taking courses at the college. So it's my time. Family came first, always! I waited to raise my family. While they were growing up and in grade school I produced a CD called Monica and Friends Sing Show Tunes. I had a group for six years. It was all kids. I trained them and it was all show tunes. It was like a musical theatre group. That's what I did while they were growing up. We sang at Nathan Phillips Square and were played on CBC as well. Now they've grown up so it's my turn to do it solo.
JD: Maybe you can call your next CD It's My Turn. But, I think it's been used already.
MC: It's funny you should say that, because on P.S. I Love You, I recorded "Tomorrow Is My Turn." It's a Nina Simone—I forgot to mention Nina Simone as another big influence of mine. I just love her.
JD: Oh ya, that's the Charles Aznavour composition.
MC: Yes, "Tomorrow Is My Turn" is appropriate. It fits. I fell in love with that song for a long time and I thought I had to record it.
JD: That's great. I'd like to thank you for talking to me today.
The CD is P.S. I Love You by Monica Chapman. It's available on iTunes, CD Baby, Amazon and from Monica's Facebook page and website.
Monica's website: http://monicachapman.net/ and selected Youtube videos
Jim Dupuis is the host of Jazz Notes, now in it's 13th year on Wed. 5-7 PM PT at www.thex.ca
comments powered by

Disqus