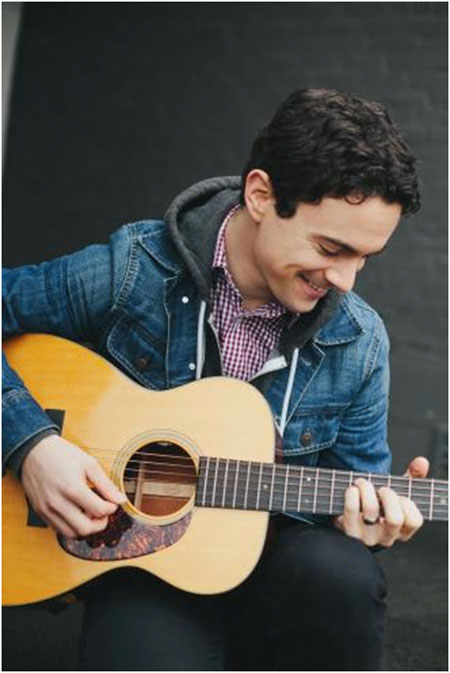 In Deepest Blue with Joshua Hyslop
Vancouver singer songwriter Joshua Hyslop's career, like himself, has been defined by past experiences and anchored by connectedness with his fans. Letting go of those definitions and adopting change has resulted in a new album, his second, In Deepest Blue.
"My approach to every show is to be as honest and vulnerable as possible," says Joshua.
It's this kind of honesty that Joshua takes with him on stage. It's just one of the reasons why he has a strong fan base that grows with each performance. Another is his ability to write intelligent lyrics that interpret human experience, as well as our connectedness to our surroundings. You can fall into the story of Joshua's songs because they are so authentic.
Joshua Hyslop has been building connections all year long whether it's touring with Ron Sexsmith, or Vanessa Carlton, or performing an an intimate house concert. Hyslop agrees that house concerts were part of building such a loyal fan base. "I remember doing a house show and someone said to me 'when you are internationally known you probably won't be doing these'. I thought, 'of course not, I'll be doing these always, in between tours, it's my favorite part'."
Joshua has made some lasting connections through these house tours. "I get to go to someone's house, and genuinely meet them, have dinner with the family, and do a show for them and twenty or forty of their friends. The next morning I have breakfast with them and then hit the road. There are families across Canada that I have done that with three or four times now. I've built friendships' he said.
Joshua Hyslop has a voice that could calm an angry sea, but that voice was almost silenced by a couple of near death incidents he had while traveling. It was those traumatic experiences that powered his first full-length album Where the Mountain Meets the Valley.
I had almost died twice, these were close to death experiences that still kind of choke me up sometimes.

In the ensuing years Joshua realized that he couldn't live in those experiences any longer and continue to move forward in his career.
In Deepest Blue, Joshua has let go the emotional residue from those experiences, the ones he says he defined himself by.
With candor Joshua explains, "This kind of hearkens back to the genesis of the album itself. I had almost died twice, these were close to death experiences that still kind of choke me up sometimes. In a couple of the songs, "Come Away", "In Deepest Blue" and in particular "Let It Go" there's this idea where for some time now I've let these experiences define me because I didn't know how to handle them. I internalized it all and in the following years felt very numb and kind of shut off," he continues, "I came to this spot in life where I said 'well you continue to be defined by them or you let them go'. They're still a part of my story but it's time to put that down and pick something else up and move on."
Though it's Hylsop's second full-length album he's adopted some first time changes in the building of the album.
His long time producer Tyler Johnson moved to Norway to start a production company, so Joshua finished In Deepest Blue with a different producer, John Raham of Vancouver.
"I've loved all the music that I've produced with Tyler," says Joshua, "but working with John is an absolute different way of approaching a song. I've never experienced that before. To me it was a scary thing to give your songs to somebody and see how they interpret them, but John has an amazing sensitivity. Working with him on those few tracks and seeing his touches made me think, 'yeah I want to go in that direction'."
Joshua says even his song writing process was a bit different. He was a more prepared in that he had a lot of songs at the ready which made it a nicer approach when building the album. The changes continued in Nashville were Joshua went to do some writing. A couple of the songs on the album are the product of co-writes, which again is a new experience. "When it comes to co-writing songs," says Joshua, "Letting Go was the first one I've ever done. It was with Michael Logan and our approach I don't think was conventional. We hit it off and talked for hours before we wrote the song. Michael had the chord progression and arrangement and I started writing the words. Whereas with "Falling" that was more co-words and co-music with Aaron Espe. That was a little more difficult because we got right to it; there wasn't a lot of talk. It takes me a lot of time and I think songwriting is quite vulnerable so I need to know something about you before we jump in. He was great and we got it written in an afternoon."
Currently Joshua Hyslop is on a North American tour but you can be rest assured that he will resume his house concert tour once he's had a chance to be at home with family and friends.
When he's home, you may find him as he emerges from a marathon writing session, hanging out with friends and having a few beers at a local brewery, at concert in Vancouver, or a local coffee shop – Or you may very well find him in your living room, singing for you and twenty or forty of your friends.
Joshua is on Facebook and twitter and at Joshuahyslop.com .
comments powered by

Disqus