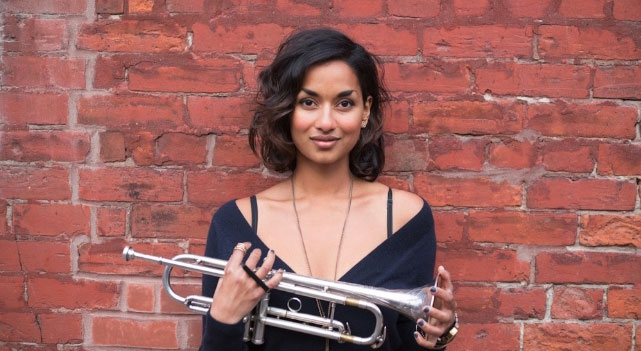 Hitting the High Notes with Tara Kannangara
Tara Kannangara is turning heads with her debut cd Some Version of the Truth and she's got the chops to back it up.
"There are two things that Tara Kannagara loves. One is surprise and the other is the realization of a long-term project. The two went hand in hand when the vocalist and trumpet player released Some Version of the Truth and was awarded the Julian Award of Excellence for Emerging Canadian Artists and nominated for a Juno Award in the vocal jazz category for her efforts. If her music is to be categorized she prefers the term "Groove-based Indie Jazz".
Tara grew up to a background of classical music and musical theatre. It dictated her musical direction in piano and voice until she got to high school. It was there that jazz and the trumpet came together.
The trumpet is so charismatic and compelling. It can do so many things

Jazz wasn't even in Tara's vocabulary until her brother made the introduction.
"My brother was really into jazz. He was the one who introduced me to jazz. He gave me this burned CD of Coltrane's greatest hits" she laughs. "I really wasn't interested when he showed me. But I trust my brother and I always look up to him so I was ready to listen to it." Chalk up a surprise for Tara. "When I heard it, I thought there's nothing like this, it's amazing!" she enthused.
"The trumpet didn't call to me," says Kannangara. "Because my brother introduced Coltrane to me I thought I should play the saxophone. But my brother was already playing the saxophone. I remember the band teacher said I could either play the trumpet or the flute. I did not want to play the flute," recalls Kannangara, "At the time I remember thinking I really want to be heard all the time, so trumpet it was.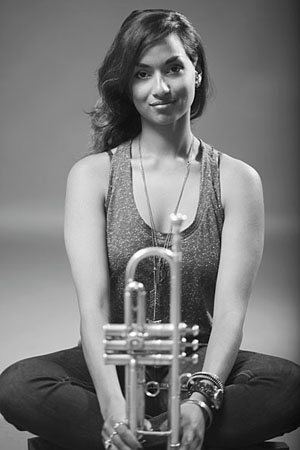 What does Tara think of the trumpet now? She described the instrument lovingly and with intimate understanding.
"Sometimes the trumpet can be a bit cruel. One day it will be so kind to you and the next day it won't be. So much is dependent on how much time you spend with it each day. It's not like many other instruments where you can leave it for a while. You really do need to keep up with it all the time. It's always on my mind." Tara's voice becomes energized, "The challenge is exhilarating though. When it is working it's brilliant. The trumpet is so charismatic and compelling. It can do so many things. It can be powerful and aggressive or soft, sweet and pure."
The trumpet has proven to be a supportive collaborator with Tara's vocal style on Some Version of the Truth.
When writing songs for Some Version of the Truth, Kannangara looked back to her childhood and tapped in to a central feeling.
She explains the process, "As a child and as an adult I was always fascinated by the impermanence of things. As a child I thought it's so sad that things we have go away. As I get older I still have those fears and they're a little bit stronger now. It sounds macabre, but it's true I worry about losing things because I've acquired more things. I really tapped into that feeling, the idea of having something and being able to let it go and what that could do to you."
There are other things that she drew from as well. Musical theatre provided a creative reimagining. The song "Edelweiss" from Sound of Music makes an appearance with Tara adding a joyful trumpet. She has an affinity for the song "Swimming" because it took so long to write. "When I first heard it," says Tara, "All I could hear was the labour put into it. I thought it was overworked and there's too much to it, but when we started performing it, it came alive. It grew into something I didn't expect. Every time we perform it now I'm so proud of it." Tara's crystal voice and trumpet trade leads seamlessly in her music. They are being strongly supported by piano and keyboard, guitar, bass and drums.
Tara Kannangara doesn't want to direct what people should come away with when they listen to her music. She much prefers that their experience be unique to them. What she does want you to know about her and her music is this, "I do want people to see me as someone who loves what they do, and cares about performing and sharing my work. I want people to know that I'm being as generous as I possibly can with the things that I care about."
Currently Tara is looking forward to a summer performance schedule and is writing songs with an eye towards another album she hopes to record in the fall.
Find out more about Tara Kannangara
comments powered by

Disqus