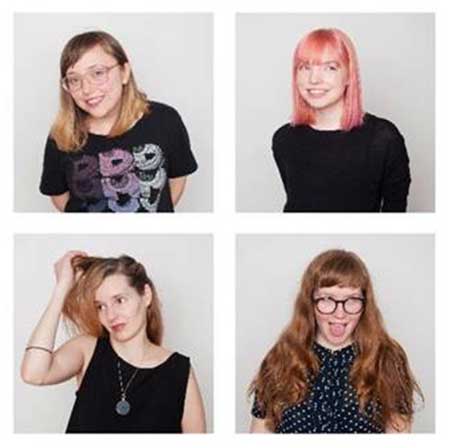 Supermoon
Playland, the sophomore album of Supermoon, is both a fun and terrifying ride.
A super moon is a new or full moon, on it's elliptical orbit at the closest point to the earth. It appears 14% larger and 30% brighter.
When Vancouver's Alie Lynch, Katie Gravestock, Selina Crammond, and Adrienne LaBelle are together playing music, they too shine a little brighter, as the edgy, poppy four-piece Supermoon.
Their latest release Playland on Mint Records is both happy and poppy, as well as dark and weird, according to Adrienne LaBelle who plays guitar and bass for the band. The album is a good representation of four independent, smart, strong willed women. Alie Lynch plays the guitar and bass, Selina Hammond is on drums and Katie Gravestock or ('Groovestock') as her band mates call her plays guitar. They share the songwriting duties.
Playland also served as a base for their musical exploration. "We hadn't been playing together as a four piece for very long when we wrote and recorded [first album] Comet Lovejoy," explains Adrienne. "We had more time to get used to each other as musicians and get comfortable exploring our unique sound on Playland."
Part of developing that sound came from pushing through roadblocks.

"We had been running into some roadblocks with song writing. Alie was playing bass a bit more in another project; I had been playing around on guitar a bit, though I don't usually play it. We decided to switch it up on Playland to overcome the block."
What is important to us is yes we`re women, and were happy to be a band of all women, but 'girl band' is not a genre.

It worked well for them. Adrienne says it's easier for her to write on the guitar. "Alie's bass lines are more poppy and punk and my writing is more melodic." She acknowledged it was a bit of a risk but also says, "It's fun. It freshens things up a bit and gives us a new challenge."
Rising to that challenge has created a deliciously layered sound that is both dark and gripping with wailing, fuzzed out guitars and happy, shiny and poppy melodies that make you want to skip in the sun. Supermoon is engaged with the politics of the world and don't shy away from exposing the messiness of relationships. The lyrical content of the songs deals with everything from fatalistic emotional bonds and breaking free of them as in "If You Say So," a song written by Adrienne LaBelle in which the musical outro is representative of a revenge fantasy, to the questionable labour practices of the fashion industry in "Fast Fashion" written by Katie Gravestock.
The women of Supermoon are as diverse as the subject matter of the songs. When Adrienne was asked to describe the members of the band she gave it some thought and laughingly launched into the descriptions.

Selina Crammond, Katie Gravestock, Adrienne LaBelle and Alie Lynch
"Well, Selena [drummer] is very involved in the film festival circuit and enjoys philosophy. Katie [guitar] is shy, smart and funny. She's our academic with a degree in political science and heading to grad school. She also has a photography degree. She's shy in demeanor but not in her playing. Alie [bass and guitar] is charming and clever with a sharp tongue and quick wit. She's the main songwriter." When prodded to describe herself, Adrienne [guitar and bass] says she's the organizer and planner. She enjoys plugging away behind the scenes. She was busy constructing their very first tour for the summer, which takes them down the West Coast and then right across Canada.
For all the talk of diversity Playland does have a theme. "To tie it all in", says Adrienne, "the broader theme is more sound and concept than content driven." She continues to explain, "Playland is our local amusement park and there is this combination that you go there to have fun but you're also having a terrifying time too." It's a juxtaposition that is reflected in the music.
When Adrienne was asked what she thought people should know about Supermoon and the album Playland, she paused to consider their experiences.
"It's funny, what it used to be and to some degree still is," she muses. "We haven't moved entirely beyond gender. When we started out we were often defined as a 'girl band'. It was how we got billed and was our defining feature. What is nice about this album and the press we've been getting lately is that I think we've finally moved beyond that. What is important to us is yes, we're women and we're happy to be a band of all women, but 'girl band' is not a genre. It's a funny thing that we should have to explain that in this day and age - it's surprising. We are politically driven thoughtful people and musicians. We enjoy playing together and are enjoying the ride."
Supermoon wants you to join them for all the fun and terror that Playland can deliver – and share it.
Currently Supermoon is on a Canadian tour.
Facebook: https://www.facebook.com/allmoonsaresuper/
Bandcamp: https://allmoonsaresuper.bandcamp.com/
comments powered by

Disqus