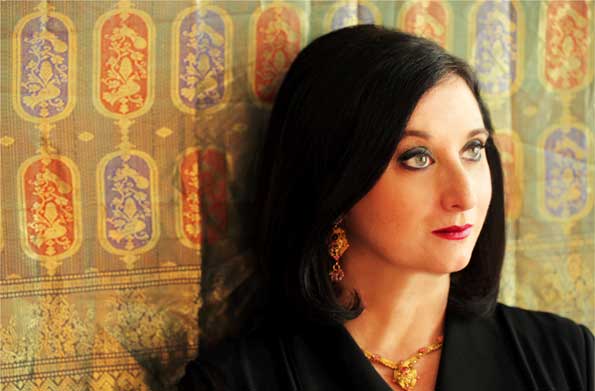 Written in the Rocks: The Renee Rosnes Interview
Renes Rosnes Finds a New Appreciation for the Rock We Live On
I was lucky enough to attend many performances by pianist Renee Rosnes, when I lived in Vancouver in the 1980s and early 1990s. She grew up in Vancouver and moved to New York, but came back quite often to perform concerts. The names of some of the places she played in are long gone and some perhaps forgotten. The Landmark Jazz Bar, Saturno, Carnegies, Café Django, and The Centre. Usually, she fronted her own band, but I saw her playing at the Vancouver International Jazz Festival as part of Out of the Blue and another time in trumpeter Jon Faddis' band. The last time I saw her, she was part of a riveting two piano performance with her husband Bill Charlap.
Joe Henderson called me up one afternoon and asked if I would like to join him. Of course, I was ecstatic.

Very early in her career, the word got out that this young woman could play and that news followed her to New York. She went there to study under Cedar Walton and she immersed herself in that city's vibrant jazz scene. Before long, the big names came calling—starting with Joe Henderson, Blue Note (the record label), James Moody and eventually the great bassist Ron Carter. She still performs with Carter to this day. Rosnes was trained classically as a child in Toronto and was part of a great music program at Handsworth High School in North Vancouver. She has previously acknowledged the great Bill Evans, Herbie Hancock, and Chick Corea as piano influences.
Eventually she developed her own style and it won't be long before pianists will be listing her as their influence (if they aren't already). Performance wise, on stage, she exudes confidence and can just fly across that keyboard. That woman can swing! She is also a very gifted composer and has released CDs such as Life on Earth that have had high critical acclaim and is now branching out beyond the jazz world. Her most recent CD Written in the Rocks is wholly composed by her and reveals a non-musical interest. I spoke to her just before she embarked on a tour to promote the new CD, which happily (for me) includes a return to British Columbia to play in some festivals this year.
JD: I was looking up bio information and I found that you were part of a band at Handsworth High School in North Vancouver and you guys won the best band prize at the New Westminster Jazz Festival. Did you have an inkling that jazz was going to be your career at that point?
RR: No I didn't, although I loved playing. I was just getting into jazz at that point and enjoying it. I had a feeling that music might be my future, but I didn't know at that point, that I would go into jazz.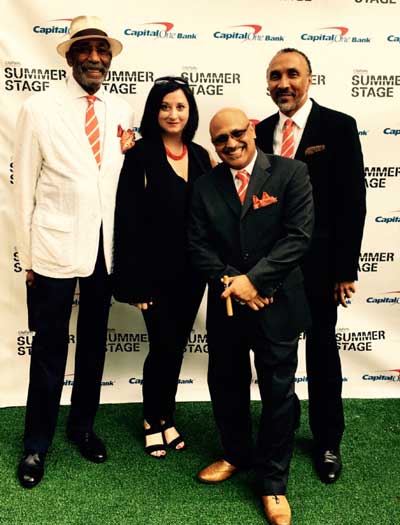 Ron Carter, Renee Rosnes, Rolando Morales, Payton Crossley
JD: Well you did, and you were brave. In your early twenties you were off to New York and before long you were playing and recording with the likes of Joe Henderson, James Moody, Shorter, Hancock, Ron Carter—it just kind of goes on and on. How did you keep it together at that young of an age?
RR: I don't know how to answer that really. I was just striving to be the best musician I could be. I was able to come to New York in the first place, because I was awarded a Canada Council Grant, and I came to take lessons and become immersed in the jazz scene. While I was doing that, I met a lot of other young people — who are still peers of mine — striving to do the same thing. They came from all parts of the States and from Europe too. It was a really important period for me, meeting so many people of like mind and having time to really work on my craft.
During those first couple of years, I rehearsed and jammed with a lot of musicians and word of mouth got around, I suppose. That seems to be a part of how the music business works. If others enjoy playing with you, you tend to get recommended, and I think that's what happened to me. My first major gig was with the great tenor saxophonist Joe Henderson. He had evidently heard about me and was in the process of putting a new quartet together to tour in Europe. He called me up one afternoon and asked if I would like to join him. Of course, I was ecstatic, and that's how my international career got started.
JD: That is quite amazing. As your career progressed you became an integral part of the SFJAZZ Collective. That band saw Joe Lovano, Eric Harland, Nicholas Payton and players like that. How did that come about?
RR: Well, I was a founding member of the Collective and played with them for six years. During that time, various musicians came through the band. It was the brainchild of the director of SFJAZZ, Randall Kline, as well as saxophonist Joshua Redman.
The first octet also included the great vibraphonist, Bobby Hutcherson, whom I had been playing with as a member of his quartet, and I believe he was the one who recommended me. I'd known Joshua on the scene, but never really played with him, outside of him guesting with the Carnegie Hall Jazz Band many years ago. What was really special about the Collective was that everybody brought in their own compositions to play and each year we focused on one major jazz composer, such as McCoy Tyner, Ornette Coleman or Wayne Shorter. So, there was kind of a two-fold theme to each year's residency and tour. Joshua left after a few years and that's when Joe Lovano came in. In another couple of years, Bobby left and vibraphonist Stefon Harris joined the band. Trumpeter Dave Douglas came in after Nicholas Payton left.
It was incredible to have the opportunity to play with everyone, perform their compositions and to experience the intense two-week rehearsal period in San Francisco, which was a luxury - to have that amount of preparation time, so we became a very cohesive unit. On the personal end, it felt very much like family because we spent so much time rehearsing, traveling and playing together. I don't think there is any other band quite like it in jazz, especially one where there isn't one leader and everyone in the band participates in the composing and arranging.
JD: That was an amazing collective. We enjoyed all the CDs. I think they were all sent to us. A few years ago I had the pleasure of attending a concert where you and your husband Bill Charlap performed together. What's it like being together and you are both jazz musicians and you both play the same instrument?
Composing comes naturally to me, but it's a process that requires quietude. Sometimes, inspiration comes quickly.

RR: Well, it's exactly like you might think it might be (laughs). We love playing together and we really respect and love each other's music. We have a great time playing two pianos together because it just feel so natural, and we often just sit down at home and run through tunes just for fun. It was natural for us to perform duet together, and put an album. We feel like we're pretty lucky people to have found love and to love making music with each other too. So it's great!
JD: I also enjoyed seeing you and Bill at the Oscar, With Love show (it was broadcast online). What was your take on that?
RR: Oh, it was so much fun—so many great players and with his wife Kelly (Peterson) and daughter Celine there, the spirit of Oscar was really present. It added a real personal feeling to the evening. Oscar was an influence on all of the pianists performing in different ways, and to be able to pay tribute to him in that way, was really special. All of us were sitting just offstage and really enjoying listening to everyone else's performance and what each one brought to the whole vibe of the concert.
JD: Sounds like fun. You got to be a fan and be on the other side for a change.

Renee Rosnes
RR: That's right. It's not too often that piano players get the opportunity to be in the same spot together. It's common for horn players to be on the same stage together, but for us pianists, it's quite a rare event. So it's always special when we get to hang out with each other, and play too.
JD: I'm going to get into composing and then we'll talk about your new CD. Your earliest recordings always included some of your compositions and your latest recording Written in the Rocks is composed entirely by you. How have you developed as a composer over the years? What is the process like? Do you just get up and start banging away on the piano (she laughs) or you have deadlines and work two hours today, two hours tomorrow? How does it work?
RR: Well, it doesn't quite work like that! Composing is a mindset, and it's a part of who I am. I never look at the clock. If anything, the hours are going by way too quickly, and if I have the time to work when no-one else is around, the time just flies by. I'm also a mom, and Bill and I have three kids that are on their way to be all grown-up now. My son Dylan will be eighteen in a week and a half, and graduating from high school. We have one more that still has a couple of years left in high school, so it's amazing when I have a little bit of solitude to write and practice.
Composing comes naturally to me, but it's a process that requires quietude. Sometimes, inspiration comes quickly and other times I just may compose a small phrase of a melody or a chord progression that intrigues me, or play with a rhythmic idea that will spark the flow. Sometimes the completion of a composition requires several night's sleep (laughs) to come to fruition in my subconscious mind. When I come back to the piano the next day, more of the riddle is solved, and I make progress with the piece.
I always loved the sound of the vibes and the piano together. The hammer strikes the string and the mallet strikes the bell. There are a lot of overtones that mesh well together.

The act of composing is a living, breathing thing, and aside from playing, it's probably the most personal thing I do in terms of my artistry. When I'm writing, I'm truly exploring who I am as a person, and expressing myself in a most personally. I should mention that I've also been exploring with writing more for strings, as well as songwriting with a wonderful lyricist named David Hajdu, who you may know better as the author of the Billy Strayhorn biography, Lush Life. We've been collaborating together for a couple of years now, and that's been a new way to explore my creativity - through song.
Commonly in jazz, lyricists will write to already composed material, but my collaboration with David has worked the other way around. I'm often writing music to his lyrics, and obviously, specifically for the vocalist. David put out a beautiful album last fall, Waiting for the Angel, and besides five of my songs, there are also pieces he wrote together with pianist Fred Hersch, and a singer-songwriter named Jill Sobule. It continues to be a pretty enjoyable and productive collaboration with David. I also recently composed a classical choral piece named "STILL," - with David - which the Boston Conservatory Choral Ensemble performed and recorded last March. That was very exciting. I feel fortunate to be able to have that aspect of my musicianship play such fulfilling role of my life.
JD: It's great that you are exploring your musicianship in that way. Here at The X, we have really enjoyed your new CD called Written in the Rocks. I found it interesting that your liner notes and song titles are all about geology and anthropology. Where did that come from (laughs)?
RR: Hah. I've always been an evolution buff and interested in the evolution of our planet. As the liner notes state, I have a scientist friend named Dino Rosati, from Toronto, who inspired me to write the "Galapagos Suite," really because we've had so many interesting conversations about Darwin, and evolutionary science. Our talks sparked a desire in me to transfer some of these large concepts into the musical language. So, that's where it all came from.
JD: Ok. I really like the combination of your piano and the vibraphone of Steve Nelson on Written in the Rocks. One great example is the track "From Here to a Star." Why does the piano and vibes fit so well?
RR: The two sonorities of the instruments go well together and I think especially because they are both percussion instruments. The hammer strikes the string and the mallet strikes the bell. There are a lot of overtones that mesh well together. I mentioned that Bobby Hutcherson and I have done quite a bit of playing together. When I was a member of his band, I always loved the sound of the vibes and the piano together. Steve Nelson is one of his proteges, and his playing totally inspires me. He always gives one hundred per cent and is a very generous musician as well as being a very genuinely kind and warm guy. I'm really happy to be making music with him and be able to present him on the new album.
JD: I'm pretty happy about that, too. You sure play well together.
RR: Thank you.
JD: I get a Monk feel out of the "Goodbye Mumbai" track. Was he one of your influences?
RR: (laughs) Definitely.
JD: How could a jazz piano player not have Monk as an influence (laughs)? I know. Maybe you could expand on it a bit.
RR: You are absolutely right about his influence. The chord progression of "Goodbye
Mumbai"was very much inspired by Monk, and in particular, a tune he wrote titled,
"Thelonious." I really love the way drummer Bill Stewart approaches the groove on that piece. He and bassist Peter Washington have such a great hook-up.
JD: Your new CD is called Written in the Rocks. How can we get it?
RR: You'll find it on Amazon, iTunes or on my website, at www.reneerosnes.com. There you will also see my other recordings as well. I'm really excited about this one and we are having a great time performing the repertoire. I will be in Vancouver on June 27th and June 28th appearing with my trio with the great Toronto bassist Neil Swainson, Lewis Nash on drums, and Vancouver tenor saxophonist Steve Kaldestad at the new Frankie's Jazz Club. It will be lovely to see all the Vancouver fans out to enjoy the band. I'll also be at Dizzy's Club at Jazz at Lincoln Center in New York City on June 30 through July 3. Lenny White will be playing drums with the quartet, and I'm really looking forward to that!
JD: Are you also playing at the Bamfield Music Festival on Vancouver Island in early July?
RR: Yes, I will be there from July 4th through July 10th, with PJ Perry on saxophone, Neil Swainson again, and Rudy Petschauer on drums. I've never been to the west coast of Vancouver Island. Of course, I grew up in North Vancouver and still have many relatives on the island but I've never been out to that particular coast and I can't wait to experience the sheer beauty of that area, and of course, also play for the audiences out there.
JD: I bet you will enjoy that. Wow, what a group. PJ Perry is one of my all-time favourites
and Neil Swainson has played with George Shearing and pretty much everybody else at one time or another. Awesome people in that group. You'll have a lot of fun out there.
RR: I know I will and I love PJ too. I've played with PJ a number of times over the years he definitely one of best in Canada and the world too!
JD: OK. Thanks for speaking with me tonight. Good luck with your tour and new CD. Hopefully I'll get to see you in Vancouver.
RR: Thanks so much for having me on and I look forward to meeting you. Goodbye.
comments powered by

Disqus