I don't want to be myself in my music, and never have. What's the fun in that?

Mu: Lost in the Mists of Myth
Vancouver duo will definitely cast a spell on you.
Vancouver's mysterious duo, Mu is the combined artistic energies of Francesca Belcourt and Brittney Rand. My favorite line from Mu's press bio says their "sound draws on the emotions and experiences of twenty-somethings in a jaded, yet still hopeful world." Mu recently released an excellent new EP, succinctly titled II, so it was the perfect time to talk to the band. Here is my chat with Mu.
Scott Wood: Hello Francesca and Brittney from Mu! Thanks for chatting with me. Let's start with a song.
Brittney: "Debauchery" is the first single from our latest EP II. Guerrilla-shot in industrial East Vancouver, the commercial food warehouses and dingy backroads are the unlikely stage for our ultra-glam performance-celebration of youth and depravity. We parked a mini-schoolbus on a side road, turned on the heat, got drunk and went and performed in the rain with our friends. How's that for an intro?
Scott Wood: That is a pretty good intro. Thanks!
Francesca: When I was pushing Brittney in the middle of the road in a shopping cart in high heels in the rain, a giant produce truck rolled up behind us and I thought we were gonna get smashed. There is a beautiful moment where we both look back in fear at it and laugh because everything seems to happen like that for us.
Scott Wood: The first time I saw you guys live, it was at your II EP release party and while you guys performed, the smoke machine created a fog so thick, that throughout the entire show, I had no idea what either of you looked like. Was this intentional? What was it like performing in that fog?
Brittney: That was intentional—I don't think anyone really needs to know what we look like. The fog is a big, ghostly blanket between us. I experience a lot of performance anxiety, so I like it better that way. It's great because the fog envelops you and all the people in the front get swept into it too. The fog catches the light and you can slip in and out of visibility. Sometimes I actually can't even see Francesca on the other side of the stage.
Francesca: There were moments during that set where I could not even see that neck of my own guitar, which was slightly stressful, but having low visibility makes it feel especially cathartic when you transform from your everyday self into your performer self. Like the sequence when Usagi turns into Sailor Moon.
Scott Wood: You guys have said that "A big part of stuff with us right now is developing the stage design for live performance," and "We're gonna be curating our environment." Could you talk about some aspects of other artists live shows that you'd like to incorporate into your own?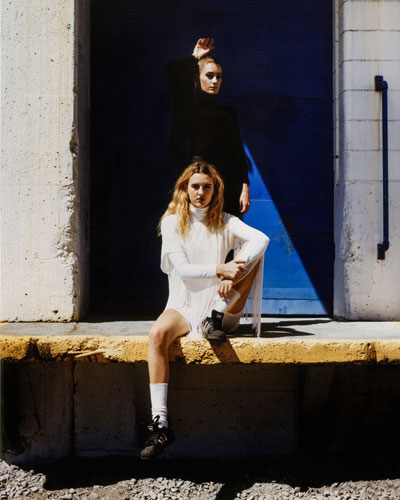 Brittney: Well, we'd hopefully like to make it more about what works for our dynamic up there, and the experience we want to build, rather than adopting someone else's concepts. Having said that, I built a whole series of stage design mood boards, referencing a lot of theatre and opera sets. Seems to be an aesthetic that keeps returning for me.
Francesca: We want to occupy that space of stage by making it look like it belongs in our world, make it feel like it's our own. So many shows don't allow you to forget exactly where you are when you are listening and seeing an artist live. Planning the set by giving the audience the opportunity to come into our space by way of the fog or having the dancers perform within that realm is another way we do that.
Scott Wood: Brittney has said "So much of what we do is mythology-building and character-building." She went on to talk about how becoming a character while making music makes it easier to be playful, write and be more vulnerable. Can you tell me about one of your characters (each)? And link or connect these character(s) to a song if you can?
Brittney: I think that when you are disconnected from the 'self,' or the 'me' in your art, you can have a lot of freedom. We can say a lot with imagery, and I feel a responsibility to utilize all of the tools I have, which is not limited to the completion of a track. When I write, I don't really need to have a character, but once people are listening/looking, then I like to pull back a bit and make it less about me. It gives the listener an opportunity to interpret what the message in the song is to them. It gives them an opportunity to go somewhere with us. I've invited them there in the first place. I don't want to be myself in my music, and never have. What's the fun in that?
Francesca: I feel comfortable writing from my own perspective and sharing and embracing the deeply personal and honest lyrics in my music. The character comes into play to embody the spirit of the song, to add a compelling narrative that was born out of a very ordinary experience. I grew up on Cortes Island and there was not a lot to do and not a lot of people. Pretend games, writing comics and little novels, making weapons and painting all for the sake of a character was how I entertained myself and it's like I get to re-live that experience now.
Scott Wood: You guys write your songs individually and then come together to work on them a bit before you record them. Can you tell me the best feedback the other has given you on a song?
Brittney: "It's finished."
Francesca: "Play it again."
Scott Wood: Brittney once told this awesome story about being suspended for being a witch. Can you tell this story again? It's awesome.
Brittney: I was really interested in the occult, Neo-Paganism and Wicca when I was a girl. I read oracles, studied spell books, created shrines in the woods. I was trying to understand my connection to the world and nature. It was a bit of a secret for several years with a handful of female friends of mine. Anyway, some boys at school started bothering us about something or other, and I suggested scaring them with witchcraft. I was really aware that despite my understanding of traditional Wicca, it made people (particularly boys) incredibly uncomfortable. Haha.
...Commercial food warehouses and dingy backroads are the unlikely stage for our ultra-glam performance-celebration of youth and depravity.

So, we put little relics and dolls in their lockers and stared them down across the soccer field. It wasn't much of anything really, just Halloween-type scares. We pretended to cast spells on them, until I got suspended from school. The poor things got really, really scared of us. So, I got suspended for using fake witchcraft at school. Says no one ever…
Scott Wood: You guys have done a cover of Angelo Badalamenti's "Mysteries of Love" from David Lynch's Blue Velvet film. You guys say that films are a big influence on Mu. Can you tell me a few films (that are special to you) and one more cover (from a film) you are itching to try?
Brittney: PURPLE RAIN. I'm gonna miss the Prince.
Francesca: I got really into Miyazaki films since I moved to Vancouver. Whenever I watch one all the energy to be imaginative surges back into my head and I feel like my life is a dream.
Scott Wood: I chatted with you guys backstage at the CJSF 2016 Spring Free Concert. (You guys were amazing by the way.) You guys had lost a $30 lipstick (that you two both freely shared with each other). Expensive lipstick! Did you ever find it? And what's the most unexpected thing that the two musicians in Mu have shared?
Brittney: I found it, yeah! That's funny you remembered that.
Francesca: Brittney kindly always lends and gives me her nice makeup stuff because I am kinda terrible at doing girl things.
Scott Wood: You guys are one of the most promising electronic acts in Vancouver and I'm a big fan. I read a review of the new EP that said, "Mu aren't breaking any boundaries here, and it remains to be seen whether they can offer anything not currently offered by many of their peers, but it's certainly not going to hurt their reputation any..." A lot of music reviewers want Vancouver acts to bring something "new" to what they are doing. How important is it to add something new to your genre or chosen field?
We parked a mini-schoolbus on a side road, turned on the heat, got drunk and went and performed in the rain with our friends.

Brittney: You know, I don't even care about that. When you're thinking of trying to do something new, you're not going to achieve anything new or boundary-pushing. It just doesn't work like that. It happens because the time is right. Creative difference is born when people understand, want, and support an alternative to what they are fed on the daily. That type of magic happens by refusing to impose limitations on yourself as an artist, and certainly isn't born out of being told to be one thing or another.
Like, what shall I do—become an acrobat on stage? Invent an instrument and play it via hologram? How many genres do I have to blend to make my music swell outside the boundary? And who's determining the boundary? No offence, but I just don't give a shit. There is very little that has not been done before. If people decide the music suits them or not, it isn't going to influence the way I make music going forward.
Francesca: I had not read that review! It's funny to me that other people feel like we are being pushed by outside forces to break boundaries. What we do together comes very naturally to us. When we started making songs together we never talked about our influences, what we wanted to sound like or be like. What is more "boundary pushing" to me is that everything we create (from the songs to the stage) we created on our own and worked our asses off, and really gave away a piece of our spirits in each track. That's enough for me.
Scott Wood: Thanks for answering these questions, Francesca and Brittney from Mu. I appreciate it! Please choose another Mu track for us to hear. I hope it's "Vampire!" But pick whatever YOU want.
Brittney and Francesca: "16 Years"
Find more about Mu online.
WEBSITE: http://www.soundsofmu.com/
FACEBOOK: https://www.facebook.com/soundsofmu/
TWITTER: https://twitter.com/soundsofmu
INSTAGRAM: https://www.instagram.com/soundsofmu/
The Interview Show is everywhere.
Follow me on twitter @interview_show
Listen to The Interview Show on SoundCloud soundcloud.com/interviewshow
SoundCloud RSS Feed
www.cjsf.ca (Vancouver, BC, Mondays 4:30-5pm PST and Wednesdays 12:30am PST)
www.ckdu.ca (Halifax, NS, Saturdays 1:30-2:00am AST)
www.radiocfxu.ca (Campus Community Radio, Antigonish, NS, Fridays 11pm-12am AST)
www.cfru.ca (University of Guelph Radio, ON, Tuesdays 3pm EST)
www.umfm.com (Winnipeg's Hit Free Radio, Fridays 6-6:30pm CST)
www.caperradio.com (Cape Breton University Radio, NS, Wednesdays 3-3:30pm AST)
www.localfm.ca (Campus Radio Saint John Inc., NB, Tuesdays 11:30am and Fridays 3:30pm AST)
comments powered by

Disqus