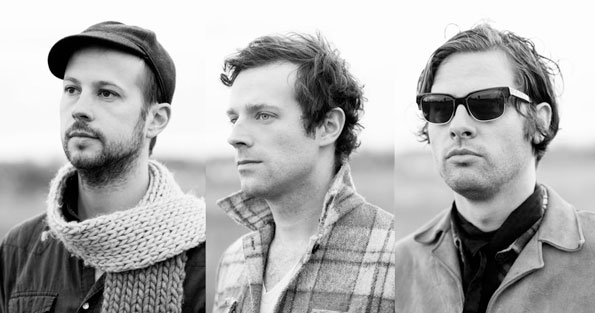 Catching up with Plants & Animals
After four years away, Plant & Animals return with different lives and different perspectives.
It has been four years since Plants & Animals released The End of That. Things have changed and the Montreal based band is set to release their fourth full length album – Waltzed in from the Rumbling. Plants & Animals are three good friends who started making music together as kids and now they have their own little ones. I caught up with Matthew Woodsley, aka Woody, by telephone from his home in Montreal.
Following the release of 2012's The End of That, Plants and Animals filled their time with music, of course, family and you know... living life. "Up to this album we had been putting out an album every two years – almost to the day, then we stepped off the usual release treadmill." Armed with ideas, lessons learned and years of camaraderie they headed in to MIXART studio in Montreal to create. "We worked things out from scratch. We didn't even have an engineer – Warren did the engineering – so there was no outside distraction." Waltzed in from the Rumbling was three years in the making. "We didn't even have the songs. We'd work out some kind of an arrangement and roll the tape. Sometimes we'd cut the songs up and put them together in different ways. Even some of the lyrics would come up and then get changed a year in to the process. It was really that organic – things really grew naturally"
For me, the album's title, Waltzed in from the Rumbling, evokes a picture of emerging carefree from a dark and unknown place. "It came from some lyrics that Warren improvised. It fit all these themes that had been going on. We felt it was a really nice image. It stood out to us and made a lot of sense." Based on the lyrical balladry and textured song, I couldn't agree more!
Plants and Animals' new video for their first single "Stay" is captivating. "The song called for something with movement – the elasticity and intensity of "Stay"made it such a good fit. So Hanako Hoshimi-Caines reached out to three dancers in three locations but it ended up being just two locations Tel Aviv and Montreal. We sent the song and asked them to improvise to it. Hanako worked with Yves Bourgeouis who co-directed it. They cut it up and put it together and voila – a fly by the seat of our pants sort of masterpiece." Woody Laughs.
Plants and Animals are ingrained in the arts community in Montreal and have collaborated with many artists for this album. "It has been a generation change and we are still here so we are connected to a big group of amazing players. So many people joined us... Mishka Stein, Adele Trottier Rivard, Jessica Moss, Brad Barr... Much of the country outside of Quebec may not be exposed to some of the amazing Francophone talent that are household names here. Keyboard player Francois Lafontaine for example- he's an absolute wizard."
Touring extensively, the trio has expanded to a five piece. "We added a bass player and Adele will be singing and doing some percussion on tour. I think that will breathe a lot of life in to the show and bring it closer to the album than we usually get. It is nice to have some of those extra layers happening on stage – we are not aiming to recreate it – but I think it gives the audience more to hold on to. It takes a while to get the chemistry down and I am excited about that. It is usually a nice journey." And to keep them going on the road? "I like apples, I like a little bit of beer. It may sound boring but it is so easy when you are living that lifestyle, burning the candle at both ends, your body tells you to F*** off. You ultimately have more fun because you play better."
True to the bands love for their hometown, Woody explains why the Montreal dates are not yet posted. "We didn't want to finish recording, release the album and play a Montreal show right away.We want to get good at playing the songs live, instead of using the hometown as guinea pigs. When you record something you have to learn how to play it live, find the pocket and get used to playing live again. We're excited to wow MTL."
Check out their website for all the dates plantsandanimals.ca
comments powered by

Disqus