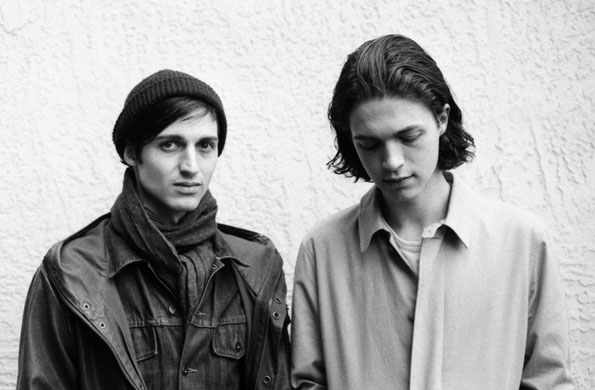 Zane and Ulysses Coppard are brothers, AKA dynamic duo Smash Boom Pow
Smash Boom Pow Get SUPER Real
I fucking love being in a duo with Zane.

On Everything from Bowie on the beach to Bitch Resting Face
I met Ulysses Coppard from Smash Boom Pow one chill summer day at Vancouver's Wreck beach. Ulysses had just moved to town to start this band thing. Wreck Beach is this magical place in the sometimes cold and aloof city of Vancouver where random meets can become new friends. Since then, we've messaged back and forth, waiting for the right time to do an interview. That time is now. Smash Boom Pow is releasing a new EP this month, Higher Power of Desire. Here's my chat with Smash Boom Pow.
Scott Wood: Hello Ulysses from Smash Boom Pow! Thanks for chatting with me. Let's start with a song. Please introduce your favorite SBP track.
Ulysses from Smash Boom Pow: HEY! Glad to chat. I'd like to introduce our song "FRIENDS." We really love it because it's a compact pop tune with a lot of fun energy. It's a bit of a breath of fresh air compared to some of our other darker more aggressive material (which is really where most of our energy lies, but it's nice to have some variety). "FRIENDS" is all about those juicy feelings you get when you open up to a special someone with whom you have a tight bond of, well, friendship! The song itself is mad tasty, but we really love the music video as well. It's all centred on a game of competitive bocce ball with a group of our friends, and the rigorous training regimen we undergo to prepare for it. See for yourself, it's a riot!
Scott Wood: We met years ago one amazing summer day at Wreck Beach. (All summer days at Wreck are amazing.) For people who don't know, what is Wreck Beach and why are the people of Vancouver lucky to have it? I've met so many musicians at Wreck completely at random. Can you talk about another awesome person you've met randomly at Wreck?
Ulysses from Smash Boom Pow: I remember the day, and it WAS amazing. I was playing some Bowie on my acoustic guitar. Wreck Beach is a truly wondrous place. Picture this: a massive flight of stairs leading down to a secluded cove where hundreds of fun loving people in various states of undress make music, play games, fall in love, and consume chocolate covered mushrooms sold by a bearded old man wearing only a fanny pack. It really is beautiful. Once I met someone who became a good friend of mine there. That only happened because she was so generous with her big umbrella and beers. There's a spirit of sharing at Wreck which makes the whole thing so awesome.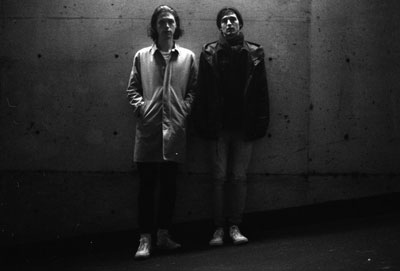 Scott Wood: Ulysses, you're the singer in the band. You once said "Some people have a lot of talent as singers immediately, and I really had to work on it. And I still do. I have to sing every day. I like to think of Bruce Lee, that I can work a little harder each day." Can you tell me a funny story about when someone has busted you while you practice singing?
Ulysses from Smash Boom Pow: I am the vocalist, although Zane will likely be joining in quite soon. He's got a good set of pipes! Yeah, I do work at it, but I'll never be as intense as Bruce Lee. I've come to terms with this. Actually nobody has "busted" me... I can't imagine why not, as I make all kinds of mistakes. It must be my cold and unapproachable exterior (see resting bitch face).
Scott Wood: Heh. By "busted you," I meant has anyone caught you practicing singing—like in an alley during a break at work or in the shower. Anyhow Smash Boom Pow is a duo. Although duos are a bit unusual as bands go, I can think of a few popular duos, DFA 1979 and DZ Deathrays to name two more. Another Vancouver punk duo Nu Sensae eventually added a third person (a bassist to accompany the drums and guitar vocals). When asked about it, they said they reached the limit of what they could do as two. I'd love to get your take on the challenges and successes that have come from being a duo.
Ulysses from Smash Boom Pow: Yeah, we actually took the opposite route of Nu Sensae. We did have a bassist, and it was awesome. He had another project that needed his attention so he peaced out! We had to make do, and that was the catalyst what we have now, which is an electronic synth bass component. I fucking love being in a duo with Zane. Logistically it's sooo easy. As long as our sound is big enough, as long as being a two piece is not holding back our creative potential, then we're going to keep it that way. I mean just IMAGINE the SAVINGS on commercial airline flights. Unfathomably cool. It's challenging in the sense that there are only two sources of new creative ideas, so we have to stay sharp, which is really another bonus in disguise.
Scott Wood: Being brothers in a band must make it easier to weather the hard times that come in the musicians' life. What's one song or artist that each brother loves that the other brother could do without ever hearing again.
Ulysses from Smash Boom Pow: I don't really need to hear any more Barry White to be super real. I'm a good ways off from losing my mind completely but it's like... a bit much. Zane is probably sick of me harping on about the Weeknd.
Scott Wood: The Vancouver music scene can be small sometimes. I interviewed another Vancouver band the Gay Nineties for my radio show andListen to the
Interview Show interview with the Gay Nineties they told me a story about how your girlfriend, Ulysses, was instrumental in the Gay Nineties becoming drunk blood brothers late one night in Victoria.
Scott Wood: Can you tell me about how Smash Boom Pow has played a pivotal role in the life of another local band?
Ulysses from Smash Boom Pow: Oh, the Gays! <3 They're great, they're going places! Hmm. We shared a rehearsal space with The Oceanographers and through that (as well as Zane filling in on the drums when their guy was away) we've had numerous chill/ funny times with those dudes. I took a ride with their buddy up to Squamish for their set and watched with amusement as he conned us backstage by claiming to be the guitar tech. He wasn't the guitar tech. It got waaaaay more amusing/uncomfortable when the sound man began interrogating him and it because super clear he was fibbing hardcore. I didn't say a word. The show was great, though!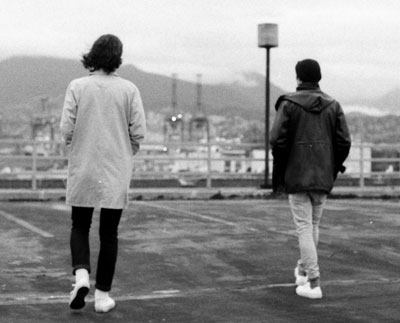 Scott Wood: Ulysses, you said once "I'm into painters. Expressionists, mostly, like Picasso, Basquiat, Van Gogh. They have such interesting stories, and were living on the edge in a lot of ways." Most of the artists we remember have lived through such big tragedies. I would love you to talk about an artist that you admire and a strange or interesting turn his or her life took—that of course bled into his or her art.
Ulysses from Smash Boom Pow: It's true, I'm into painters! To be super real I'm not up to date on the life stories of many artists that I'm inspired by. What I find interesting is the progression that takes place when artists are open to any new person they meet taking on the role of a muse and influencing their art. It's like a very organic and reactive way of working. Picasso had many lovers and if you look through his catalogue it's clearly shown how much he allowed that to influence his work. A lot of my lyrics are either my internal monologue or directed at an un-named "you." I like to do this because you can place yourself inside my perspective and hopefully relate to what I'm singing. Ta Da!
Scott Wood: You guys have been around since at least 2012, but recently you did an internet purge of your older material so new fans won't be able to hear anything from before 2014. (You've said you loved Smash Boom Pow's new direction so much that you wiped every trace of their previous material from the internet.) In the age of the internet, I think the idea of an internet purge is funny. Are those purged songs now like unwanted step-children? Do you only talk to them at Christmas now?
Ulysses from Smash Boom Pow: They are pretty much out of the picture. Some people will remember them, but they're not going to see the light of day any time soon. We're all about what's next.
Scott Wood: You guys are from Victoria on Vancouver Island. Travelling from the city of Vancouver to Victoria involves one long and beautiful ferry ride. Every band (not from here) I interview marvel at how incredibly scenic that ferry ride is. As people who take that ferry ride a lot know, you can meet some interesting characters on that boat. You must have taken that ferry ride a lot.
Ulysses from Smash Boom Pow: I have taken the ferry at least two bakers dozens times, and it is very beautiful. I don't talk to strangers though (see resting bitch face). Listening to music while checking out the view is the way to go (just don't try to get any mileage out of the horrendous wifi).
Scott Wood: Thanks for answering these questions, Ulysses from Smash Boom Pow! Please introduce another Smash Boom Pow song.
Ulysses from Smash Boom Pow: Thanks for asking them, Scott! I'll introduce you to "A Girl." Track #1 off our 2014 LP Do You Feel? It's a sultry R&B-Rock blend that'll hit you right in the sweet spot.
Smash Boom Pow is releasing a 4 track EP named Higher Power Of Desire on May 13th. They are celebrating this release with a concert party at Fortune Sound Club with fellow local buddies The Oceanographers and Youngblood. Come join the fun!
Find more about Smash Boom Pow online.
WEBSITE: http://www.smashboompow.ca/
FACEBOOK: https://www.facebook.com/smashboompowband/
TWITTER: @alldayboompow
INSTAGRAM: https://www.instagram.com/alldayboompow/
SOUNDCLOUD: https://soundcloud.com/alldayboompow
The Interview Show is everywhere.
Follow me on twitter @interview_show
Listen to The Interview Show on SoundCloud soundcloud.com/interviewshow
SoundCloud RSS Feed
www.cjsf.ca (Vancouver, BC, Mondays 4:30-5pm PST and Wednesdays 12:30am PST)
www.ckdu.ca (Halifax, NS, Saturdays 1:30-2:00am AST)
www.radiocfxu.ca (Campus Community Radio, Antigonish, NS, Fridays 11pm-12am AST)
www.cfru.ca (University of Guelph Radio, ON, Tuesdays 3pm EST)
www.umfm.com (Winnipeg's Hit Free Radio, Fridays 6-6:30pm CST)
www.caperradio.com (Cape Breton University Radio, NS, Wednesdays 3-3:30pm AST)
www.localfm.ca (Campus Radio Saint John Inc., NB, Tuesdays 11:30am and Fridays 3:30pm AST)
comments powered by

Disqus