Around the world and back with Terence Jack
Well-travelled singer-songwriter talks about teenage ska bands and cheesy dental office music
I met indie rocker Terence Jack on the beautiful beach of his hometown White Rock, which is a suburb of Vancouver. We got to talking and he asked me for some advice on how to get his music on the radio. I said that I doubt I could offer any useful advice on the music industry, but I could ask him some questions. Here's my chat with Terence Jack.
Vancouver is a place as a musician you can't afford not to hustle...
Scott Wood: Hello Terence Jack! Thanks for chatting with me. Let's start with one of your songs.
Terence Jack: My favourite tune at the moment is "Eastern Rise" from the new EP Never Get Back. The creation process for this one was a little different. What happened was grittiness. We wanted to make our faces squish like smelling something awful. The guitar line after the choruses is partially based on Bhangra music, which I love, and I originally was thinking maybe sitar for that line, but the electric guitar worked just fine.
Scott Wood: When you emailed me, you told me you've been playing in bands since you were a kid. When you're young, you can make some embarrassing choices. Who doesn't have a story about being in an awful ska band? Tell me about a band teenager Terence was in that teenager Terence thought was the COOLEST, but adult Terence might think differently.
Terence Jack: I was interviewed by a university newspaper when I was around 15 or 16, and the contents of that interview to read now, borders on disgust and hilarity. I was just caught up in thinking that riots were cool, and that talking like an asshole would give me some edge. The girl who wrote it, now that I read it now, I think she was taking the piss. At the time I thought it was the coolest thing ever that all these university students would read it and think we were some cool upcoming ska band. I think it's satirical now.
Scott Wood: You started out your solo career as more of an alt-country folk-y guy with your record Reckless Abandon. You said you wrote a ton of country-esque songs and that you're considering giving them to other bands. If you could write for any country singer, who would you want to work for and why?
Cheesy dental office music? Yes. ...I can't blame John Mayer for writing "Body is a Wonderland"...
Terence Jack: I have written a lot of songs that I think, "Hey, this band would sing this well" and whatnot. Sometimes songs come out in my head in other people's voices. I've written a few that I think that the Avett Brothers would do really well, but I feel like they're not my songs for that reason. When I hear it in someone else's voice, it doesn't feel like my creation.
Scott Wood: This latest EP Never Get Back sounds very radio-ready. (Nothing wrong with that). I'd love you to tell me about a quirky campus radio indie band (any genre) that you admire and why.
Terence Jack: I think it's interesting that people find it "cool" the lesser known a band is. There's like a pocket of popularity that people just love and once you're over that mountain, then everyone feels people sell out. I think it's just the nature of people's lives. Priorities change, especially when it comes to family, and sometimes people write to further their career and aren't just purging creative inspiration. I can't blame John Mayer for writing "Body is a Wonderland" because it's just smart and it's good songwriting. Cheesy dental office music? Yes. But he wouldn't have likely become what he is without the road that he walked to get here. Look at his playing, and all the stuff he's put out that diehard fans know at too well. Really great stuff. As far as a lesser known artist that I really like I think Chad Vangaalen continues to create beautiful art for no reason, to my understanding, than just making art. He's definitely got a name for himself, but I don't think mainstream radio plays him, unfortunately.
Scott Wood: You're making mainstream-ish radio rock music at an interesting time. Mainstream radio can occasionally create a big star like Imagine Dragons or Vance Joy, but these days radio rock seems like a beautiful but endangered bird that needs to be protected as hip hop and dance music take over the environment. What do you think?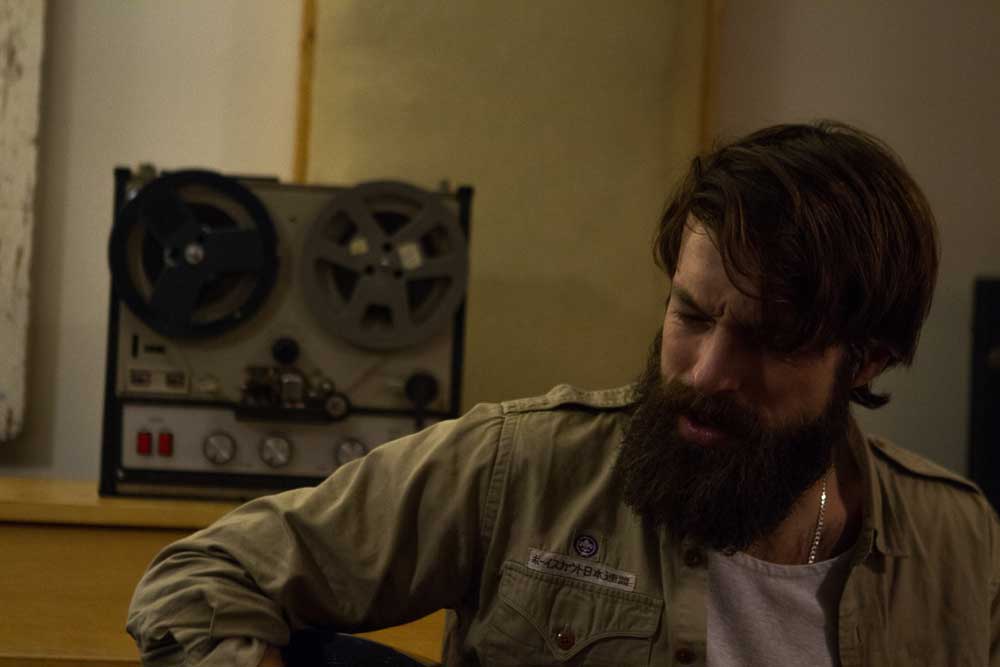 Terence Jack: I didn't really realize I was making mainstream-ish radio rock because we haven't had any mainstream radio stations play us yet. I think that there's just so much art out there, that there are hopefully enough avenues that all genres can be found and have a place to shine. As long as something is thoughtful, then I'll pay attention. When I do listen to dance music or stuff that seems to be taking over radio stations, then I'll try to wrap my head around the music behind it and why it's so hooky. Usually there's a ton of talent in there working on the biggest hits. Sometimes the message can be shitty, but I'm not living in that world, then maybe I can't criticize because I don't understand.
Scott Wood: You've said that you chose to go solo because in Vancouver everyone is in a million bands, so you felt like members would come and go and it wouldn't have to feel like a divorce (if someone left). I watch so many local bands go thru this scenario—trying to get and/or keep a band together. What's one real tip for other bands to make it thru a divorce situation? (Because it can be so discouraging.)
Terence Jack: I think bands breaking up often is enough for people to put the dream to bed. I think the nature of most partnerships is to agree on things, on paper, long before you reach the fork in the road. What happens when this goes well, or if shit hits the fan. Sounds like some simple business tip, but doing so can deal with a world of worries down the road. I simply chose to build "Terence Jack" which is just my first and middle name, to stray away from having to have it happen to me again and take the wind out of my sails. The guys I play and tour with are fantastic humans, and it's been a joy having them around, but they have priorities and I know that the project may not be their first priority. Understanding that for many is hard. Vancouver is a place as a musician you can't afford not to hustle, so most players play in a bunch of different bands, and where the opportunities grow, they go with them.
I think Chad Vangaalen continues to create beautiful art for no reason... than just making art...
Scott Wood: I read that you spent 11 years running your own adventure travel company through Southeast Asia and Central America. Tell me a bit about this career! Does this mean you have a mountain of "missing you" or "missing home" songs in the vault?
Terence Jack: I lived a back and forth lifestyle with each hotel room being my office and home and travelling all over the world doing so. I feel fortunate to have lived the life I have so far and I wouldn't change it really if I had to do it over. I think the lessons I have learned through travel and running a business can only help whatever I do to flourish. The thing I'm most eternally grateful for is the friends around the world that have become family to me. To answer your question, I would say, yes. I was always coming and going, and with that caused things to speed up as far as how fast things happen with something as simple as conversation. I was never interested in small talk.
Scott Wood: When I was doing research for this interview, I couldn't find a single picture of you without facial hair. In the craft brewery era, the beard (from "regular" to a bit of scruff to something more elaborate and waxy) has become like makeup for men. Are you a "beard hair care products" guy or a "oh wow, here's a piece of yesterday's sandwich in my beard" guy?
Terence Jack: I don't particularly think about it too much. I did have a company that makes beard oil message me on Instagram though asking me for my address. They sent me some oil, etc. and I have to say once I tried it, I haven't really turned back.
I lived a back and forth lifestyle with each hotel room being my office and home and travelling all over the world
Scott Wood: Thanks for answering these questions, Terence Jack. Let's end with another song.
Terence Jack: This song is the next single that we are releasing. It's called "Errors" and is a song that I wrote with producer Daniel Klenner. We just forfeited ourselves to the song; let it take us where it needed to be. The bridge of this song ended up being my personal favourite moment of the record and I feel like expanding on that for the next record.
Find more about Terence Jack online.
WEBSITE: http://terencejack.com/
FACEBOOK: https://www.facebook.com/terencejackmusic
TWITTER: http://twitter.com/terencejackband
INSTAGRAM: https://www.instagram.com/terencejack
BANDCAMP: https://terencejack.bandcamp.com/
SOUNDCLOUD: https://soundcloud.com/terencejack
The Interview Show is everywhere.
Follow me on twitter @interview_show
Listen to The Interview Show on SoundCloud soundcloud.com/interviewshow
SoundCloud RSS Feed
www.cjsf.ca (Vancouver, BC, Mondays 4:30-5pm PST and Wednesdays 12:30am PST)
www.ckdu.ca (Halifax, NS, Saturdays 1:30-2:00am AST)
www.radiocfxu.ca (Campus Community Radio, Antigonish, NS, Fridays 11pm-12am AST)
www.cfru.ca (University of Guelph Radio, ON, Tuesdays 3pm EST)
www.umfm.com (Winnipeg's Hit Free Radio, Fridays 6-6:30pm CST)
www.caperradio.com (Cape Breton University Radio, NS, Wednesdays 3-3:30pm AST)
www.localfm.ca (Campus Radio Saint John Inc., NB, Tuesdays 11:30am and Fridays 3:30pm AST)
comments powered by

Disqus