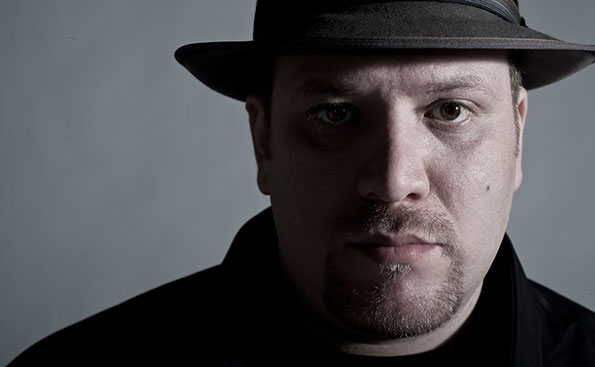 The Many Passions of Robi Botos
Robi Botos pours his passions and interests into his music: from film to Jazz to his Hungarian Roma backgound.
Keyboard player Robi Botos takes us on a passionate journey through many genres of music that encompasses a huge time frame. His appreciation and understanding of past music and performers shows that he comes by the title of 'old soul,' honestly.
Robi Botos is a Hungarian born Canadian musician who has many passions. He is passionate about his Hungarian Roma background. He is passionate about acquiring more musical knowledge. He is passionate about writing music for film and he is passionate in showing his respect for many of the greats in jazz and popular music that have come before him. All these passions come through and combine to distill his latest musical project that he calls Old Soul. This album includes some of the best jazz musicians from the Toronto scene, the Drew Jurecka String Quartet and a few surprises from guest artists he snagged at the Montreal International Jazz Festival, like Ingrid Jensen, Cory Henry and Lionel Lueke. At different times you will hear funk, soul, gospel, eastern European strings, and film score sounds on Old Soul. Yet this is still essentially a jazz album, that was passionately crafted by everyone that was involved.
Jim Dupuis: You have a very interesting background. Born to a Roma family in Hungary, you started out in drums as a child. You got to be a professional musician working in Budapest. Were there any other musicians in the family?
Robi Bobos: Basically, as far as we can go back in the family tree there were lots of musicians, including my dad and my two brothers and my mom's family had a lot of musicians for sure.

Robi Botos - Old Soul
JD: What instruments did they play?
RB: Everything, actually. Drums was a big instrument; bass, a lot of guitars and all kinds of instruments. My grandparents played more traditional instruments like cimbalom and violin, so more traditional Hungarian stuff.
JD: Oh, wow! The eastern European influence comes through with the string section on a couple of tracks on your new album Old Soul. I noticed it on the tracks "Budapest" and "Old Soul." In 2013 you composed a score for a film that was deeply personal to you. It is called A People Uncounted by Aaron Yeger. Maybe you could tell us about that?
RB: Well, I don't know if I will ever get to do a more important or personal project, because it is about my people and the holocaust and the current racism around the world. It is an unbelievably, well done documentary and is an eye-opener, I think. I was very happy to write and produce the music for it and I was part of planning and production as well. I am very happy that I got to do that, as it is a very important message for people to know.
JD: Yes, this moving project was nominated for a Producer's Guild Award in 2014, so congratulation on all that.
RB: Thank you.
JD: Robi, you had a nice connection with the great Oscar Peterson. Please tell us how this came about and how your relationship with Oscar and his family evolved?
RB: I entered the Montreux Jazz Festival's solo piano competition and I ended up winning it. The first prize was that I could open for a major artist, the year after. I went back and they asked me to open for Oscar (Peterson), which was a crazy experience. So, I got to play nearly an hour opening set for him and his quartet. And that's where I met Oscar and Dave Young, the great Canadian bass player, who had been playing with Oscar for over thirty years. A bit later I was asked to come over to the house (Peterson's). His daughter played piano. Oh, woh, that was another mission impossible. So, I got to go to the house many times and I became friends with the family. So, this was an incredible experience.
JD: Certainly. I saw you in the tribute to Oscar Peterson on television. I liked your performance. It was very good.
RB: Thank you.
JD: Over time you have had many nominations and have won Canadian, American and European jazz awards, including the Montreux Jazz Festival's solo piano competition, which you just mentioned. You have played with Al Jarreau, Wynton Marsalis, Christian McBride, Chaka Khan, Molly Johnson and so many others. Does any particular performance stand out for you?
RB: Well, it is really hard to say because all the artists you just mentioned mean so much to me. I grew up in an ex-Communist country, far away from any of those artists, you know and to come to North America and perform with them … it is very hard to say. I probably would have to say that since I was so little when I heard Al Jarreau. I used to listen to his tapes and records to pieces, so it was very special to play with him. He was such a beautiful person and he was so nice to me. We had such a great time, so if I had to chose any of those, it would be working with Al Jarreau.
JD: It was sad that we lost him last year. What a wonderful artist.
RB: Ya. Actually, when I got to play with him, it was one of his last tours. It might have been his last tour. Then he did that performance in the White House, with all the other jazz stars. I think it was International Jazz Day as well. I was very glad to be able to work with him because it was near the end for sure.
JD: Let's talk about your new album. It's called Old Soul. It's certainly a jazz album, but there is a wonderful mix of funk, soul, gospel, eastern European strings, and songs from movies. How do you keep that all together?

Robi's new album is called Old Soul
RB: (Laughs) That's a good question. You know, it's just another album to demonstrate where I come from and all kinds of influences I grew up with and I learned. I love music too much to stick to one decade of music. I'm just trying to open my heart and it's a beautiful thing. I keep trying to learn about music and that way you have many different influences. If I was only listening to one type of music all the time, then I wouldn't find out where that type of music came from. So, I am searching and investigating the roots of musical styles.
JD: You seem to be doing a good job of that. I'm guessing you like funk, because I noticed some fine funk in "Calhoun Square" and "Diamond," those two tracks off your new album Old Soul. Where did that influence come from? Just being around the music or from anybody in particular?
RB: I guess it comes from growing up and listening to artists like Stevie Wonder, the Jackson Five, and Al Jarreau's stuff. Also, George Duke, James Brown and a lot of soulful, funky entertainers. There's something about funk. It's very infective (laughs), you know. I just love the groove and I also think the best jazz music is when it is funky and swinging and has the walking bass. When I listen to Oscar Peterson, I always feel that it is funky. One of my all-time favourites, Hampton Hawes, plays straight ahead swing. I don't think that funky is necessarily just a beat. It is a way of playing. The pioneers of funk music, like James Brown and The Meters were influences on me. And people like Erroll Garner, who in my opinion started funk.
JD: I will have to check out more Erroll Garner. I have some, but obviously haven't listened that closely.
RB: Ya, he was. With his bugaloo side you could clearly hear the next twenty years music. It is just amazing.
JD: You have included Henry Mancini's "The Days of Wine and Roses" on Old Soul. It, of course, comes from the movie. I kind of got a movie feel from the arrangements of Stevie Wonder's "A Time to Love" and another song "End of an Era." You previously mentioned that you provided music for a film. Do you plan on doing more of this?
RB: Oh ya, I keep working on film scores and I really enjoy it. I recently did one called On My Way Out, which is a documentary. I did a few documentaries and a couple of feature films. It's so much joy to put music to the picture. It's not easy work. It's really hard work, but I'm definitely looking into doing more of it. It's very satisfying when you are the one who is enhancing the picture with music. It's amazing.
JD: I can't imagine how difficult that would be.
RB: Ya, and you are not really doing your own score. You are basically serving the director and sometimes the producer. You have to make sure that you still be you, but you have to make sure that everything fits together. It's very interesting and not easy, like I said, but it is very satisfying when it's done. You know?
JD: Yes. You have some amazing musicians on your new album Old Soul: Larnell Lewis on drums, Seamus Blake on saxes, Mike Downes on bass, even Ingrid Jensen and Lionel Loueke on one track. Maybe you could mention a couple of them and tell us what they brought to the table on this album?
RB: They are all amazing and the recording session was pretty last-minute. We recorded in Montreal and these artists were in Montreal for the Jazz Fest and they happen to be some of my favourite artists. With all these instruments we just put them on "Calhoun Square" to kind of demonstrate what Prince was all about and bringing so many different influences together and have fun with it. Ya, combining Cory Henry, Lionel Loueke and Ingrid Jensen, with the core quartet of Seamus, Larnell and Mike was very special.
JD: Ya, I really appreciate you and the other musicians on this album. How is the spring and summer looking for you gig-wise?
RB: Summer is really shaping up. I'd recommend you stay in touch with the website and I'm all over Instagram, so you will be able to find that information when it becomes available.
JD: Any chance you will be coming to the west coast?
RB: There are plans and I hope they come through. I'm hoping I can come and share my music with everybody.
JD: That would be nice. I got a chance to see you playing at the Vancouver International Jazz Festival. I think you were playing with Mike Murley. Maybe it was half-a-dozen years ago. Does that ring a bell?
RB: Probably (laughs).
JD: Anyway, it was a good show and I just couldn't take my eyes off you. I thought, "Wow, this guy is really good" and I sure would like to see you again.
RB: Thank you.
The album Old Soul is available in iTunes and Amazon
http://www.robibotos.com/
Instagram: @robibotos
comments powered by

Disqus