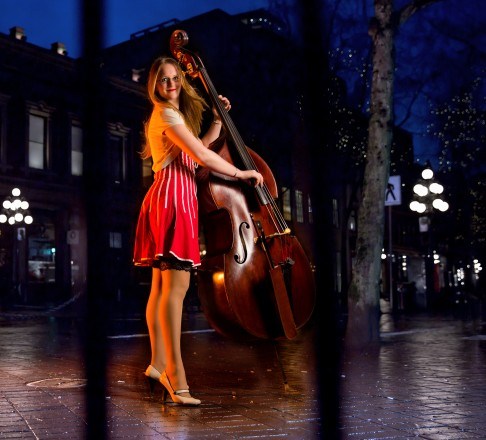 Keeping the Rhythm Happening: The Jen Hodge Interviews
Jen Hodge keeps the rhythm and the spirit of Swing alive with both the Jen Hodge All Stars and the Company B Jazz Band
Bassist Jen Hodge is one of the busiest musicians in B.C. As a bassist, composer, and arranger she has proven to be an important commodity to both the traditional and swing jazz communities in Vancouver. She plies her trade in the dance friendly genres that were slowly disappearing with the demise of the war era generation. But younger people have discovered this music and dance clubs and societies have sprung up across the world wanting to hear the rhythms associated with dances like the Lindy Hop, the Jitterbug and the East Coast Swing. The clubs generally have a no pressure atmosphere, provide lessons and members arbitrarily dance with each other.
While old recordings can be fun, there is nothing like a live band to get the juices flowing. Jen Hodge is part of two of the most popular and young bands that play the Lindy Hop and traditional jazz circuits. On top of that she has had a seven-year residency at Guilt and Co. in Gastown in Vancouver. Every Wednesday night the Jen Hodge All Stars fill the dance floor with their wacky antics and great musicianship. I managed to pull her away from her busy life a couple of times this winter to tell me about her life and her two main projects: the Jen Hodge All Stars and the Company B Jazz Band.
JD: Today I am speaking with Jen Hodge. We are going to find out a bit about you. Where did you grow up?
JH: I grew up in Courtenay on Vancouver Island in the Comox Valley area.
JD: When you were a child was there music happening in the home?
JH: There was. There was no jazz while I was growing up, but both of my parents loved music. There was always music playing on the stereo, or being that my mom plays flute, she was always practicing at home. She also plays English concertina, so classical music or English folk music. My dad always listened to a variety of stuff and when I was very young he was playing guitar, still. He went on a hiatus from that for a very long time. He's back at it the last few years and has been taking guitar lessons. So, ya there was always some kind of music going on in the house.
JD: Did you take formal lessons at any point.
JH: I did take lessons, starting with electric bass, when I was eleven and I mostly continued those until I finished high school. I started playing upright bass when I was sixteen and took lessons for that too. It kind of took a bit to find a teacher that was living in that area. A guy moved to town around the beginning of my grade twelve year. He was a Croation guy who had been a professional in Europe and had been in Montreal. He was really amazing. He was very generous with his time. He was very picky, and you would thing he wouldn't want to teach a student with the limited experience that I had at that point. He agreed to see me for a lesson. I went over there, and we wound up really hitting it off. I went there after school every Friday for most of my grade twelve year. It started out as an hour lesson, but I would stay until 10:30 at night. It was really, really helpful. It was great.
JD: You studied music in university, too, didn't you?
JH: Yes. I went to Capilano in North Vancouver, starting in the fall of 2002, when I was seventeen.
JD: Who were some of your teachers at Capilano?
JH: I had Andre Lachance, Jodi Proznick, Darren Radtke, Laurence Mollerup and Patricia Hutter, who I did a classical private music instruction with.

Jen Hodge playing outside with the All Stars
JD: You weren't spoiled, too much, were you. Those are quite impressive names.
JH: Yes. I was really fortunate to have access to all those great people.
JD: So how did you get involved in traditional jazz?
JH: That started on my first day at Cap. I met Evan Arntzen and Bria Skonberg. They had a traditional jazz band that Bria and some of her colleagues from Chilliwack had started when they were in high school. They were playing gigs. They were actually flying to places on the weekends and playing these festivals, when they were that young. Evan was playing with that group, too. I always loved all kinds of music. At the school it was kind of not cool to be into traditional jazz, but I would go to their traditional jazz shows and hang out. They had a tuba player who eventually left. I would start subbing in. I started playing it through them and other people would see me doing those gigs and would call me to do similar ones. It kind of went from there.
JD: It certainly did. In fact, I have a list of bands that I've heard of you being involved with or seen you in. Let's see: Mighty Aphrodite, Company B Jazz Band, The Arntzen Brothers, Milk Crate Bandits and you have your own band the Jen Hodge All Stars. So how did the Jen Hodge All Stars evolve?
JH: Well it started with Company B. I was the band leader/booking person for a very, long time. There was a swing dance on Commercial Drive at that time. They had a band once a month and we were booked (Company B) for December. The organizer told me the November band had canceled and he was having trouble finding a replacement group and being Company B was booked for the following month he didn't want to use them. He asked if I could put a band together. I said, "I would love to. It just depends on the date and if I'm free." He said that it was November 13th. And that's my birthday, so I told him I would love to play a gig on my birthday for you. I'll just call all my best friends and make them play my favourite songs. That sounds like a great way to spend my birthday! So, I put a bunch of charts together. It was an awesome band. It was a good night and a good party. People really loved it. Organizers booked me again, right away. That gig, also lead to the residency at Guilt and Company, which I now have had for a little over seven years.
JD: Ya, you have quite a following with swing-type dance clubs.
JH: It has been really, wonderful to become involved with swing dancers over the years and to start dancing, myself. I mean really what a member of a jazz rhythm and a social jazz dancer is doing is centred around finding over this amazing quarter note pulse, this beat. I think as a jazz bass player I have a lot in common with jazz dancers.
JD: Yes, you certainly do. Your latest album with the Jen Hodge All Stars was recently released. It's called All's Fair in Love and Jazz and consists of fifteen tracks. You kind of have the who's who of the Lower Mainland traditional jazz community on it. I saw an Arntzen name on there: Chris Davis, Jack Ray, Bonnie Northgraves … it goes on and on. Tell us a bit about how this album came about.
JH: I had been working on a lot of the arrangements for awhile. It was coming time for me to make another recording. At the time I started planning this project I had been running my All Stars on my Wednesday night gig at Guilt and Company in Gastown, with varying personnel for a long time. I had a consistent line-up. A couple of years ago I switched to hiring different people all the time. It's been really great. I think that it is in the spirit of traditional jazz and I think it has been helpful in developing the community. It makes it easier to throw gigs to musicians who are coming through on tour and that kind of thing. It's always very exciting and it gives the music and extra jolt of excitement, too. When I was planning this record I thought, "Who in the world wants to be on this record? I'll ask whoever and I aimed high." And it worked out that I was able to put together a dream line-up. I have Chris Davis on the trumpet, Josh Roberts on the guitar. Those are local guys that I play a lot with, here. I also have Connor Stewart, who is originally from Nanaimo and he spends a lot of time here in the summer, so I've worked with him a lot, when he's around, but he lives in New Orleans, the majority of the year. I was able to get him to come up from there. The drummer I used is a fellow from Barcelona, Spain called Marti Elias, who I toured with over there, with the Arntzen Brothers. Ya, he is amazing. He is definitely an ideal drummer and I was really happy that he could come over. I have guest appearances from Arnt Arntzen, Bonnie Northgraves, Jack Ray; all dear friends and music colleagues of mine, who live here in Vancouver and put out great music, themselves, all the time.
JD: It's nice to see that you included a few original compositions on All's Fair in Love and Jazz. What is more difficult to write, music or lyrics?
JH: I don't know that one of those is more difficult than the other. I suppose my approach to writing is not so much like "Ok. I need to write, what am I going to do?" It tends to be like "I got some stuff that wants to come out," and I just kind of let it. If I had to pick one or the other that is more challenging, I might pick lyrics just because I do it a little less often.
JD: Ok. I notice you have two versions of "Southern Lover" on All's Fair in Love and Jazz. Tell us about that.
JH: So "Southern Lover" is a tune I wrote a couple of years ago, following a tour I did with Solomon Douglas, who is a piano player in the southern U.S. We spent the last two weeks of January rolling around in the Carolinas. And by rolling around, I mean a van—in a tour van. That's what I mean (laughs). Since the song is so suggestive (laughs). We went through the Carolinas, Tennessee, Georgia, Alabama and that area. It was really inspiring. The music was really, really great on that tour and we went to a lot of places that I'd never been before and would not have had the opportunity to go to if it wasn't for music. So, that I always find really inspiring. It was January and it was sunny and pretty warm and there were some palm trees kicking around some of the places. That was just great. It felt like a really, really lovely experience and I was inspired to write this tune that is in the southern, like Louisiana street beat kind of feel. It's cheeky. It's funny and lighthearted and kind of draws parallels between that kind of intoxicating, sunny, warm landscape and like a man, a hypothetical man. So, we started playing that tune, after I wrote it, and everybody in the community here, like the tune, and people started playing it on their gigs. It felt really nice and they named a cocktail after it at Guilt and Co., which was awesome. So, Jack Ray, who is the leader of the Milk Crate Bandits and my good friend, is very Australian sounding, wanted to do my tune on his gigs. He also included it on the first Milk Crate Bandits EP. Anyway, he found that the lyrics just didn't make sense for him to sing as they are from a female perspective and it didn't work for him to change the pronouns. It just felt like it sounded too creepy and not funny, anymore. So, he wound up just writing his own bit of lyrics, which are very funny. It's just like a response to the lyrics that I wrote. "So, you think southern boys are so great, you should try an Aussie" (laughs). It's pretty funny. I think it's hilarious. So, I included that at the end of the recording with those lyrics as an encore selection.
JD: That sort of thing was done in the 1950s. Someone would write a song and someone would write a response to it and often happened in country-rootsy genres, a little more. When I saw that, I caught that right away. Ya, that's kind of harkening back to a different time.
JH: I'm glad you caught that. There's actually a pretty, long tradition of that in jazz, too. I would say going way back. A lot of those Cab Calloway tunes are sequels to one-another: "Minnie the Moocher" and "Minnie the Moochers Wedding Day." Ya, it's cool.
JD: Considering the vast catalogue of traditional jazz tunes, how did you come up with the ones you chose for All Is Fair in Love and Jazz? How about starting with "Viper's Dream."
JH: Maybe I'm not allowed to talk about this on the radio (laughs). Actually, viper was an early slang for someone who smoked marijuana. It's such a cool tune. It has really strange form and weird linked sections that has everything to do with the subject matter being about 'druuugs.' I wound up putting the arrangement together for April 20, 2016. April 20th aka 420 day landed on a Wednesday, when I have my usual Guilt and Co. night, so I put a special where the entire night was all bog jazz reefer tunes. I think a lot of people don't realize how much unsavory material in the early jazz repertoire, because it sounds so fun and happy that plenty of people don't realize how not innocent it is. So that's how that arrangement came together.
JD: Ya, they had a lot of code names and you had to be hip to understand what they were doing and that's how they got around the censors.
JH: They were too square to understand what it was about.
JD: Exactly. That's kind of fun. Now, two of the obvious ones are "Stompin' at the Savoy" and "Rock'n in Rhythm." Other than they are great songs, why did you choose those?
JH: Well, "Stompin' at the Savoy," that arrangement comes from a collaboration that I was involved with: three musicians and three dancers from three different countries. We put a performance piece together using that tune and the arrangement that is on the album is very similar to the arrangement we used for that performance. It incorporates some of the ideas that we came up with for that collaboration but didn't work for the performance piece, but, worked for just an instrumental performance. Ya, it was a really, enjoyable project to be a part of. It was really fulfilling. We were sending video and audio files around to each other and doing the creative process over the Internet—over these great distances and when we put it all together in Vancouver in the spring, people really identified with it. Basically, our concept was blurring the lines between musicians and dancers. Like all the musicians in the performance did some movement and all the dancers were filling themselves rhythmically that contributed to the sound of the music. There's too much division between musicians and dancers and there's too much division between people in the world right now, anyways. So something like that where we brought different people from slightly different worlds together and blurred the lines was really inspiring and people really identified with it. We wound up winning an award for that performance and got invited to New Orleans in the fall and that was really cool. So that's why "Stompin at the Savoy" is on the album. "Rock'n in Rhythm" is a tune I've always loved and wanted to tackle it. People won't play it that often because it is challenging to come up with an arrangement for. It's difficult to just call that tune at a jam session because there are so many little bits. It's not obvious, necessarily, how to approach it spontaneously. So, it's a tune I've always loved and wanted to play. It needed that attention to put it together, so I put an arrangement together.
JD: That's good.
Part 2: The Company B Jazz Band
Company B is a swing band that highlights the music of the Swing and Hot Jazz decades. While the band may appear in a couple of configurations, presently the main performers have been vocalists Shannon Scott, Juhli Conlinn and Bonnie Northgraves. Northgraves also plays trumpet, Jen Hodge on bass, percussion and some vocals, Dave Taylor on guitar and Jens Christiansen on clarinet & saxophone. The other singers play various instruments.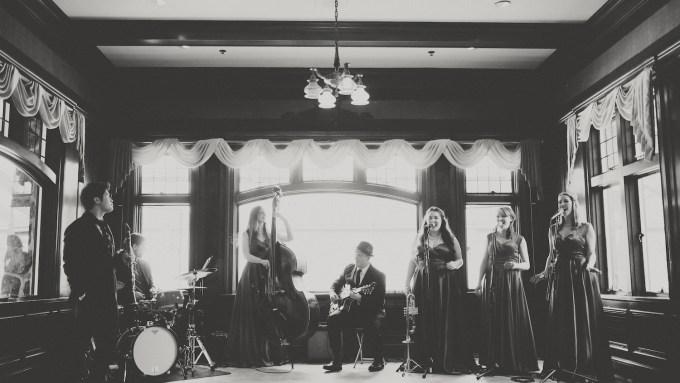 Jen with the Company B Jazz Band
JD: Talking to Jen Hodge tonight. Jen is part of many jazz projects, as a bass player, vocalist and what she jokingly describes as wrangler, in the Vancouver area. Her main project is the Jen Hodge All-Stars, but today I'm going to talk about her involvement in the vocal swing group Company B. Tell us about the Company B Jazz Band and your involvement with the band.
JH: Absolutely. Company B has been going for a little over ten years. It was a project conceived by Shannon Scott, who is one of our vocalists and I've been involved right from the get-go. It was an idea that really grabbed me, so the project was really my baby for a long time. It has been really fulfilling and exciting to work in the three-part harmony—close harmony medium. It has been a real treat. I learned a lot and travelled to a lot of places and have met a lot of amazing, inspiring people through that project. It's been really, really great.
JD: Yes, it's always fun when I get to see Company B play. Now, a lot of people think that the Company B Jazz Band is based on the famous Andrews Sisters. I hear that maybe that isn't the case.
JH: Well, the Andrews Sisters were the original inspiration for the project. Shannon's grandmother gave her a two disc CD set, a little over ten years ago. We were all jazz students at Capilano University in North Vancouver. Shannon's grandmother assumed that it was the kind of singing that one would do at jazz school. When it came out the Shannon was not familiar with the Andrews Sisters at all, her grandmother gave her those recordings. We just thought, "What a great sound," and"why on earth don't we teach this stuff at jazz school." Seems like it would be a really, important, integral part of studying vocal jazz that you would talk about, because they had such a huge influence. We did start by learning some Andrews Sisters repertoire. But upon studying up about the Andrews Sisters, we kept coming across the name the Boswell Sisters. The Andrews Sisters had begun singing together because they were such big fans of the Boswell Sisters, who hailed from New Orleans. Because we kept coming across the name, eventually I thought that we'd better track these girls down and see what they sounded like. At the time I worked at a classical record shop. There was a small, handful of videos on Youtube at that time of the Boswell Sisters. Now there are hundreds. Through getting a CD through the record store I was working at—at the time and finding these few videos online, I just couldn't believe what these women were doing. It was so creative and so totally, virtuosic, but so accessible and fun and so full of spirit and life and profound musicality. I couldn't believe that I'd never hear of them before. So, for me, finding the Boswell Sisters was such a massive inspiration, that really provided a unique angle for Company B to take, as a group doing the three-part harmony Andrews Sisters kind of thing. We found the Boswell Sisters music and really dug into it. It is just a very, unique sound. It's much more rooted in jazz than the Andrews Sisters recordings are. Are you following me?
JD: I am. I agree with you that it is more jazz than the Andrews Sisters were. I guess it is the New Orleans influence, too.
JH: Ya, ya, exactly. That's where they lived and grew up. The Boswell Sisters were all instrumentalists, as well. Connie played saxophone and cello. Martha was a concert pianist and a great jazz pianist. "Vet" Boswell played viola and banjo. They really understood the music from an instrumentalist perspective and a lot of the ideas they came up with came from the New Orleans frontline sound, which is also a three-piece configuration—clarinet, trumpet and trombone. A lot of what they were doing vocally was adapted from that sound, that they grew up hearing living in New Orleans. Ya, they would hang out and jam with all the great musicians living down there at that time. They really came at it from that perspective—more than the Andrews Sisters, who had their arrangements written for them and didn't play instruments, as far as I can tell, or read music. The Boswell Sisters were very well-rounded and highly skilled musicians. Another important difference between the trios, is that the Boswell Sisters were comfortable improvising and the Andrew Sisters did their material the same way every time. The Boswell Sisters did a lot of improv. In my mind that makes it more jazz, also.
JD: I do agree. I didn't know about their playing abilities. I love it when I learn things.
JH: Ya, me too!
JD: Company B Jazz Band has a new CD out called The Bee Sides. I noticed songs by The Boswell and Andrews Sisters, Bing Crosby and Rosemary Clooney. What's the process for choosing which songs the band will record? Boy, you have a lot to choose from.
JH: (Laughs) That is a good question, because you are right, we do have a lot to choose from. After ten years of being together in a band we definitely have a lot of repertoire and there is a lot of repertoire that we never recorded. Actually, at the time, we recorded the EP, we recorded at least the same amount of material again, so maybe we will be able to release another EP from that. Basically, we hadn't made a recording for some time. We thought, "Lets just lay down just as much as we can." The Bee Sides, here, is just all the ones we like the best, having gone through all the recording process and having listened to everything. These ones are a great representation of what the band sounds like, today and we would be excited to hear these ones with the people. All the titles on this EP are very long. We could have called it Songs with Long Titles. (Both laugh) I actually voted for that name. Do you have a favourite off The Bee Sides?
JD: It's six really, good songs. I am partial to "Don't Let Your Love Go Wrong."
JH: That's a really, fun song and that's a really, great arrangement. That's one of the Boswell Sisters arrangements that's on here. Likewise, the arrangement for "We're in the Money" on here is Boswellian: really creative and cool. And there's one of my arrangements on here, "On a Slow Boat to China" that is pretty, close to my heart. I wrote that arrangement several years ago and not that long after we were invited to perform in China. That has been one of the career highlights for Company Bee so far. So, I like that arrangement, too, because I had a fun time writing it and I associate it with travelling to China.
JD: What does Company B Jazz Band have planned for 2018?
JH: There's a trip to Europe being considered and possibly an opportunity to get to Alberta, which in all our years we have never managed to do. Long ago it was a goal of mine to play in the hometown of everybody in the band. We've succeeded, with the exception of Shannon's (Scott) hometown, Red Deer, Alberta. Perhaps 2018 is the year that we are going to get there. There's definitely festivals. Hopefully we will get back to the Vancouver International Jazz Festival. We've had a couple of years off of that one, with this new EP to peddle and stuff.
JD: Sounds like you are going to be busy. Good. Thanks for speaking with me today.
JH: Anytime. Take care, bye-bye.
Jen Hodge All Stars All is Fair in Love and Jazz in available at https://jenhodgebass.bandcamp.com/album/alls-fair-in-love-and-jazz, Nimbit, CD Baby, i-Tunes, Spotify and Jen Hodge All Stars performances for more info http://jenhodgebass.com
Youtube video "Hell's Bells"

Company B Jazz Band The Bee Sides is available now on iTunes, Apple Music, Spotify, Amazon, Google Play, and Company B Jazz Band performances more info https://www.companybjazz.com
Youtube Video "Cheek to Cheek"

comments powered by

Disqus