Finally Doing What She Wants: The Johanna Sillanpaa Interview
Transplanted Swede Johanna Sillanpaa is soaring in the wake of her first proper Jazz vocal album.
A pre-teen Johanna Sillanpaa (pronounced Yohanna) was singing professionally in Northern Europe before she moved to Alberta. Attending Grant MacEwan in Edmonton opened up the world of jazz to her and she has not looked back. She has still maintained contacts from those school days and she has teamed up with some of them and other well- known musicians from Toronto and New York to put together her new album From This Side for Chronograph Records. This album contains both re-arranged covers and compositions she wrote or co-wrote with fellow composer Chris Andrew. I sometimes find that the compositions of young artists are the weakest tracks on their releases. This is not the case with Johanna. I found I was happily playing her new compositions as often as I was playing the standards off From This Side on my show Jazz Notes. The album has been quite successful, topping both the iTunes jazz album charts and the earshot Canadian National Jazz Chart! Recently we chatted about her first musical career in Sweden and her current career in Alberta, along with the process of making From This Side. After exchanging pleasantries, we started our conversation.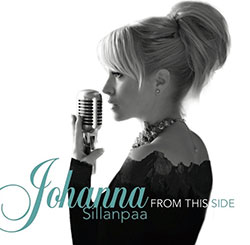 From This Side
JD: Johanna, I'm going to take you way back to your childhood, I believe in Sweden?
JS: I am. Born and raised.
JD: When did you come to Canada?
JS: I came over in '92. I spent my adult life here.
JD: As a child in Sweden, were you exposed to jazz?
JS: No. Music, absolutely, when I was a pre-teen and teenager I sang on cruise ships between Sweden-Denmark, Sweden-Germany, Sweden-Finland. So, I did perform at a young age, but not jazz. Jazz came to me. When I moved to Canada I got accepted at Grant MacEwan in the music program in Edmonton. That's kind of where this new jazz and funk stuff was introduced to me at school.
JD: As a child did you study music at all or were you just naturally a good singer?
JS: In school, ya, for sure. I did have a voice coach for a few years, when I was younger. Of course, when I was in Canada at the music program it was full on, right--coaching and learning.
JD: What was it like letting loose on a cruise ship. That must have been fun.
JS: They were day time cruises, because I was under age, but it was fun. It was great. I always joke that I think I made more money when I was fifteen than I do now. (laughs).
JD: Sad but true (laughs).
JS: Ya it was good.
JD: I noticed that you have a new album out called From This Side on Chronograph Records. It has a mix of songs from the Great American Songbook and some that you wrote or co-wrote. Now composing—what state of mind do you need to be in to compose?
JS: It's like anything if you don't do it for a while--it's like exercise and you have to exercise that part of your brain to get into it. So, for me, I love it. The process can take a while before it kind of kicks in. I had a couple of years where I hadn't written anything. I think my last project was 2012. So, I hadn't really written a lot since. I found that I had to press myself for it. We have a studio at home and I would go in there every night and start messing around on the piano. Some tunes were created that way and I co-wrote with Chris Andrew. He arranged some of it and Tyler Hornby arranged some as well.
JD: Obviously you like writing both lyrics and music. Which do you prefer to write?
JS: Woo, that's a good question. I think music and melody come to me before lyrics. Maybe because English isn't my first language, but however that being said I don't know I would write great lyrics in Swedish. For me, I'm more of a melody girl.
JD: Ok. Now, I noticed the band that you have on From This Side and I'm totally impressed. I am a fan of every one of these musicians. Great Albertans, a Toronto musician, a New York musician—all Canadians by birth, I guess. How did you get this all-star band together? I mean, wow!
JS: The bulk of them I've know for a long time—Tyler Hornby and the same thing for Chris Andrew. We go back to Grant MacEwan days. So, I've know him for my entire musical life. Those were no-brainers. I worked with Kody Hutchinson as a bass player and I got him in a producer role this time—co-producer. I wanted to switch it up a little bit this time and I had worked with George Koller a few years back at a festival. I loved him and was also a fan of his from back in Holly Cole days. It took a bit of time to get it together scheduling wise. It wasn't easy to get everyone in the same place for three days. Ingrid (Jensen) is the one I know the least. I know her through Tyler (Hornby) and he's the one who worked with her in the past. The communication happened through him. She was not in the studio with us. It was a remote recording. She recorded her part in her studio in New York.
JD: I was wondering about that. Just the logistics, would be so difficult and expensive. Ya, I had the pleasure of seeing the Jensen sisters at the Vancouver International Jazz Festival and have seen Ingrid a couple of times before. Oh, you have a good one on your CD. You have a good trumpet player on your CD. She's an excellent musician. Like I said before, everybody is good on your CD. I mentioned before that you wrote or co-wrote many of the songs on From This Side. You picked a few from the Great American Songbook. Are these your favourites? Why did these ones make the cut?
JS: No, I have many favourites. It was really hard for me to pick standards. I knew I wanted some on there with maybe some different arrangements—more contemporary arrangements. So, it was really a tough call. I was sitting with Chris Andrew, the piano player, one day. We were doing a writing session. I gave him a bunch of titles. I said, "Here's three of four tunes I enjoy singing" and he took "Time After Time" and said this will be cool and we started with that. "Everything I Got Belongs to You"—I've always enjoyed singing that song as well. I asked Tyler (Hornby if he could come up with a neat arrangement. What else do we have? We have "Blue Skies." That is also one of Chris Andrew's arrangements. That one, he arranged a number of years ago for me. That was a song that was a given to put on From This Side. What am I missing?
JD: Joni Mitchell's "Woodstock." It isn't out of the Great American Songbook but it's just a great, great tune.
JS: It's a fantastic tune. I also sung that one for a couple of years prior to recording it, and I just totally enjoy singing it.
JD: I must commend you on your choices. I just love every choice. Some of my favourite composer are here and obviously the arrangements by Chris (Andrew)—he just does a great job on that. He, to me, is a hidden gem. More people should know about Chris Andrew than do. A lot of people know about him, but he should just be famous. He's awesome. He's a wonderful, wonderful musician. I don't have to tell you that.
JS: Ya, they are all wonderful.
JD: What is the significance of the title of your new CD From This Side?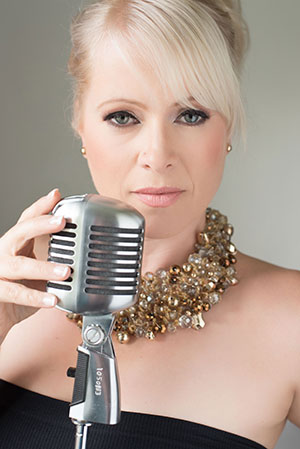 JS: I'm trying to think about that, because that is something I kind of came up with, with my graphic designer. We were kind of playing with concepts. Just because it's a side shot (album cover). There's my two lives: my years in Sweden and my years in Canada are pretty equal now and just how life is from this side I guess you could say.
JD: Do you have any recent or upcoming gigs?
JS: I didn't do a ton for jazz fests because the album wasn't released until March and usually for jazz festivals you apply the previous fall. I'm hoping for next year for the Edmonton Jazz Festival. I mean, I gig all the time. I'm hoping to get a little more festival work next year because the album has done so good with radio and placements and things.
JD: That's good to hear. Speaking of your new album, which is From This Side by Johanna Sillanpaa, how do we get a copy?
JS: If you like digital you can just go to iTunes and just download it. If you like hardcopy you can go to my website johannamusic.com and I have an ordering system there. You can also order it from Chronograph Records website as well. There aren't as many outlets for hardcopies these days.
JD: Good. I'd like to thank you for taking the time to speak with me.
JS: Thanks for having me.
JD: Good luck with From This Side and we'll speak again when you have the next one out.
JS: Thank you Jim.
WEB: http://www.johannamusic.com
FB: @johannamusicpage
TW: @johannasillan
INSTAGRAM: @sillanpaaj
http://www.chronographrecords.com/
comments powered by

Disqus